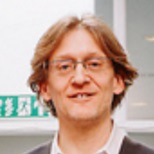 Steve Dunn
Head of Chemical and Energy Engineering.
Engineering / Chemical and Energy Engineering
Professor Steve Dunn has a research background in the processing of functional ceramics and hybrid systems and is now Head of Chemical and Petroleum Engineering. His first degree in Chemistry from Edinburgh was followed by a PhD in Materials Science at Cambridge in 2001.
Since then Professor Dunn has published over 100 publications, a high proportion in high-impact journals such as Advanced Materials and Energy and Environmental Science, supervised 21 PhD students and over 200 3rd year project and MSc students. His current interests concentrate on understanding and engineering functional metal oxide hybrid systems to enhance surface chemistry in catalytic activity with applications ranging from energy conversion to enhanced chemical processing rates and selectivity. For this he has developed processing techniques to decorate metal oxide powders with secondary species such as metals and carbon and measured the resulting transformation of pollutants to inert species, or the production of H2/O2 from water.
His interests also include developing fundamental understanding of carrier lifetime enhancement in functional metal oxide systems. Professor Dunn is currently working extensively on processing of low Currie temperature ferroelectric materials, modifying the surface of ferroelectric materials with oxygen and hydrogen evolution catalysts as well as novel ways to form carbonaceous nanostructured islands.
His work has been funded by RCUK, InnovateUK and industrial collaborators, such as Samsung and Bosch with a total career research income that exceeds £10m since 2003. Prior to joining LSBU Prof Dunn spent some time as Head of Materials in an industrial environment where he was developing powder and materials processing for capacitors, super-capacitors and batteries. In 2013 he was awarded the 'researcher of the year' for Science and Engineering at Queen Mary and is a Fellow of the Institute of Materials, Minerals and Mining with a CEng.
Professor Dunn leads the Energy Materials Engineering research group at LSBU with interests in novel processing or applications of ceramic materials for energy storage and conversion technologies.
Professor Dunn has significant experience in teaching that ranges from class room experience at all levels covering under-graduate classes of around 300 students and post-graduate classes of 20. He was awarded his FHEA after completing a PGCert in Learning and Teaching at Cranfield that led to roles as module director, course leader, associate dean for teaching and learning, chair of the post-graduate taught committee and developing a range of undergraduate and postgraduate courses.
Currently, he teaches in the areas of advanced materials for energy focused applications and clean energy technologies.
Professor Dunn has experience teaching a variety of students from materials science to mechanical engineering and chemistry. His external activities involve acting as external examiner for courses at the University of Cambridge and Surrey University.
The areas of research that most excite Professor Dunn are those that find new applications for functional materials and he has a special interest in sustainable use of materials for energy storage and generation. Most recently collaborations with Professor Chris Bowen (Uni Bath) and Dr Haixue Yan (QMUL) have led to some fascinating discoveries regarding the use of pyroelectric materials for water splitting.
These systems can harness low grade ambient waste heat to form hydrogen and oxygen from water. These early results are leading to a variety of new discoveries in the way that functional materials are viewed and the range of applications that they can be used in. In addition to the development of functional metal oxides Professor Dunn has established expertise in a wide variety of materials processing techniques to produce materials appropriate for energy storage in capacitors and batteries.
Recent Funded Grants:
See Steve's publications at Google Scholar.