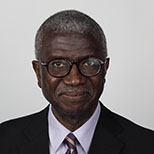 George Ofori
Dean of School of The Built Environment and Architecture
Built Environment and Architecture
Dr Ofori specialises in Construction Management and Economics, at the project, company and industry levels. His main subject of research is the improvement of the capacity and capability of the construction industry, especially in developing countries.
Dr Ofori was educated at the University of Science and Technology in Kumasi, Ghana where he obtained a BSc (Building Technology in Quantity Surveying) (First Class Honours). He worked briefly in that university as a Teaching Assistant before proceeding to the UK to study for an MSc (Building Economics and Management) (Distinction) degree at University College London, from where he also obtained a Ph.D. degree in 1981. He was subsequently awarded a DSc degree by the University of London in 1998. Dr Ofori is a Fellow of the Ghana Academy of Arts and Sciences.
Dr Ofori worked with G.A. Takyi & Partners in Accra, Ghana, as a Senior Quantity Surveyor for two years. From 1983 to 2017, he was employed by the National University of Singapore, where he was promoted to Full Professor in 1999, and was the Head of the Department of Building for five years. He has been a consultant to many governments and international agencies on construction industry development.
At London South Bank University, Dr Ofori has been teaching the following modules at undergraduate and post-graduate levels: Construction Management Project; International Real Estate and Construction; Management of People and Information; and Procurement and Management of Construction.
At the previous institution where he worked, Dr Ofori taught the following modules at undergraduate and postgraduate levels: Building Economics; Development Economics; Environmental Studies: An interdisciplinary approach; Managing Singapore's Built Environment; Policies for Building Sustainable Cities; Environmental Management; Seminars on Sustainable Cities; Project Management Case Studies; and International Project Management.
Dr Ofori's topics of research are: Construction industry development; International construction; Sustainable construction; Productivity in construction; and Professionalism and ethics in construction.
Dr Ofori is a Fellow of the Ghana Academy of Arts and Sciences. He is also a Fellow of the Chartered Institute of Building (CIOB); Fellow of the Royal Institution of Chartered Surveyors; and Fellow of the Society of Project Managers (Singapore).
Dr Ofori has been the External Examiner of several undergraduate and graduate academic programmes in many countries; and External Examiner of several doctoral theses for universities around the world. He is a Visiting Chair Professor, Tsinghua University. Dr Ofori is a member of the International Accreditation Panel of the Chartered Institute of Building. He was the Founding Co-ordinator of the CIB Working Commission 107 on Construction in Developing Countries.
Dr Ofori is the Deputy Chairman of the International Board of CoST, the Infrastructure Transparency Initiative; and a Member of the Board of Trustees of Engineers Against Poverty. He has been a consultant to international agencies (such as Australia Aid Agency, Commonwealth Secretariat and International Labour Office); and governments on construction industry development, and construction management and economics since 1978.