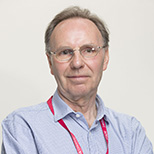 Colston Sanger
Associate Academic
Business / Management, Marketing and People
Colston is an Associate Academic within the School of Business. His role in the School is as module leader for the MBA Applied Management Consultancy and Dissertation modules, and as module leader for various undergraduate organisational behaviour modules.
He has had a varied career to date. In collaboration with colleagues from Imperial College he built a software engineering consulting firm which grew to become one of the top 50 consulting firms in the UK. Latterly, he switched focus to individual, group and organisational development, building organisations that achieve the triple bottom line of 'people, profit, planet'.
Colston's core expertise is in experiential education and designing and running management simulations. He teaches and supervises students at Masters/PhD level in the areas of entrepreneurship, product innovation, process improvement, organisational change and leadership.
He was founding co-series editor of the Springer CSCW ('Computation, Sociality, Collaboration and the Web') book series and is also a member of the Editorial Board of the International Journal of Sociotechnology and Knowledge Development.
He has consulted and published on pattern languages for organisational change, reframing organisational narratives, agile project management and Lean pedagogy.
Colston is a member of the Chartered Management Institute (MCMI) and a Senior Fellow of the Higher Education Academy (SFHEA). He is also a Trustee of the Meridian Programme for research into changing institutions and an associate member of OPUS, an organisation concerned with developing a psycho-social understanding of societal dynamics.