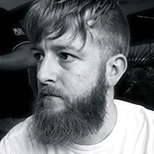 Alan Power
Theatre Technician
Arts and Creative Industries / Film and Media; Arts and Performance; Creative Technologies
Alan Power is a Theatre Technician in the Edric Theatre. He graduated from Kingston University with a BA in Drama, followed by an MA in Filmmaking, where he worked on writing and directing as his main areas of study.

Alan has worked as a trainer in the IT Industry which, combined with his studies and practices in Drama and Film, has led him to focus on stagecraft and the use of multimedia in performance, specifically in relation to interactive and visual technologies and projection mapping.
Alan teaches Video and Sound Editing, AV Basics and Projection Mapping for Performance on the BA Drama and Performance module Multimedia Performance. He also teaches AV/Projection Mapping for Performance on BA Theatre Technologies and through extra-curricular workshops.