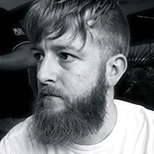 Alan Power
Theatre Technician
Arts and Creative Industries / Film and Media; Arts and Performance; Creative Technologies
Alan Power is a Theatre Technician in the Edric Theatre. He graduated from Kingston University with a BA in Drama, followed by an MA in Filmmaking, where he worked on writing and directing as his main areas of study.
After graduation, Alan worked as a trainer in the IT Industry. This, combined with his studies and practices in drama and film, led him to focus on stagecraft and the use of multimedia in performance, specifically in relation to interactive and visual technologies.
Alan was also a member of the Royal Court Young Writers programme and has recently written a multi-award winning short film.
Alan has several stage and film credits, including:
'The Comeback' – goHero – Pleasance Dome, Edinburgh Fringe 2007 (Director/Writer/Performer)
'They Call Me The Kid' – Cowboy Funfair – Short Film (Writer)
'How Was Your Day?' – Cowboy Funfair – Web Series (Writer/Performer)
Awards for 'They Call Me The Kid':
"Best International Short" – Underground Film Festival, Dun Laoghaire, Ireland
"Best Film" – Waterford Film Festival, Ireland
"Best Screenplay" – Courts Des Îles Festival, Tahiti