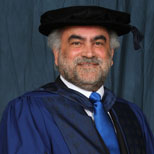 Abdulrahman Jawahery
Honorary Doctor of Engineering
Abdulrahman Jawahery is a passionate advocate for sustainability in an industry not often recognised for its green credentials – petrochemicals. And that's not the only remarkable thing about the way this South Bank alumnus runs his business, recognised as one of the most forward-thinking and innovative in the Gulf region.
Abdulrahman studied for his O and A-levels in London, before attending the then Polytechnic of the South Bank. He credits his sandwich course in chemical engineering with exposing him early on to what he calls the 'real world of engineering' and giving him the practical skills that have formed the basis of his career success.
After graduating, he returned to Bahrain and took up a job as an engineer with Gulf Petrochemical Industries Co (GPIC), the company he has stayed with ever since. He rose steadily through the ranks, taking on more and more senior management roles. He became general manager of the whole company in 2005 and president in 2011.
Under his leadership, GPIC has become a beacon for environmental awareness and sustainable business practices in the region. Remarkably, it has its own olive grove and vegetable garden, yielding some 20 tonnes of produce each year for distribution to needy local people. There is a bird sanctuary spanning 1 square kilometre and a fish farm that produces around 60,000 sea bream each year. 'As well as boosting marine life, it shows that the sea water we use for cooling goes back into the ocean pollutant-free,' says Abdulrahman.
He takes a similarly imaginative approach to developing the company's people. Potential high flyers are sent on training courses worldwide, including with the Leadership Trust – a group of ex-SAS officers who lead tough physical challenges like trekking 2km through a cave filled with icy water.
Everyday learning is delivered via e-learning facilities in GPIC's Academy of Leadership and Learning. 'We expect people to be hungry to learn and develop,' he says. 'At South Bank, the onus is on students to find things out for themselves. That's the kind of spirit I want to foster here.'
GPIC engineers are also required to spend at least 30 hours in government schools in Bahrain during their three-year training programme, teaching children about how the petrochemical industry can operate in a safe and sustainable way, at the same time as getting a crash course in leadership, presentation and communication skills. The company is also a keen supporter of inJAz Bahrain, which aims to help young people develop their knowledge of business and economics and gain hands-on experience.
Supporting inJAz is just a small part of GPIC's contribution to charitable causes. Abdulrahman estimates the annual total to be more than US$7 million. 'I'm a great believer in what Harvard Business School calls the "triple bottom line",' he says. 'For me, caring for the environment, supporting the community and financial rewards are all inextricably linked.'
Since 2002, Abdulrahman has also been a member of the Upper House of the Bahrain parliament, working to push through legislation on health, safety and the environment. He also sits on a number of international and regional NGO boards involved in the same issues, giving GPIC an opportunity to share and build knowledge on sustainable development and responsible engineering practices.