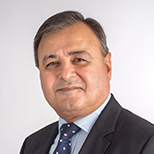 Vinay Tanna
Independent Governor
Vinay Tanna advises on growth opportunities in the FMCG sector. Currently, he is a non-executive director of Copalli Rum Co, based in Belize and California. He is also lead director of Belcampo Meat Co, based in California.
Vinay has been in finance for more than 30 years, most recently joining Diageo Plc in 2000. Here, he held a number of senior roles, including Head of Global Business Development, Corporate Finance Director and Joint Head of Global Tax. In these capacities, Vinay led acquisitions of new brands, extended the company's emerging market footprint and implemented the innovation agenda before leaving Diageo in December 2017. Prior to joining Diageo, Vinay held senior tax advisory positions at Deloitte and British Airways.
Vinay was born in Zanzibar and completed his early schooling in India before moving to Essex in 1975. He graduated with a BA in Economics & Politics from Keele University before qualifying as a Chartered Accountant and a Chartered Tax Advisor.
Vinay's interests include cricket, golf, yoga and travel. He lives in Middlesex with his wife and daughter.