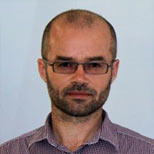 Tim Fransen
Technical Tutor – Web Publishing and Design
Arts and Creative Industries
Tim Fransen is a Technical Tutor in Web Publishing & Design at LSBU. He is an experienced graphic designer specialising in software, hardware and systems associated with web and print-based media design and production.

Recent freelance projects include producing an open-access high-resolution version of a historic map of Essex and ongoing work as web designer and editorial board member for the International Journal of Motorcycle Studies.

Alongside freelance design activity, he has worked within a creative industries educational context for 25 years in academic, coordinator and technical support positions. He holds an MA in Graphic Design with distinction from University of the Arts London.
Additionally, he is an associate researcher at the Centre for the Study of the Networked Image and member of the Sustainability Steering Group at London South Bank University as well as local Councillor and Chair of the Climate Action Working Party in his hometown.