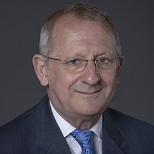 John Cole
Independent Governor
John joined the Board of Governors in May 2019 and is a member of the Group Audit and Risk Committee.
John's career was with EY where he was a partner in the Financial Services Transaction practice and a member of the Financial Services leadership team. During his career he worked with a wide range of companies but since the financial crisis of 2008 had principally worked on bank restructurings across Europe.
For five years as EY's Risk partner, he was a member of EY's Risk Oversight Committee which was responsible to the board for the mapping of the firm's risk landscape, the identification of the related controls, the deployment of Internal Audit (or others) to test the effectiveness of those controls and to provide recommendations to the Board on all matters related to the firm's risks.
John has a degree in Chemistry from Bristol University and is a Chartered Accountant.