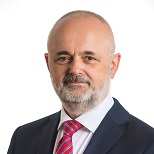 Dr Andreas Raffel
Independent Governor
A British and German citizen, Dr Raffel has lived in the UK since 1988. He is a senior leader and non-executive with over 30 years of Board-level experience across multiple sectors and geographies. Andreas has advised private and public sector boards in numerous strategic transactions, plus held significant global leadership positions at Rothschild and Morgan Stanley.
As a non-executive director, committee chair and senior advisor, Andreas has extensive knowledge of and experience in resolving board and corporate governance issues. He gained detailed HE experience as deputy chair of Cranfield university and then Trustee of University of Bristol.
He is also an investor in early stage ventures in the UK and overseas and is a Senior Adviser to three fintech start-ups in the UK and Germany. He has a PhD and a Masters from Augsburg University, Germany.