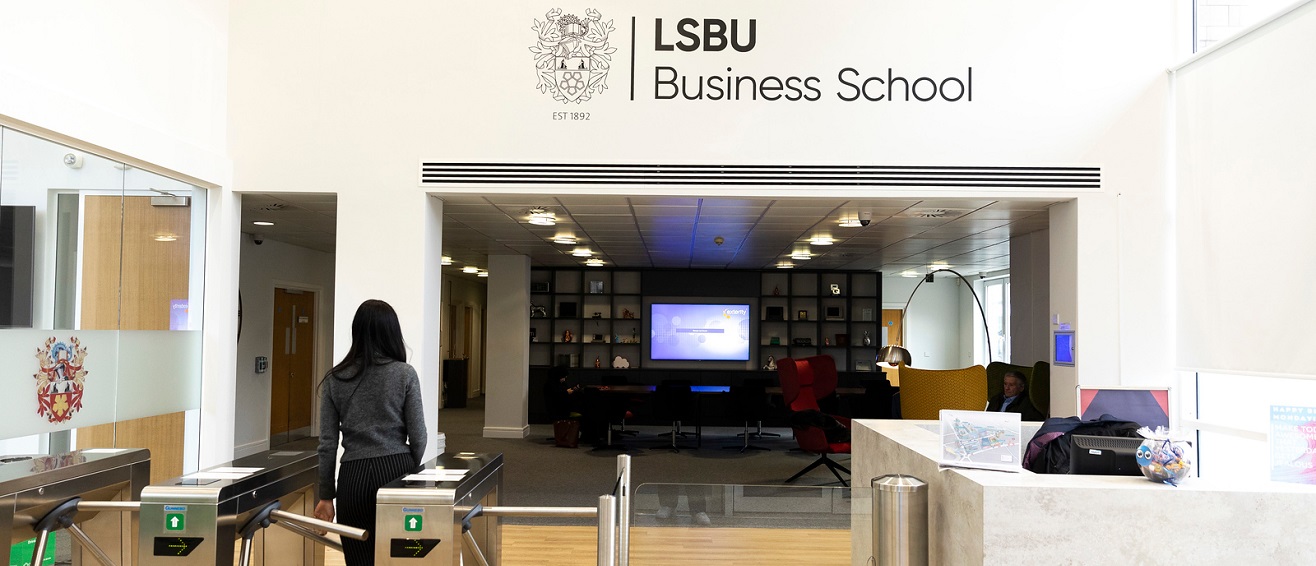 Small Business Charter awarded to London South Bank University
29 September 2022
The Business School at London South Bank University (LSBU) has been awarded the UK Small Business Charter. The Small Business Charter is an award that recognises LSBU Business School's vital work: supporting businesses, strengthening local economies and providing opportunities for student entrepreneurs to learn the skills they need to become business leaders.
62 Business Schools in the UK and Ireland have been awarded the Small Business Charter. LSBU's Business School will hold the Charter Award from 2022 to 2025. LSBU was first awarded the Small Business Charter in 2015.
To receive the Small Business Charter, LSBU's Business School was rigorously assessed by business leaders appointed by The Chartered Association of Business Schools determine the effectiveness of: Business Support, Entrepreneurship Education and Engagement with their Local Economy. Key highlights from report on why the Small Business Charter was awarded to LSBU included:
'The overall strategy of the school is tailored towards supporting student entrepreneurship and employability, by providing students with dedicated start-up space and giving opportunities for work experience with local SMEs.'
'Throughout the assessment period, students commented that the embedded ecosystem was incredibly helpful, and that they knew where to go if they wanted support with starting a business.'
'The panel spoke to SME beneficiaries … All reported positive learning experiences which have helped them to progress their businesses – mentoring was a strong theme.'
'Conversations were carried out with members of the Southwark Chamber of Commerce and local business owners. This further evidenced the business school as a key stakeholder within the region and supporter of collaborative engagement for mutual benefit for students and business alike.'
Anne Kiem OBE, Executive Director of the Small Business Charter and Chief Executive of the Chartered Association of Business Schools, said: "We congratulate London South Bank Business School for retaining their SBC status. They have continued to demonstrate the impact they make in supporting small businesses and student entrepreneurs in their local economy. The infrastructure the business school has to foster entrepreneurship and support start-ups is impressive. We look forward to seeing the ongoing impacts of their work proliferate their regional economy."
Sarah Moore-Williams, Dean of LSBU's Business School said: "We are incredibly proud that the Small Business Charter has been awarded to LSBU Business School. The cutting-edge work we do, supporting businesses to grow, strengthening local economies and giving student entrepreneurs the chance to learn the advanced skills they need to build successful business careers. We prioritise LSBU Entrepreneurship Programmes to give our students the advanced skills they need to build successful careers in business. This is the third time LSBU has been awarded the Small Business Charter and it is very welcome acknowledgement of the incredible work of our students, staff and local business community."
Award holders benefit from over seven opportunities created by the Small Business Charter:
A nationally recognised kitemark award to promote your expertise
Nationwide advocacy
A network of business schools focused on enterprise and small business support
Knowledge-sharing workshops in the UK for business school award holders
An Entrepreneurs-in-Residence (EIR) network for business school EIRs
Engaging with governments across the UK to inform and influence
Conducting research to inform and promote what works and highlight best practice.