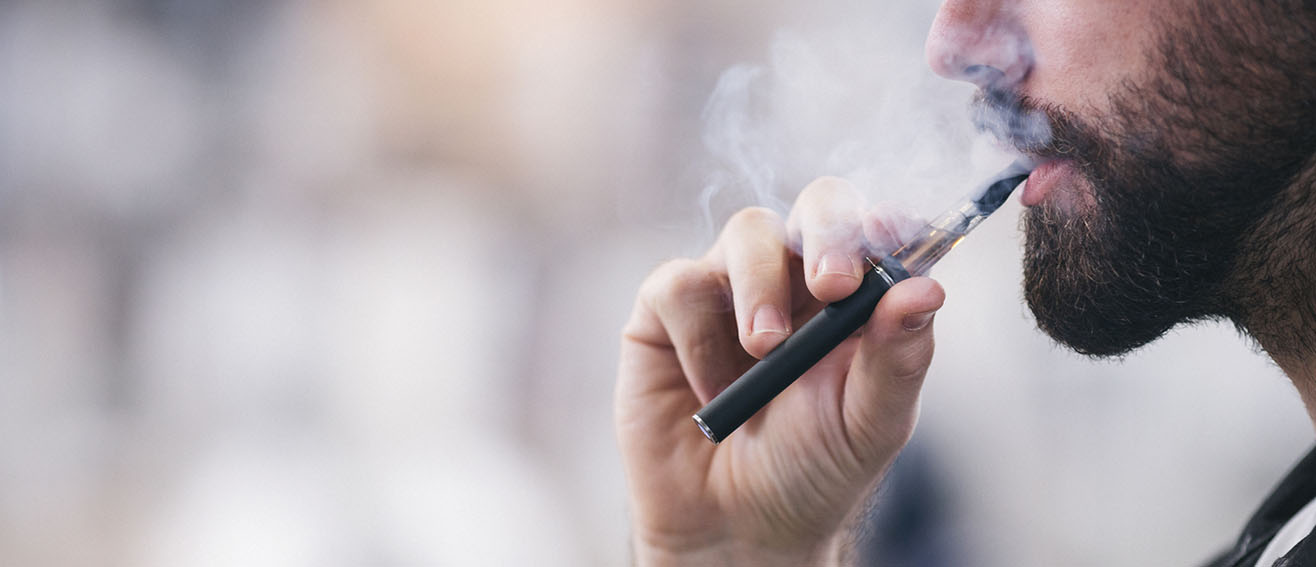 "Reduced risk messages on e-cigarette packaging encourages tobacco smokers to switch to vaping without enticing non-smokers," says new study by LSBU
With the results of the study, researchers at the Centre for Addictive Behaviours Research (CABR) at LSBU are calling on the Government to reconsider the severity of health warnings on e-cigarette packaging after the study
"Reduced risk messages on e-cigarette packaging encourages tobacco smokers to switch to vaping without enticing non-smokers," says new study by LSBU
25 November 2019
Researchers at the Centre for Addictive Behaviours Research (CABR) at LSBU are calling on the Government to reconsider the severity of health warnings on e-cigarette packaging after a Cancer Research UK (CRUK) funded study, published in 'Addictive Behaviors' this week (Wednesday 20 November) reveals that displaying reduced risk messages on e-cigarette packaging encourages tobacco smokers to switch to vaping without enticing non-smokers to start vaping.
The study, entitled 'Communicating the Relative Health Risks of e-Cigarettes', shows that while current health warnings displayed on e-cigarette packaging may help to deter non-smokers, they may also put smokers off switching to vaping, which carries a lower risk of smoking related diseases such as cancer and heart disease. In contrast, when shown a new message which directly compared the risks of e-cigarettes and tobacco smoking, current smokers viewed e-cigarettes as being appealing, while non-smokers did not.
The study was carried by members of the CABR; including Professor Lynne Dawkins (Lead Investigator), Professor Daniel Frings, Professor Ian Albery, Dr Catherine Kimber (Lead Author) and Dr Sharon Cox.
The research consists of an online experiment completed by a sample of 2,495 UK residents (1,283 smokers and 1,212 non-smokers) who were asked to rate how harmful, addictive and effective they thought e-cigarettes were, as well as whether they intended to purchase and use them, before and after viewing e-cigarette packs displaying different messages. The data was collected between December 2018 and January 2019.
Participants were asked to give their views on the extent to which the EU nicotine addiction messaging – 'This product contains nicotine which is a highly addictive substance. It is not recommended for non-smokers'- and an alternative reduced risk messaging, such as, 'Use of this product is much less harmful than smoking', would be more likely to influence smokers' and non-smokers' perceptions of harm and intentions to use the product.
Study participants rated e-cigarettes as more harmful and more addictive after they had viewed the EU nicotine addiction message and this was especially true for non-smokers.
When comparing the reduced risk message to packaging with no message at all, the results showed there was a reduction in perception of harm only for smokers. This message did not lead to non-smokers perceiving e-cigarettes as any less harmful. The reduced risk message also increased intentions to purchase and use e-cigarettes by smokers, but again, not by non-smokers.
Lynne Dawkins, Professor of Nicotine and Tobacco Studies at LSBU, who led the research, said: "Our findings suggest that displaying a reduced risk message on e-cigarette packs such as, 'Use of this product is much less harmful than smoking' may increase the number of smokers trying e-cigarettes without resulting in an increase in uptake by non-smokers. Ultimately, if more smokers switch to e-cigarettes, there will be fewer smoking-related deaths and diseases."
Kruti Shrotri, Cancer Research UK's tobacco control manager, said: "E-cigarettes are a relatively new product – we strongly discourage non-smokers from using them as they aren't risk-free and we don't yet know their long-term impact. But research so far shows that vaping is less harmful than smoking tobacco, and can help people to stop smoking. This study helps to build the evidence around what can be done to help smokers quit tobacco by switching to e-cigarettes, while ensuring non-smokers don't start using them."
Find out more about the Centre for Addictive Behaviours Research.