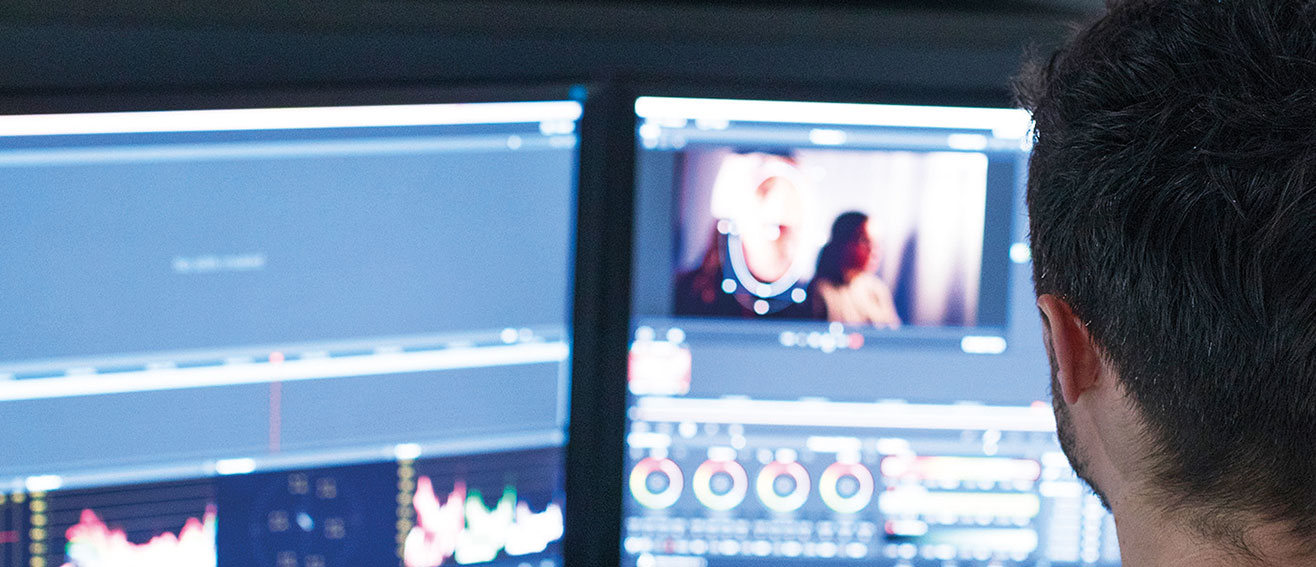 Post-production film industry apprenticeships ready for lift-off
UK Screen Alliance launches ground-breaking post production apprenticeship scheme with screen industry
24 January 2020
A group of leading screen industry employers are this month (Thursday 30 January) launching a ground-breaking apprenticeship programme for UK Post-Production Technical Operators, with an event for employers at BFI South Bank. The scheme is being launched by the UK Screen Alliance together with higher education partner, London South Bank University (LSBU).
The new Post-Production apprenticeship scheme will apply - not only to post-production companies operating in TV, film and advertising - but to in-house edit assistants working at indie production companies.
The course content has been developed by a "Trailblazer" group of industry employers led by Rowan Bray, Managing Director of Clear Cut Pictures, in conjunction with Neil Hatton, CEO of the UK Screen Alliance. Other companies involved in the development include: MPC, Fifty Fifty, West Digital, Molinare, Framestore, Technicolor, Company3, Encore, Motion Pictures Solutions, Platform Post, Run VT, Flix Facilities and Pinewood Studios. The scheme is being funded by the ScreenSkills High End TV Skills Fund, drawing on contributions from high end TV producers.
Trailblazer lead employer, Rowan Bray said: "This apprenticeship has been put together by industry, for industry, to exactly fit our needs. It will teach apprentices not just how to perform certain tasks but also provide them with the necessary technical theory to help them understand how it all works and why we do it this way. This is the first time for many years that we have been able to access fully-funded training of this scale and quality."
The employer group has selected LSBU to be the preferred training supplier for this apprenticeship. Apprentices will undergo an external independent assessment by AIM Assessment at the end of the one-year course, after which, successful apprentices will receive an officially recognised qualification - at an HNC equivalent level.
Because this apprenticeship has been approved by the Institute for Apprenticeships and Technical Education, it is eligible for public sector funding. Apprenticeship levy-paying employers can offset the training costs against their compulsory levy payments, but smaller companies that don't pay the Levy could receive a 100% subsidy on the training cost by applying to the UK Screen Alliance ALT fund which redistributes unused levy contributions from larger companies.
Apprenticeships are often used for fresh recruitment, but Neil Hatton predicts that initially many post-production companies will want to use them to promote existing staff. He says: "An employer may already have some promising runners and this apprenticeship provides a cost-effective way of investing in their development, to turn them into valuable technical operators."
Hatton sees the introduction of the apprenticeship as a step change. He says: "This rigorous and relevant training will raise the bar for developing highly competent technical operators and edit assistants and deserves to be recognised as the gold standard in post-production. We highly recommend it to employers in the industry."
The Government defines an apprenticeship as 80% 'on-the-job' training with an employer, plus 20% 'off-the-job' learning from an approved training provider.
London South Bank University (LSBU) has been selected to deliver the 'off-the-job' elements of the apprenticeship in three blocks, spread over a year. The University was chosen by a panel of employers responsible for ensuring a high quality level of teaching and value for money for applicants. LSBU has also engaged the services of industry expert Pat Horridge from post production consultancy, Visual Edit Training (VET training) to provide specialist knowledge and insight into current practice.
Janet Jones, Dean of LSBU's School of Arts and Creative Industries, said: "We are proud to have forged this link with the UK Screen Alliance and leading post-production employers in London. We look forward to welcoming our first cohort in the Spring where apprentice technical operators will be taught in LSBU's state-of-the-art studios. This is a ground-breaking partnership that supports the upskilling of our creative industry base and also benefits the next generation of undergraduate and graduate students."
AIM Assessment will gauge operational competence at the end of the apprenticeship via a multiple-choice knowledge test, a professional discussion with an independent industry experienced assessor and a demonstration of practical tasks.
The 'off the job' training element of the scheme kicks off on 6 April 2020, but applicants can start applying earlier, from 30 January onwards.
Details about today's apprenticeship launch event are on the UK Screen Alliance's website.