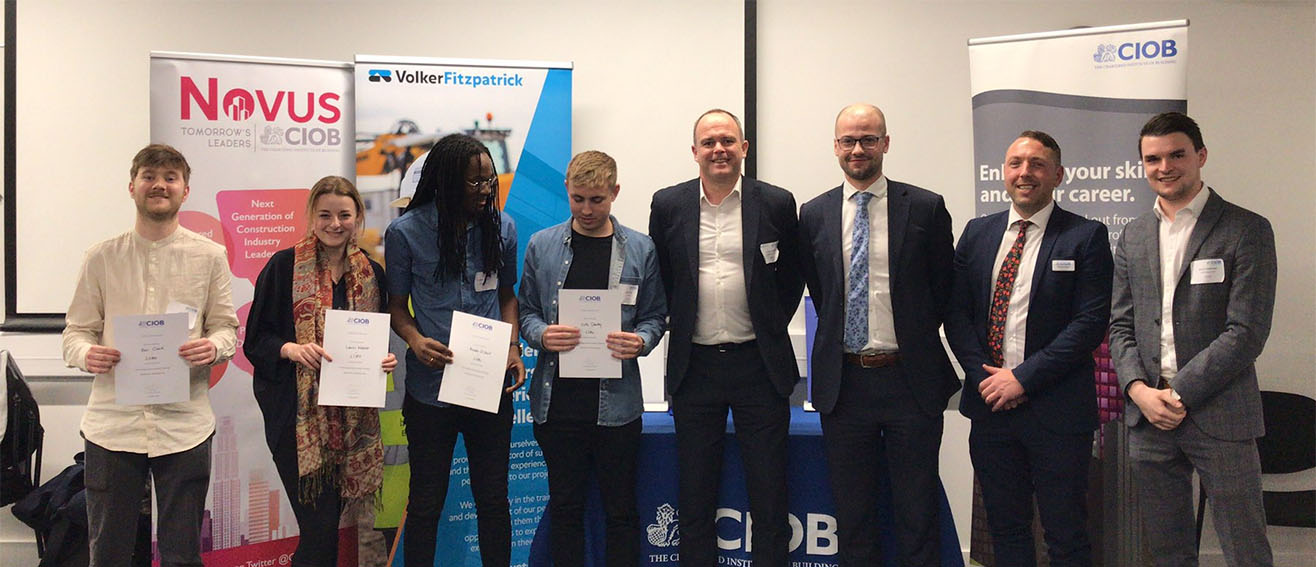 LSBU Architectural Technology students make CIOB Bright Futures final for second year running
The 2020 Final is sponsored by VolkerFitzpatrick and will be taking place on one of their sites in central London on 11 March 2020
LSBU Architectural Technology students make CIOB Bright Futures final for second year running
16 March 2020
Three teams from LSBU competed in the regional stages of the Chartered Institute of Building's (CIOB) Bright Futures Challenge on 12 February 2020. Last year's winning team, consisting of BSc Architectural Technology students, Lauren Webster, Benjamin Clark and Luke Stanley, combined efforts with MSc Structural Engineering student, Royden Gilbert, to win the competition for a second year running.
Another team, which included BSc Architectural Technology students, Livia Giulimondi and Christian Montano Perea, alongside BSc Quantity Surveying student, Evgenii Krutasov, achieved fourth place.
CIOB's Bright Futures Challenge is an annual event that gives students the opportunity to excel and stand out in the crowd. Regional heats take place in London, Maidstone and Southampton Hubs. The winning team from each heat competes in the final on 11 March in London.
There were 3 stages to the regional heat in London. Firstly, students were asked to design a community on a particular site with specific challenges, for example a river in close proximity or a railway. The second stage was to present the community they had created and, finally, the third stage saw students take a quiz based on sustainable buildings around the world.
The event was a fun and challenging experience for students and provided them with the chance to network with top industry professionals and other students from around the London and Southern region.
The final is sponsored by VolkerFitzpatrick and will be taking place on one of their sites in central London on 11 March 2020.
Find out more about our BSc Architectural Technology course.
Update: Two of our LSBU teams who went through the final won the First (congratulations to Lauren, Ben, Luke (who also won the first place last year, and also Royden who joined forces with them this year) and Fourth Place (congratulations to Christian, Livia and Evgenii) in the final.
Photos of the event can be found here.