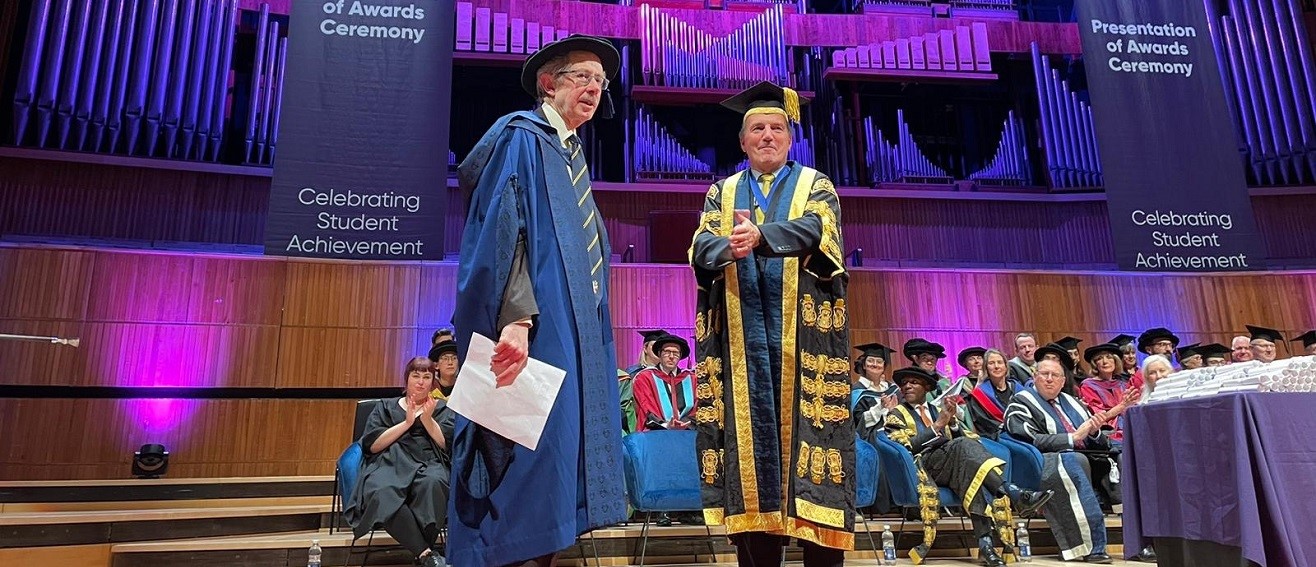 Jerry Cope awarded LSBU Honorary Doctorate for his leading work at NHS, Royal Mail and UK universities
Jerry Cope awarded LSBU Honorary Doctorate for his leading work at NHS, Royal Mail and UK universities
01 November 2023
Jerry Cope who from 2015 to 2023 was Chair of the Board of London South Bank University (LSBU) and LSBU Pro Chancellor has been awarded an honorary doctorate at LSBU's graduation ceremony at the Royal Festival Hall on 1st November 2023. The LSBU Board is collectively responsible for promoting the success of the University by leading and supervising its affairs.
Jerry Cope's career has included senior roles in the UK's public and private sector, working:
For the Post Office from 1972 to 2002. Jerry joined the Post Office Board in 1996, being appointed Post Office Group Managing Director with responsibility for international businesses and becoming UK Managing Director of the Post Office
As Chair of the Prison Service Pay Review Body giving independent advice on pay for governors, operation managers, prison officers in the England & Wales Prison Service, and equivalent posts in Northern Ireland (2005 to 2011)
As Chair of the NHS Pay Review Body which makes recommendations to government on levels of pay of NHS staff (2011 to 2017)
As Vice Chair of the Universities and Colleges Employers Association (2016 - 2023) which is 'the leading voice on employment and reward matters in the UK higher education sector.' We support our members to be employers of choice through collaboration, advocacy and expert advice.'
As Chair of the Board of Governors at Kingston University (2002 to 2009).
Jerry has been a fanatical supporter of Fulham FC for 60 years and has been a board member of the Fulham Supporters Trust since 2018. He loves watching live sport, particularly Cricket and Rugby League.
Jerry Cope said, "It was an honour to be Chair of LSBU's Board and be Pro Chancellor of LSBU. In my time working for LSBU we launched the unique LSBU Group partnership of secondary, further, and higher education providers which are teaching thousands of students the skills they need to build successful careers."
Professor David Phoenix, Vice-Chancellor of LSBU, said, "When Jerry Cope became Chair of LSBU's Board he brought invaluable experience working at major national organisations, from being the UK Managing Director of the Post Office and chairing the NHS Pay Review Body. Jerry Cope made a huge commitment to the work of LSBU as our Chair of our Board for eight years. Today's honorary doctorate is a tribute to the exceptional work Jerry has done to transform our university and enable our students to succeed."