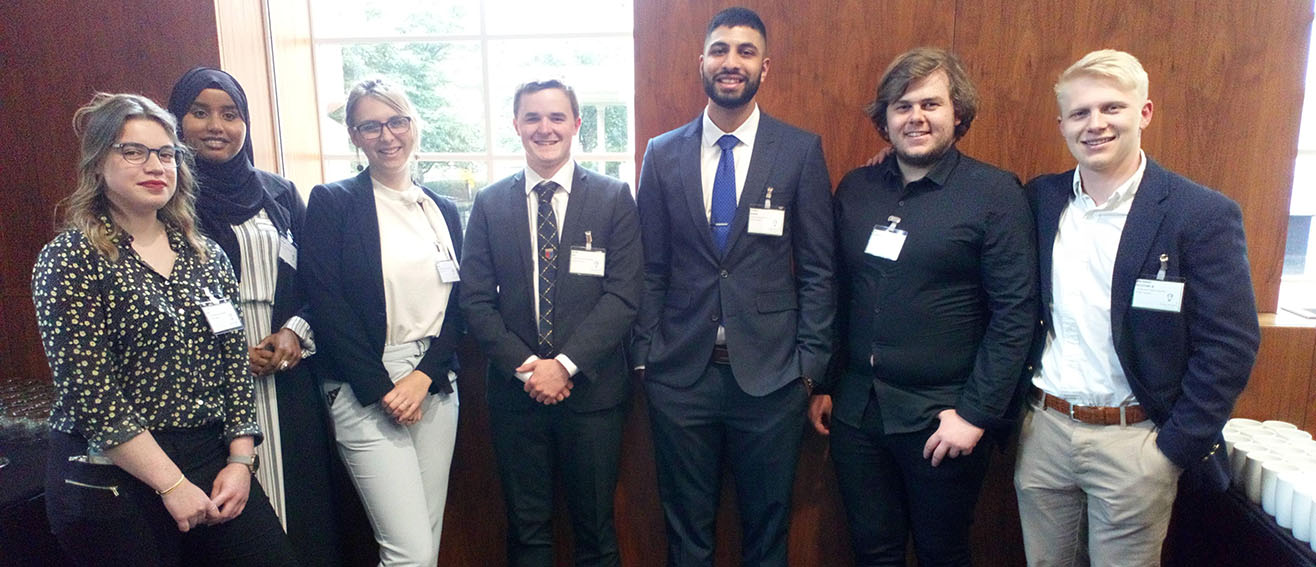 Engineering the Future: Two teams of LSBU students make it to Design Challenge National Finals
Two teams of LSBU engineering students showcased their innovative design skills to make the final of the Engineering for People (EfP) Design Challenge
Engineering the Future: Two teams of LSBU students make it to Design Challenge National Finals
20 September 2019
Engineers Without Borders UK hosted the 8th annual National Finals of the Engineering for People (EfP) Design Challenge, where two teams of first year LSBU students were shortlisted to present their innovative concepts. The award-winning challenge prepares students to become globally responsible engineers by solving real-world problems.
In 2019, over 6,500 students from 30 universities in the UK and Ireland were challenged to solve engineering problems faced by residents in Tamil Nadu, India. The imaginative ideas proposed by LSBU students resulted in two teams being selected by a panel of esteemed judges for the final 36 at the Grand Finals, held at The Institution of Engineering and Technology in London.
LSBU's Andrea Byekwaso, Nikola Filar, Alicia Trew and Caaisha Warsame, students on the BEng (Hons) Mechanical Engineering course, secured their place in the semi-final for their innovative long-term strategy for sustainable, community-driven water production through the cultivation of Banyan trees. The project created a viable solution to the issue of the lack of water and poor sanitation that is striking Tamil Nadu, and most of India. The teams research found that Banyan trees are not only the National Tree of India, but are also excellent at retaining groundwater. The trees are also exceptionally suited at being tapped as a source for water, in addition to having a large beneficial impact on its surrounding environment by absorbing CO2 emissions and encouraging more wildlife to the state.
LSBU's Samneet Badhan, Reece Dickinson, Hadyn Kiff and Jon Marion McCutchen Jr, students on the BEng (Hons) Advanced Vehicle Engineering and BEng (Hons) Mechanical Engineering courses, were also shortlisted in the semi-final for their water capture design, the CloudNet. Much of Tamil Nadu's water supply is dirty and undrinkable. The Central Groundwater Board carried out a study and found "the presence of heavy metals in the groundwater of five districts of Tamil Nadu". The students' solution to aid the community is water-capture netting connected to a series of balloons suspended high above ground. The device collects water from the troposphere which is siphoned through pipes that are connected to reservoirs on the ground level.
The students pitched their ideas to a highly respected panel of judges, including Investment Manager at John Laing, Helena Barrett, and Operations Manager at Pod Point, Duane Walker.
Reece Dickinson, first year LSBU student, said: "The Engineering for People design contest was an amazing opportunity to get creative and think outside the box to try help a good cause for a real life scenario. I feel honoured that our idea, CloudNet, was selected to go to the grand final. The final was a somewhat stressful but greatly rewarding opportunity with the chance to see some great ideas and pitch our design to others. Hopefully we get the chance to create another unique design in the future!"
Alessio Corso, LSBU's Senior Lecturer in LSBU's School of Engineering, said: "Sustainable development has never been more important to humanity than it is today. Population growth and stress on resources we take for granted, like clean water and sanitation, are two sides of the same coin. Our engineering students are made aware of just how pivotal their role in wider society is. The ideas that were pitched by the LSBU students at the Engineering for People National Finals were inventive yet practical, thought-provoking yet realistic, and above all demonstrated unique sensitivity to the communities they aimed to serve in Tamil Nadu. I couldn't be prouder of their achievement of making through to the National Finals. Ghandi's words; 'In a gentle way, you can shake the world' are deeply fitting to all their hard work."
Emma Crichton, Challenge Engineering Manager at Engineers Without Borders UK, added: "For a number of years now, LSBU has taken not one but two of the finalist places at our Grand Finals - a fantastic achievement. We were very impressed by both teams from LSBU and the way they approach developing water solutions for people living in Tamil Nadu. Well done!"
Find out more about the School of Engineering.