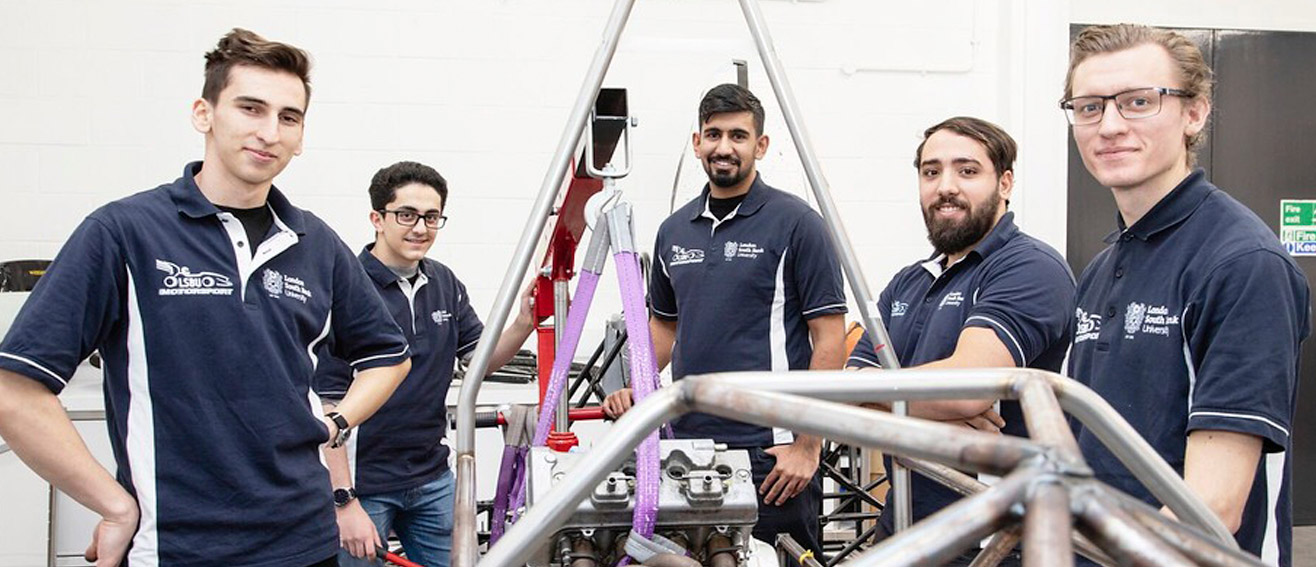 BEng (Hons) Advanced Vehicle Engineering
Southwark Campus
Mode: Full-time; Part-time; Day release
Advanced Vehicle Engineering - BEng
Overview
Speed and sustainability
Employers' demand for engineering graduates is growing. This unique course will give you the skills, knowledge and expertise the automotive industry is looking for. You can expect innovative project-based learning that's supported by industry-leading hardware and software. The focus is on sustainable development, future low-emission technologies and urban transportation – this is where you'll really benefit from our central London location and links with local leading vehicle engineering companies.
We offer the opportunity for all undergraduate Home/EU students to undertake a work placement, internship or work experience while studying a full-time course starting in September 2020.
Why study Advanced Vehicle Engineering at LSBU?
Ranked 1st for student experience and teaching quality in the UK (Sunday Times Good University Guide 2020).

Make use of our stand-out facilities including a world-class Advanced Vehicle Engineering laboratory, workshop and computer suite.

Our staff are experts, with a great deal to share.

European study: spend your third year studying with our partner institution, Hochschule Bremen, in Germany.

No. 1 London modern uni for graduate prospects in Mechanical Engineering (Complete University Guide 2019).
Accreditations
Key course information - ordered by mode
Mode
Duration
Start date
Location

Mode

Full-time

Duration

3 years

Start Date

September

Location

Southwark Campus

Mode

Sandwich

Duration

4 years

Start Date

September

Location

Southwark Campus

Mode

Part-time

Duration

4 years

Start Date

September

Location

Southwark Campus
Modules
This engineering degree course focuses on sustainable development, future low-emission technologies and urban transportation. You can expect to adapt theoretical principles to solve real-world engineering problems very early on in your university career. After all, that's what engineering is all about.
At the start you'll study modules largely common with the IMechE accredited BEng Mechanical Engineering. This is so you gain a fundamental understanding of Vehicle Engineering core subjects. Over the second and third years we'll get more specific and you'll take an active role in our IMechE Formula Student Team, LSBU's Shell ECO challenge vehicle, and other group and individual projects specific to Vehicle Engineering.
Methods of assessment for this course overall: 60% coursework.
Year 1
Engineering mathematics and modelling
This module consolidates the mathematical skills that underpin the BEng engineering degrees. It's specifically designed to cater for the wide differences in mathematical background of 1st year students, as well as to prepare you for the Advanced Engineering Mathematics and Modelling module that you'll take in the second year. Assessment methods: 50% coursework, 50% exam.
Introduction to mechanical engineering
This module will give you a broad introduction to the properties and limitations of engineering materials and an understanding of the fundamental structural characteristics governing these properties. The module will also introduce you to the fundamental concepts of engineering mechanics, particularly statics at BEng Level 4. The module will emphasise the relationship between theory and real engineering systems, and will involve a set of appropriate practical laboratory experiments. Assessment methods: 50% coursework, 50% exam.
Thermofluids and dynamics
This module provides a first study of heat transfer, fluid mechanics, thermodynamics and dynamics. Assessment methods: 50% coursework, 50% exam.
Introduction to electrical electronic engineering
This module will cover the essential material relevant to the fundamentals of both electrical and electronic engineering. Starting with basic circuit elements, Ohm's Law and Kirchhoff's Law, the first half of the module will introduce basic and more advanced circuit analysis techniques such as Node Voltage and Mesh Current methods, progressing onto Source Transformation techniques and the basics of semiconductors (Diodes, BJTs and Op-Amps). Then, the electrical part will cover DC responses of RC, RL and RLC circuits and finally AC sinusoidal circuit theory and power systems and three phase circuits. Assessment methods: 50% coursework, 50% exam.
Design and practice
This module will cover material design activities, team work, creative problem-solving, project management, sustainable development principles, personal development planning, report writing communication, Computer-Aided Design (CAD), employability and transferable skills. It's also a work-based module for part-time students, utilising the Virtual Learning Environment (VLE) to provide supporting teaching material and assessments. Assessment method: 100% coursework.
Engineering computing
This is an introductory module that will address the engineering formation as well as programming knowledge and skills. It will enable you to appreciate the role and importance of software and computers in engineering, and so provide you with the impetus to quickly become competent in their use. Assessment method: 100% coursework.
Year 2
Advanced engineering mathematics and modelling
This module covers undergraduate advanced engineering mathematics to enable you to consider and model a variety of relevant engineering problems (e.g. electrical, mechanical, petroleum, chemical, computer, civil). Assessment methods: 50% coursework, 50% exam.
Vehicle design and virtual engineering
This module investigates vehicle engineering design using the latest CAD industry standard software and LSBU's Virtual Engineering (VE) suite. Utilising a project-based learning approach, you'll be able to appropriately select and apply established design theory to effect comprehensive solutions to vehicle engineering problems. Assessment method: 100% coursework.
Solid mechanics and FEA
This module will provide new concepts in the deformation of materials under different loading conditions and extend the application of fundamental principles of solid mechanics to more advanced systems, building on knowledge gained through Engineering and mechanical Principles. The module will provide basic concepts and the principles of the finite element analysis (FEA) techniques and the application of FEA in structural and stress analysis. Assessment methods: 30% coursework, 70% exam.
Dynamics and control
This module builds on the platform established at Level 4. The module covers dynamics and classical theory. You'll extend your treatment of dynamics from point masses rigid bodies, and cover a wider scope of applications of the principles of mechanics. You'll apply a variety of mathematical techniques to the study of dynamics and feedback problems. Additionally, you'll study various methods of classical control theory such as Bode, Nyquist and Root Locus. Assessment methods: 30% coursework, 70% exam.
Thermofluids and sustainable energy
This module provides a second study of heat transfer, fluid mechanics and thermodynamics, exploring more theory to allow industrial level analysis of processes. The scope includes an appreciation of fuels/combustion, power-producing cycles, internal/external fluid flows and further heat transfer. Assessment methods: 50% coursework, 50% exam.
Machine drives and mechatronics
This module provides the fundamental theory and calculations behind essential elements of mechanical and mechatronics design e.g. mechanical drives, transmission systems, electrical actuation systems, sensors and microcontrollers. You'll learn from the laboratory experiments about the hardware components and subsystems used in the mechanical and mechatronics control in advanced engineering applications. Assessment methods: 30% coursework, 70% exam.
Year 3
Year 4
Manufacturing systems and material technologies
This module provides an advanced study on stress analysis, including elasticity theory, inelastic deformations, fracture of materials and their application to practical engineering problems. The module also introduces the core concepts of manufacturing systems and computer integrated manufacturing in the contemporary product realization process. You'll develop an understanding of the scope of materials/manufacturing technologies, the integrative role of materials selection in engineering and design and an appreciation of technological change, innovation and sustainable in manufacturing technologies. Assessment methods: 30% coursework, 70% exam.
Vehicle dynamics and system modelling
This module will introduce you to advanced dynamical systems theory. This involves mathematical modelling of engineering systems using both Newtonian and Lagrangian approaches. The module will provide an introduction to vehicle dynamics, tyres, and braking systems. It will embrace investigative work into vehicle dynamics systems using computer software and laboratory experiments. Assessment methods: 30% coursework, 70% exam.
Vehicle powertrain, sustainability and 1D-CFD
This module evaluates a variety of existing and future low-carbon powertrains including internal combustion engines utilising multiple fuels, electric motors powered by batteries and fuel-cells, and alternative power sources. Power transmission systems for each powertrain will be considered, as well as energy recovery systems, sustainability and infrastructure requirements for wide-scale use / adoption. Analysis of energy systems will include an appreciation of environmental impact, and you'll develop the ability to critically appraise alternative power-producing devices to meet current and future energy needs. This module will also develop the study of fluid-mechanics governing equations applied to computational fluid dynamics (CFD), and performance of various types of pumps and turbines. You'll undertake simulation of a fluid system using 1D-CFD code. Assessment methods: 30% coursework, 70% exam.
Innovation and enterprise
In the rapidly changing world around us, it's imperative that you're able to think dynamically to create advantage in your life. This module encourages you to question what you see and experience around you and in your prospective engineering field with an aim to enhance your creativity to discover new and better ways of doing things. It aims to equip you with methods and processes to recognise opportunities and to plan on harnessing commercially viable benefits that may exist from exploiting those opportunities in a sustainable fashion. This might be a product or service (such as consultancy or contract management). The application of project management principles will help to define the critical path of a proposed business and how the many processes involved (planning, market research, market placement, finance, operations, human resources etc.) are interlinked throughout the initial planning exercise and how they can change over time. You'll be expected to reflect on what you can contribute towards a group. Assessment method: 100% coursework.
BEng individual project
The Individual Major Project requires you to plan, execute, review and report upon a major piece of technical work directly related to your degree discipline. In this regard, this module provides you with the opportunity to develop a high degree of subject-specific expertise. This module differentiates from others on the course taken due to the high degree of autonomous study expected. This flexibility should be seen as an opportunity to explore new areas of interest and to acquire new and often unexpected skills. The work undertaken within the project will require you to develop your own methodology in advance of presenting solutions to the studied problem. It's therefore expected that project will include evidence and demonstration of detailed research of the subject matter, practical demonstration of understanding of the material, testing and evaluation of the practical elements, detailed reporting, discussion and conclusions of the entire project, and a high level of written presentation and grammar skills. Assessment method: 100% coursework.
Modules are assessed through formal written examinations, phase tests, formative and summative assignments. Ability to apply and integrate knowledge is assessed by larger scale project work as well as group assignments (where appropriate) and logbooks.
Employability
The automotive, future low-carbon vehicle technology and motorsport sector is experiencing a solid growth. The UK is recognised as a world-leader in the research and design of automotive technology and demand for graduates is growing too.
On this course we use industry-standard technology and instrumentation; this means you'll be equipped with the industry specific skills that count.
Our central London location means we have developed local links with Automotive OEM's, tier suppliers, local transport companies and future transport and low carbon technology centres for London.
Also, remember that many recruiters look favourably on BEng graduates because they demonstrate deep understanding of the science and maths underpinning engineering.
Employability Service
We are University of the Year for Graduate Employment for the second year in a row - The Times and Sunday Times Good University Guide 2018, 2019.
At LSBU, we want to set you up for a successful career. During your studies – and for two years after you graduate – you'll have access to our Employability Service, which includes:
An online board where you can see a wide range of placements: part-time, full-time or voluntary. You can also drop in to see our Job Shop advisers, who are always available to help you take the next step in your search.
Our Careers Gym offering group workshops on CVs, interview techniques and finding work experience, as well as regular presentations from employers across a range of sectors.
Our Student Enterprise team can also help you start your own business and develop valuable entrepreneurial skills.
Professional links
We have a panel of advisers from the industry to make sure that the course content is up-to-date and matches employers' needs. And this means our graduates are in demand!
In-sync with industry
Accreditation is a mark of quality assurance that the degree meets the standards set by the Engineering Council, who represent the engineering profession. This course is accredited by the Institution of Mechanical Engineers (IMechE).
IMechE is the fastest growing professional engineering institution in the UK, with 100,000 members working at the heart of the country's most important and dynamic industries.
Put your skills to work
Work experience transforms a CV. It's important that you get some – and we'll help you do that. This is a great opportunity to understand the way that the industry functions and to gain an appreciation of the priorities in the commercial environment. Many students get their first job offers through this training year.
What's more you can choose to complete your sandwich year at our partner institution Hochschule (Bremen), where you'll study German and then complete your industrial placement year in Germany.
During the year you'll stay in regular contact with your tutor and your peers – and we'll make sure that you have the support you need.
Facilities
During your course you'll have access to up-to-date and large-scale workshops, laboratories and design studios which are highly in tune with leading technologies. LSBU has made considerable investment into it's engineering facilities, and thanks to our commitment to developing work-ready graduates, you'll be developing and producing your work in an industry standard environment.
Read more about our workshops, laboratories and industry-standard software packages.
Teaching and learning
Your Lecturers are leading practitioners in their fields, so everything we do is industry relevant. You'll learn through lectures, seminars, tutorials and practical work. Taking on both group and individual projects, we assess your work through a mixture of coursework and exams, with project and laboratory work counting towards your final award.
We also teach you the life skills of effective communication, problem solving, project planning and team working that will set you apart and give you the best chance of getting the job you want after you graduate.
Applied knowledge is what counts
The amount of project-based learning that you'll do on an engineering degree varies from university to university. At LSBU we offer 'design-make-test' projects throughout the degree course rather than concentrating them all into your final year. This means that you'll adapt theoretical principles to solve real-world engineering problems very early on in your university career.
This experience of delivering innovation makes you attractive to employers. Innovation is at the very heart of what an engineer does on a day-to-day basis.
Prepared for modern engineering practice
In reality most engineers will find themselves working side-by-side in multi-disciplinary project teams. One of the greatest professional assets that you can have is the ability to function well in this team set-up. That's why some of our modules are shared across all our engineering courses. These modules are about understanding the commercial priorities that shape engineering practice and problem-solving. Guest lecturers from world-renowned companies, such as Rolls Royce, have lectured on these modules.
Percentage of time spent in different learning activities

| | Lectures and seminars | Self-directed study |
| --- | --- | --- |
| Year 1 | 38% | 62% |
| Year 2 | 37% | 63% |
| Year 3 | 35% | 65% |
Personal Tutoring
As an Engineering student, you will be allocated a named tutor during your first three weeks at LSBU. The role of your tutor is to be your primary contact for academic and professional development support.

Your tutor will support you to get the most of your time at LSBU, providing advice and signposting to other sources of support in the University.
They should be the first person at the university that you speak to if you are having any difficulties that are affecting your work. These could be academic, financial, health-related or another type of problem.
You will have appointments with your personal tutor at least twice a semester. Some meetings will be one-to-one and others will be in small groups. You can contact your tutor for additional support by email or in person.
Entry requirements
A Level BBB or;
BTEC National Diploma DDM or;
Access to HE qualifications with 24 Distinctions 21 Merits including 3 distinctions in Maths and 3 merits in Physics or;
Equivalent level 3 qualifications worth 128 UCAS points
Level 3 Physical Science (Physics preferred) and Maths
Applicants must hold 5 GCSEs A-C including Maths and English or equivalent (reformed GCSEs grade 4 or above).
We welcome qualifications from around the world. English language qualifications for international students: IELTS score of 6.0 or Cambridge Proficiency or Advanced Grade C.
How to apply
International students
International (non Home/EU) applicants should follow our international how to apply guide.
Home/EU applicants
Mode
Duration
Start date
Application code
Application method

Mode

Full-time

Duration

3 years

Start date

September

Application code

H330

Application method

Mode

Sandwich

Duration

4 years

Start date

September

Application code

H330

Application method

Mode

Part-time

Duration

4 years

Start date

September

Application code

4706

Application method
Accommodation
Once we have made you an offer, you can apply for accommodation. You can rent from LSBU and you'll deal directly with the university, not third party providers. That means we can guarantee you options to suit all budgets, with clear tenancy agreements and all-inclusive rents that include insurance for your personal belongings, internet access in each bedroom and on-site laundry facilities.
Or, if you'd rather rent privately, we can give you a list of landlords – just ask our Accommodation Service.
Read more about applying for accommodation at LSBU.
Finance
You don't need to wait for a confirmed place on a course to start applying for student finance. Read how to pay your fees as an undergraduate student.
Prepare to start
Applicant events
After you've received your offer we'll send you emails about events we run to help you prepare for your course.
Enrolment
Before you start your course we'll send you information on what you'll need to do before you arrive and during your first few days on campus. You can read about the process on our Enrolment pages.
Fees and funding
Fees are shown for new entrants to courses, for each individual year of a course, together with the total fee for all the years of a course. Continuing LSBU students should refer to the Finance section of our student portal, MyLSBU. Queries regarding fees should be directed to the Fees and Bursaries Team on: +44 (0)20 7815 6181.
UK/EU fee:

£9250

International fee:

£13780

AOS/LSBU code:

4705

Session code:

1FS00
Total course fee:
UK/EU (excluding any optional years)
£27750
UK/EU (including any optional years)
£27750
International (excluding any optional years)
£41340
International (including any optional years)
£41340
UK/EU fee:

£6935

International fee:

£10335

AOS/LSBU code:

4706

Session code:

1PS00
Total course fee:
UK/EU
£27740
International
£41340
For more information, including how and when to pay, see our fees and funding section for undergraduate students.
Please check your fee status and whether you are considered a Home, EU or International student for fee-paying purposes and for our regulatory returns, by reading the UKCISA regulations.
See our Tuition Fees Regulations (PDF File 136 KB) and Refund Policy (PDF File 102 KB).
Possible fee changes
The University reserves the right to increase its fees in line with changes to legislation, regulation and any government guidance or decisions.
The fees for international students are reviewed annually and the University reserves the right to increase the tuition fees in line with the RPIX measure of inflation up to 4 per cent.
Scholarships
We offer several types of fee reduction through our scholarships and bursaries. Find the full list and other useful information on our scholarships page.