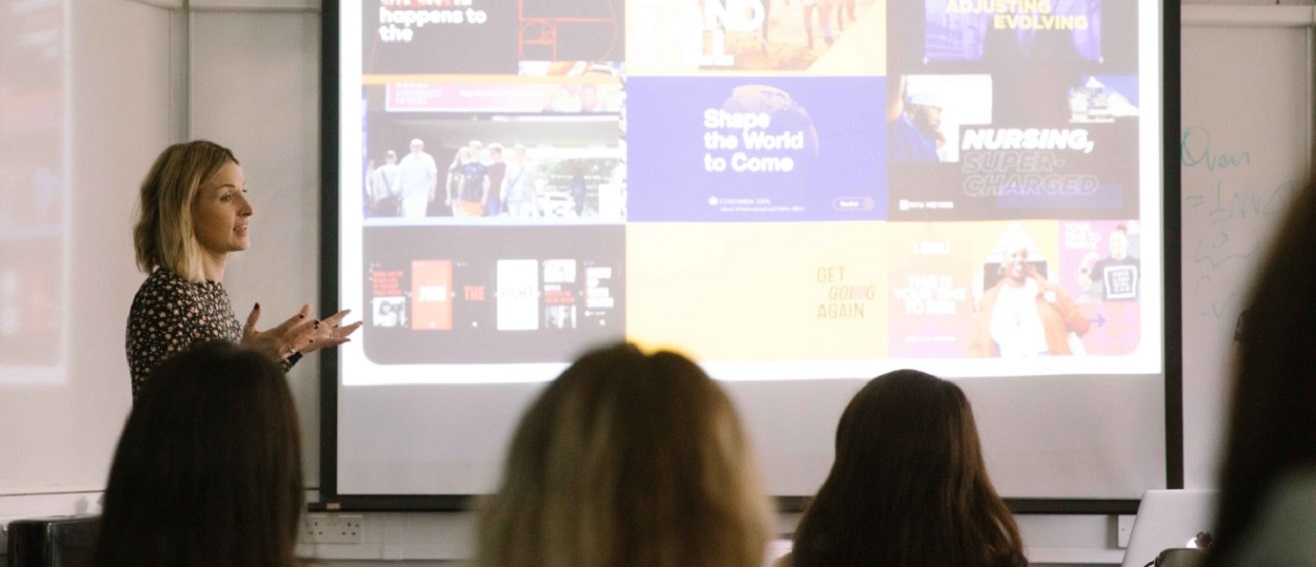 A look into agency life: Guest talk by Net Natives
07 December 2021
LSBU Business School welcomed media agency Net Natives at the Creative Advertising with Marketing class, to address students on the reality of agency life and the processes undertaken on projects when designing and developing campaigns for clients.
Camilla Gallagher, Account Director, and Nat Gould, Senior Researcher, from Net Natives led students through their project process and methodologies undertaken to produce advertising campaigns that win attention, create a powerful emotional connection and drive meaningful action from the target audience.
Case studies of notable clients, including Study in Sweden and NYU Rory Meyers College of Nursing, demonstrated their research, strategic and creative processes in practice, as well as the challenges they faced and tactics used to overcome them.
Net Natives also shed some light on the inner workings of a media agency and the collaboration between various teams, including research, data science and media planning amongst others. Students were able to participate in a Q&A with Camilla and Nat, touching upon the career opportunities and paths available to graduates looking to work in media, and the relationship dynamic between the client and agency.
LSBU student, Cristina Ferreira appreciated the opportunity to explore the practical element of marketing and said, "I found the talk offered great insight into the world of work. I appreciated being able to see what they really do in an agency, as well as the theory of it."
The discussion on teams and job roles available at media agencies enlightened other students on the career opportunities available to them in the market, as one describes, "The Net Natives talk was really helpful and gave me great insight into agency life and working practices I was unsure of. I have a clearer picture of which career direction to go in and feel more confident in being able to secure a role once I graduate from university."
LSBU Business School is committed to providing students with an enriching learning experience that will equip them for the world of work. Dr. Helen Powell, Associate Professor, Creative Advertising, says, "The guest lecture by Net Natives offered an invaluable insight into the kinds of advertising agency students might enter on graduation. As part of a consistent approach in working with practitioners, Net Natives were able to validate what had been explored in class and then to take it that step further via actual campaigns they had executed. The added value of students being able to explore career paths with them and potential internships was a bonus!".
To find out more about what goes on at LSBU Business School and the courses available, register for our upcoming Open Day.