Section Menu
Encouraging student achievement through a wide of extracurricular activities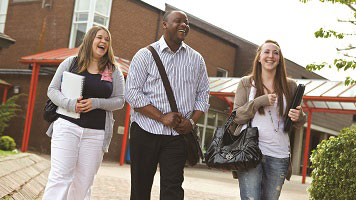 LSBU embrace the higher education achievement report to further the future success of students; empowering them and adding more value to their university degree
The Higher Education Achievement Report (HEAR) is a personalised electronic document bringing together a student's academic and extracurricular achievements during their time at university. HEAR was launched in the UK with 18 institutions, so it is a respected and nationally recognised document for students to show prospective employers. LSBU Business School are leading the way in offering students a very wide range of officially badged extracurricular HEAR Activities.
The more students do, the more they'll gain from the experience, and the more employable they'll be within the job market. HEAR gives students many more experiences and interesting stories for when they come to graduate and look for a full-time permanent position. It provides students with evidence of what they've done whilst at university, and will help with developing confidence and employability skills.
HEAR activities range from being a Business Solutions Centre adviser to achieving a certificate in Enterprise, but also other rewarding and invaluable activities such as learning a new language, or join a leadership book club.
A number of alumni have already benefitted from HEAR, so why not read about their experiences below.
I would advise to everybody not to lose a chance to study foreign language and gain an additional certificate to your degree which you can put in your CV. It was during my studies for an MSc International Finance degree at LSBU that I decided to attend Spanish courses because I was interested in Spanish culture and many employers today require additional European languages.

Nataliia Amerbekova, MSc International Finance student
Business Hackathons are a fun way to challenge your knowledge and skills to solve real-life business problems, improve your communication skills, having an insight on different aspect of business other than your studies and it's a great way of making friends with students from other courses. I highly recommend it to all students to go at least once and try it.

Daniele Nebiolo, BA (Hons) Accounting and Finance student
How can HEAR make you more employable?
Students will be able to use HEAR to assist them in completing job applications and preparing for job interviews, or even benefit from networking opportunities. The Young Directors Forum (YDF) is a platform for young directors and future leaders with the shared vision of creating events that fit their interests and needs whilst providing experiences and networking opportunities whilst engaging their minds with the core business topics of today and tomorrow.
Institute of Directors (IoD) Student Membership project
London South Bank University have been running the Institute of Directors (IoD) Student Membership project since 2012, giving the opportunity for over 500 students across all levels of the School of Business to take advantage of the outstanding benefits to hold membership with the IoD. Naseeba, a final year on the Business Studies BA (Hons) course comments on her experience with The IoD and Network of International Business Schools (NIBS) Worldwide Business Case Competition.
The support and opportunities that the University offered me in my time as a student have been unbelievable. From being a part of the Network of International Business Schools (NIBS) case competition to having the chance to be a part of a members only club IoD.

Naseeba Mhearban, BA (Hons) Business Studies - Final Year
HEAR is just another example of how London South Bank University is committed to the future success of every student that comes to the University, and recognises that university now isn't just about the degree you study, but about the whole experience, and how it can enrich you as an individual.
Top of page