Advanced Clinical Practice (Adult, Child and Mental Health routes) - MSc
Overview
Thorough preparation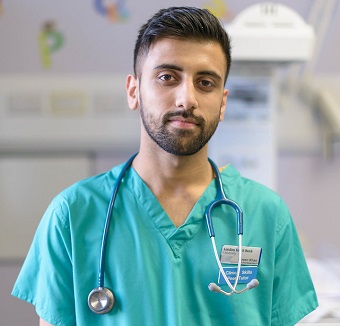 Advanced practitioners are now in demand in all sectors of the health service. This course provides the opportunity to study with the highly regarded School of Health and Social Care at LSBU, which has over 20 years experience educating nurses and more recently allied health professionals and pharmacists to work safely and effectively at an advanced level of clinical practice.
There are three routes available: Adult, Child and Mental Health. Each has been has been designed to equip graduates with the knowledge, skills and behaviours commensurate with the Health Education England Multiprofessional Framework for Advanced Clinical Practice in England (2017). This comprises of four pillars (Clinical Practice, Management/Leadership, Education and Research) with a range of capabilities specified under each.
Our course provides thorough preparation not only for advanced nurse practitioners, but also for advanced clinical practitioners and health professionals who wish to work at a higher level of practice.
It has been developed for both experienced qualified registered nurses and other health professionals working in primary, secondary and tertiary healthcare settings.
Why Advanced Clinical Practice at LSBU?
We have been delivering high quality, advanced nursing education for over 20 years.

Our programme is accredited by the Royal College of Nursing (RCN).

Teaching is provided by experienced qualified advanced practitioners, many of whom work regularly in clinical practice

Option for students to study the 40-credit Non Medical Prescribing course to become independent prescribers.
Other distinctive features of the course:
A Postgraduate Certificate Enhancing Clinical Practice and Postgraduate Diploma Advanced Clinical Practice award are available as intermediate exit awards only. These are intended for students who have studied modules within the MSc ACP but have decided not to or are unable to continue their studies through to completion of the full MSc award. This decision may also be based on availability of funding.
In response to student and employer feedback and learning from similar course curriculum, a taught third year replaces the traditional 60 credit Dissertation. This comprises three 20 credit Level 7 modules. Students completing the PgDip award will have achieved the "threshold" standard set by HEE (2017) for the level of advanced clinical practice. However, this approach enables students to build on this by extending the period of support for successful consolidation and further optimisation of the four pillars of advanced level of practice.
Mode

Duration

Start date

Application code

Application method

Mode

Mental Health, Part-time

Duration

3 years

Start date

January; September

Application code

5533

Application method

Apply via Wozzad

Mode

Child, Part-time

Duration

3 years

Start date

January; September

Application code

5535

Application method

Apply via Wozzad

Mode

Adult, Part-time

Duration

3 years

Start date

January; September

Application code

5537

Application method

Apply via Wozzad
Register your interest
In order to be considered for entry to the course, applicants will be required to have the following:
Professional
Current professional registration with the Nursing & Midwifery Council (NMC) or Health Care Professions Council (HCPC) or The General Pharmaceutical Council (GPhC)
A minimum of 3 years post-registration experience on entry to the course
Academic qualifications
Evidence of a minimum of 90 undergraduate degree level healthcare related credits
Practice
Be employed at minimum of Band 6 or equivalent
Employed* for a minimum of 30 hours per week in one relevant clinical environment, with access to appropriate clinical support and supervision for the development of knowledge and skills to an advanced level. *This excludes students who are working in a locum or agency basis.
Applicants must also be able to demonstrate employer support for all of the following (even where individuals are self-funding) for the applicant to undertake this course at LSBU:
Support for development of the applicant to an advanced level within the workplace while on the course, to enable evolution of the scope of practice and responsibilities
Willingness to release the student to enable them to dedicate the equivalent of 3 hours minimum per week throughout the calendar year (in addition to the study days in university) as protected learning time to enable the student to work in a 'supernumerary capacity' to focus on their clinical/professional development evidenced by completion of the practice based learning activity requirements and the practice based learning records.
For the student to organise for a doctor/qualified advanced practitioner to act as their designated "Practice Facilitator" to supervise and support the applicants overall clinical development and facilitate completion of specified practice-based learning activities. Sign off for specific aspects of learning is required during the course (this responsibility can be shared with other senior experienced clinical colleagues however nomination of an overall Practice Facilitator is required).
Provision of day-to-day supervision and support by an experienced clinical team to enable the development of the knowledge, skills, behaviours, competence and confidence commensurate with this level of practice
Speak with your employer/trust regarding professional development funding that may be available to you.
International students
The course is not currently open to international students.
International (non Home) applicants should follow our international how to apply guide.
Home/EU applicants
Mode
Duration
Start date
Application code
Application method

Mode

Mental Health, Part-time

Duration

3 years

Start date

January; September

Application code

5533

Application method

Apply via Wozzad

Mode

Child, Part-time

Duration

3 years

Start date

January; September

Application code

5535

Application method

Apply via Wozzad

Mode

Adult, Part-time

Duration

3 years

Start date

January; September

Application code

5537

Application method

Apply via Wozzad
Apply for this course through the online CPPD prospectus.
Prepare to start
There will be a two day induction to orientate students to the University and this course.
The course will be taken on a part-time, one-day-a-week basis. The full MSc comprises six 20 credit modules plus either the Non Medical Prescribing module (40 credits) or the alternative of a core 20 credit module and a 20 credit optional module.
Students will normally study between 40 – 80 credits per academic year depending on their desired rate of progression with an overall MSc ACP duration of 3 years up to a maximum timeframe of 5 years.
Further details of the modules related to the Adult, Child and Mental Health routes are provided on accessing the application link.
Become an independent prescriber
Each route includes the option for students to study the 40 credit Non Medical Prescribing course to become independent prescribers to better meet patient's needs and provision of timely treatment. Current prescribing legislation enables nurses, midwives, physiotherapists, pharmacists, chiropodists, podiatrists, therapeutic radiographers and paramedics to train to become independent prescribers.
For other healthcare professionals who are currently unable to undertake the Prescribing course due to legislative restrictions, we offer an alternative package comprising two 20 credit modules:
Enhancing Practice through Work Based Learning (Taught, Level 7): This module allows students to investigate an area of their own choice, relevant to their field of professional practice. For this group, the focus will be the course outcomes on development of the knowledge and skills to make safe, appropriate, evidence-based prescribing decisions. The module is delivered in the form of a learning contract and is largely student managed with tutorial support.
Optional module of choice or utilise credit from prior learning if 20 credits at Level 7 and studied less than 4 years ago.
Careers
Employability Service
At LSBU, we want to set you up for a successful career. During your studies – and for two years after you graduate – you'll have access to our Employability Service, which includes:
Free employability workshop and events for student all year round, more details can be found on our event section.
Online board where you can see a wide range of placements: part-time, full-time or voluntary. You can also drop in to see our Job Shop advisers, who are always available to help you take the next step in your search.
LSBU Careers Hub offering group workshops on CVs, interview techniques and support, guidance on future careers, as well as loads of career resources, connecting you with employers, exciting events, 1-1 support and relevant workshops.
Our Student Enterprise team can also help you start your own business and develop valuable entrepreneurial skills.
Our graduates are making a positive impact on patient care and service innovation in general practices, urgent care centres, ambulatory care, emergency departments, projects for refugees, asylum seekers and homeless populations, elderly care facilities, "out of hours" developments, rapid response services, intermediate care teams, prison services, acute medical and surgical teams, critical-care outreach and many specialist hospital services.
Other areas include paediatric primary, secondary and tertiary services and retrieval teams. In mental health, our students are making their mark in psychiatric liaison and services for clients with serious mental illness, giving more holistic care that takes into account their physical health existing and potential needs.
Most of our graduates have gained employment as advanced practitioners. Some have gone on to become lead nurses within social enterprises, nurse partners in general practices, representatives on commissioning boards and consultant nurses.
We currently have or have had students from over 55 trusts across London and the surrounding area, as well as renowned centres of excellence for children and mental health services.
We are working towards HEE accreditation. The course is RCN accredited. Their standards are currently the only quality marker for advanced practitioner preparation in England. While not all of the students undertaking this course will be nurses, other healthcare professionals will benefit from the rigorous standards set by the RCN.
Accreditation indicates that this course has been evaluated against 15 standards and associated criteria for educational preparation, and judged to prepare practitioners to an advanced level (RCN, 2018).
Guest lectures
Recent guest lecturers include:
Internationally renowned Professor Alison Leary (Chair of Healthcare and Workforce Modelling at LSBU) provides master-classes to enable students, as trainee advanced practitioners, to demonstrate their current and future value and return on investment
Teaching and Assessment
Each 20 credit module accounts for 200 hours of total student effort. This typically comprises of 36 – 42 classroom contact hours, 14 blended learning activity hours and practice-based learning hours (equivalent to a minimum of 3 hours per week). Students should undertake private study for a minimum of 11 hours per module, per week.
The course starts with an induction which may be one or two days in length, to orientate students to the university and the course. Students then attend on a one-day-a-week part-time basis. Teaching sessions are delivered in the morning or afternoon according to the module timetable. There are no evening or weekend teaching sessions. Assessments normally take place in January for Semester 1 modules and May/June for Semester 2 modules.
The academic year at LSBU is organised into two semesters. Each module is normally run over a semester comprising 15 weeks, where the final week is focused on completion of assessments. Attendance is also required for workshops to develop specific knowledge and skills. Dates are provided with sufficient notice to allow for planning.
The teaching team are all experienced Senior Lecturers. They have all worked as advanced practitioners and most continue to do so regularly.
Assessment
A range of strategies are used for assessment on this course:
Formative assessments are used in each module to develop master's level academic performance and review developing clinical competence.
A variety of summative assessments are used at the end of each module including exams, a case study, OSCEs, written coursework, a portfolio, work-based practice based learning and submission of a series of practice based learning records (with verification of supervised clinical development, individual objective setting and review, feedback on progress and specific competencies). These assessments allow the student to demonstrate both the depth and breadth of knowledge and skills required to demonstrate achievement of the capabilities underpinning advanced clinical practice.
Practice based learning
Students on this course do not undertake placements in the traditional sense. Rather learning takes place primarily within their workplace. The term "practice based learning" is used on this course to describe any learning that takes place within a clinical setting.
One of the key requirements for the course is that the practice experience provides learning opportunities that enable students to achieve the course learning outcomes (RCN, 2018). This is particularly important for preparation for a course of this nature; for any students, even those with many years of experience, some of the areas covered by the programme will be new, such as history-taking, physical examination skills, ordering and interpreting investigations, making differential diagnoses, pharmacology, and mental health assessment, etc.
This can be formally planned, organized to meet specific learning needs and opportunistic. It encompasses individual activities through to formal teaching with mixed professional groups within the workplace.Focused practice based learning activities are specified for this course in a Practice Based Learning Handbook. These activities complement classroom learning and are intended to develop the student's clinical and professional scope of practice to an advanced level.
In order to ensure this happens, aspects of learning in practice are purposely structured and assessed. To achieve this we require that every student spends the equivalent of a minimum of 3 hours per week working in a "supernumerary capacity" in order to focus specifically on their clinical and professional development. This requirement extends beyond the University semesters to include the Christmas, Easter and summer periods
Practice Facilitator
Practice Based Learning is supported through identification of a doctor/qualified advanced practitioner to act as the student's "Practice Facilitator" to initially supervise and subsequently support their clinical development.
The Practice Facilitator must be either:
A qualified doctor (GP or registrar level in hospital setting), or;
An advanced nurse practitioner or an advanced clinical practitioner who has successfully completed a minimum of an RCN accredited BSc NP or a PgDip ACP or ANP award at least 2 years ago
For both, they need to have been working in the same organisation and setting as the student for a minimum of one year.
Other experienced senior clinicians can also support student development. Details of these activities and the role of the Practice Facilitator are provided in the Practice Based Learning Handbook.They are also reviewed and discussed at a specific session for students and their Practice Facilitators within the induction, at the start of the course.
Evidence of practice based learning (36 hours of direct supervision and 180 hours of indirect supervised clinical practice), review of specific competencies and feedback on progress is used as one of the elements of assessment on specified modules.
For those students who take the Non Medical Prescribing module, this has its own arrangements for recording practice based learning, including a verified log of clinical hours to account for a minimum of 78 hours for nurses, midwives, and AHP's and 90 hours for pharmacists. A minimum of one third must be under direct supervision of their Practice Assessor of 26 or 30 hours respectively.
The LSBU criteria for the Practice Assessor are:
Qualified independent prescriber for minimum of 3 years
Prescribing regularly, minimum of once a week
Has mentorship qualification or can demonstrate experience or training in teaching / supervision in clinical practice.
Contact information
Course Enquiries - UK
Tel: 0207 815 7500
Chat with a course student