Leadership and Management: Homelessness and Housing - PgCert
Overview
This programme develops key leadership and management skills for current managers and future leaders of organisations in the homelessness sector.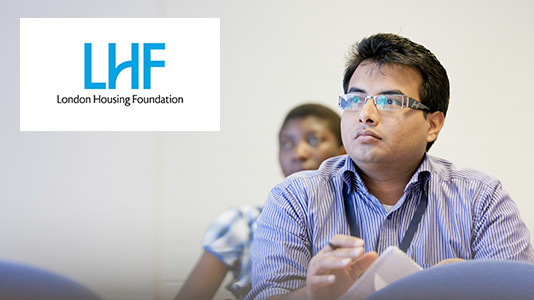 This course was developed by the School of Business in collaboration with the London Housing Foundation (LHF), who are sponsoring the course.
The programme aims to develop leadership and management skills for current managers and future leaders of organisations in this area of work.
The course is primarily designed for appropriately experienced and qualified staff in the homelessness and allied sectors.
The course will run for 1 year, from September to June, the following year, on a part time basis, delivered in 8 two-day blocks; Thursdays and Fridays. There will be an initial two night residential, usually in the first week of October.
"I may have underestimated the work involved in the course but I cannot undervalue the amount of learning I will take away from the Postgraduate Certificate in Leadership in Housing and Homelessness: from tutors, coursework and other students. As well as helping me personally it has given me a new perspective on a range of issues that will improve how I lead my organisation for the benefit of the communities we serve. I would wholeheartedly recommend the course to new and seasoned managers." Recent graduate
Why Leadership and Management at LSBU?
Contributes to participants on-going Continuing Professional Development (CDP) and life-long learning as well as to employers' commitment to staff training and development
Develops and enhances the skills, knowledge, academic theory and current practice regarding leading and managing in a changing sector environment
Reflects current thinking in management theory and practice, recognising the changing environment in homelessness and allied sectors, and how this impacts the skills, knowledge and behaviors of managers, employed in these varied workplaces.
Develops professional and personal confidence to manage and to progress professionally.
Mode

Duration

Start date

Application code

Application method

Mode

Part-time

Duration

1 year

Start date

January

Application code

4523

Application method

Direct to LSBU
Register your interest
A degree or equivalent qualification together with appropriate senior work experience in a relevant setting, or
A professional qualification together with appropriate senior work experience in a relevant setting, or
Relevant senior sector experience , recognised as enabling the applicant to join a course at this level.
The relevance of an applicant's experience would normally be discussed at interview.
The London Housing Foundation (LHF) pays a flat fee to LSBU for each cohort. Applicants should therefore approach the LHF to enquire about possible sponsorship.
LHF would expect each employing organisation to reimburse them for 50% of the cost of each participant. There are no traditional course fees for individual applicants to pay.
Home/EU applicants
Mode
Duration
Start date
Application code
Application method

Mode

Part-time

Duration

1 year

Start date

January

Application code

4523

Application method

Direct to LSBU
LHF contracts with LSBU for this course and leads on recruitment for this programme.
Invitations for Expressions of Interest will be sent out by LHF. Once reviewed, suitable candidates will then be invited by LHF to submit a formal online UCAS application, instructions for which will be sent out to those invited to apply as per the recruitment timetable.
Postgraduate students and research students should apply through our dedicated application system. Full details of how to do this are supplied on our How to apply section for postgraduate students and our How to apply section for research students.
See our admissions policy (PDF File 1,043 KB) and complaints policy (PDF File 516 KB).
Accommodation
Students should apply for accommodation at London South Bank University (LSBU) as soon as possible, once we have made an offer of a place on one of our academic courses. Read more about applying for accommodation at LSBU.
Finance
It's a good idea to think about how you'll pay university tuition and maintenance costs while you're still applying for a place to study. Remember – you don't need to wait for a confirmed place on a course to start applying for student finance. Read how to pay your fees as a postgraduate student.
Postgraduate Application Service
Book a session with one of our specialist Postgraduate Advisors. Over a one on one Advice Session they'll advise you on postgraduate degrees at LSBU that match your interests and experience.
Leadership and Management (20 Credits)
This module we will examine the different concepts of leadership and management focusing on what might be considered the more appropriate styles in the homelessness and housing context.
Assessment
100% coursework but with two elements as follows:
Element 1 (40% weighting) – two examples of high level reflections of your leadership or managerial performance.
Element 2 (60% weighting) – an individual written assignment applying relevant theoretical concepts to your organisation.
Finance for Non-Finance Managers (10 credits)
This module is designed to provide students with knowledge of basic concepts and practices in accounting and finance, an understanding of accounting requirements and an appreciation of good practice in financial reporting, within both Civil Society and Public Sector organisations
100% coursework based on a case study.
Organisational Development (20 Credits)
The module provides an overview of theories, techniques and knowledge in the area of organisational Development (OD), focusing on the
relationship between OD, organisational behaviour and Human Resource Management, adopting a critical and comparative perspective of the issues relating to topics relevant to managing people, in homelessness and housing organisations.
Assessment
100% Coursework but with two elements:
Element 1: (80% weighting) assignment based in students' own organisation.
Element 2: (20% weighting) individual presentation on recommendations from element 1.
Governance, Risk and Ethics (10 Credits)
This module will enable participants to reflect on and understand the role of governance in ensuring accountability within their organisations, both for those working in the public sector as in the charity sector.
Assessment
100% coursework: individual written assignment based on a Case Study.
The weighted pass mark across the modules 50%. Where there are multiple assessments, a 40% minimum pass on each element is a necessary condition of an overall pass. It's necessary to pass all the modules to be awarded the Postgraduate Certificate.
Careers
Employability Service
At LSBU, we want to set you up for a successful career. During your studies – and for two years after you graduate – you'll have access to our Employability Service, which includes:
An online board where you can see a wide range of placements: part-time, full-time or voluntary. You can also drop in to see our Job Shop advisers, who are always available to help you take the next step in your search.
Our Careers Gym offering group workshops on CVs, interview techniques and finding work experience, as well as regular presentations from employers across a range of sectors.
Our Student Enterprise team can also help you start your own business and develop valuable entrepreneurial skills.
The module will be particularly valuable for the target audience of civil society leaders and those aspiring to chief executive and similar roles.