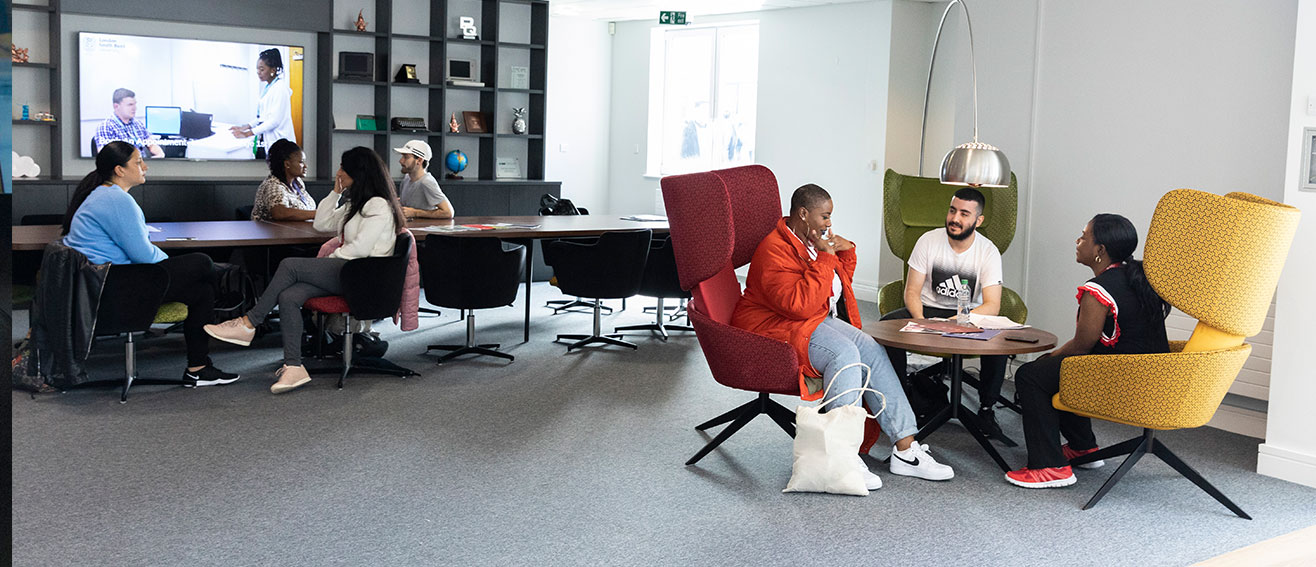 MSc International Marketing
Southwark Campus
Mode: Full-time; Part-time
International Marketing - MSc
Overview
Accredited by the Chartered Institute of Marketing (CIM) this specialist course examines current global marketing issues and aims to provide the skills you will need to stay at the forefront of this discipline throughout your career.
Your studies will extend your awareness of the complex, dynamic and sometimes hostile international business environment.
The main thrust of this programme is to equip future marketing managers with the knowledge and understanding to make and implement marketing decisions for the international arena. This course enables you to apply theoretical frameworks and principles to the practical work environment.
8 reasons to study here
Top 2 for satisfaction with course in Business, Management and Marketing among London competitors (Guardian League Tables 2019).

Top 3 for research intensity in Marketing amongst London Modern universities (Complete University Guide 2021).

Developing employability: the division holds residential weekends and provides internship and placement opportunities for students.

2nd for graduate prospects in Marketing in London (Complete University Guide 2020) and joint 2nd for career prospects among London universities (Guardian University League Tables 2020).

Guest lectures: industry leading guest lectures add a new and modern twist to our teaching for students to develop their sector knowledge.

Professional accreditation: Modules accredited by the Chartered Institute of Marketing, providing exemptions for professional qualifications.

Entrepreneur support: Develop a ready-to-fund business plan or undertake consultancy as a final year marketing project, and individual entrepreneurial activity is supported through the course and University.

Networking opportunities: Build relationships with small and medium enterprises and alumni as part of a unique 'give back' culture.

Research active academics: you'll be taught by enthusiastic but also research active staff, which means you'll receive relevant teaching and best practice for the 21st century.
Accreditations
Key course information - ordered by mode
Mode
Duration
Start date
Location

Mode

Full-time

Duration

12 months

Start Date

September

Location

Southwark Campus

Mode

Part-time

Duration

24 months

Start Date

September

Location

Southwark Campus

Mode

Full-time

Duration

15 months

Start Date

January

Location

Southwark Campus
Modules
Creativity, enterprise and innovation
The module focuses on the rapidly changing world around us, it is imperative that students are able to think creatively, problem solve and create advantage for themselves (be entrepreneurial) and for the businesses they may work for (be intrapreneurial). The module encourages students to question what they see and experience around them with an aim to enhance their creativity and to discover new and improved ways of doing things. This module is to be taught alongside the Curiosity, Creativity and Research module. This will enable deeper exploration of entrepreneurial ideas within a wider research context with the potential to develop these ideas into a Capstone Project and beyond.
Curiosity, creativity and research
This module introduces students to the research process, the mind-set of the researcher and in particular to the idea of creativity in research and what it means to be a 'creative researcher'. In this module, students will identify potential topics for their practice-based dissertation and explore these with the aid of creative thinking techniques. In this way their research ideas can be refined and expressed in terms of clear research questions and objectives making use of the relevant literature and theoretical concepts. This module is to be taught alongside the Creativity, Enterprise and Innovation Module. This will enable deeper exploration of entrepreneurial ideas within a wider research context with the potential to develop these ideas into a Capstone Project and beyond.
Strategies for international market expansion
This module builds a critical understanding of the key drivers of internationalisation, and of foreign market selection and entry as the two strategic dimensions of growth. It increases the depth of knowledge and understanding of marketing principles by introducing the concept of marketing science. It explores the synergies available to leverage brand growth between international market selection and foreign market entry, using the analysis of current business case studies.
Cross-cultural consumer behaviour
In an increasingly interconnected global business environment it is crucial that marketers recognise how a better understanding of cultural differences can help improve performance. As marketers enter new international markets, an understanding of how culture influences consumer buyer behaviour will be crucial for both managers and consumer researchers. This module will examine how culture impacts on the consumer and buyer decision-making process; practices to enable a greater understanding of how culture can influence marketing strategy in the globalised environment.
International pricing, finance and performance
International business managers must be able to speak the language of finance, at least to the extent that they can use financial information to inform their own decisions and to formulate strategy. This module seeks to provide a solid grounding in the disciplines of International pricing, finance and performance through a flexible framework of reference points and analytical tools to enable marketing managers to work with other functional specialists. Students begin by developing basic numeracy skills for financial analysis, working through a variety of cases designed to make familiar the terminologies, measures and calculations of financial reporting, progressing to pricing calculations that extend this knowledge from the domestic to the international arena.
Brand management in an international context
This module explores how the brand is created and formed, how it is managed for longevity and sustainability and how it provides resources and profits for companies. The international aspects of brand management are reviewed in terms of controlling and monitoring as well as cross cultural acceptance from the consumer/customer body. The module examines a broad range of theory taken from product management, service management and brand strategy.
Research in action
The module focuses on the nature, approaches, methods, tools and techniques of research within relevant disciplines from the business environment. In doing so it attempts to develop the skills and knowledge required to complete Master's level research where the emphasis of the research is in improving aspects of business process and business practice. Thus the module is practically oriented towards the completion of a research proposal that will form the basis of the final practice-based project module.
Management consultancy in a global environment
This module is designed to develop professional consultancy skills by studying organisational structure and culture, situational analysis and diagnosis, communication strategies for consulting and group dynamics. Focusing on the development of business research; client handling and project management skills, completion of this module will enable students to prepare a succinct, clear, evidence based, persuasive consultancy led project plan, aligned to the strategic vision of an organisation and which they are able to effectively pitch to a client.
Capstone business project
This capstone, independent research project draws upon the students' skills and knowledge gained thus far enabling application of learning to a scenario resulting in added value to an organisation and creating real world impact. This student driven project must address a current issue or opportunity in an organisational or industrial context. Projects can relate to a student's current role or internship or students can use this opportunity to deepen their knowledge of different sectors or organisations thus make connections utilising the project as a vehicle to impress future employers creating a possible stepping stone to their next job. Alternatively, they may wish to investigate possible entrepreneurial opportunities.
Optional modules (choose 2x10 credits):
Managing virtual work
The module enables course participants to understand the specifics of managing different aspects of virtual work, such as distributed teams, remote employees, remote clients or collaboration partners, and organisations that are entirely virtual. One of the important aspects is the switches between off-site and on-site work that most people do in today's work environments and its implications for perception and behaviour for both employees and management.
Everyday sustainability for business
This module offers an alternative approach to everyday sustainability by making it pay for more than itself in everyday practice. It requires no knowledge of rocket science or a deep enthusiasm for "green" thinking. All it requires is a desire to succeed – both as an individual and as an organisation. The sessions will take the student through auditing the current state, resolving problems, developing a workable strategy and its implementation. Supplementary content includes communications and marketing, rewards and world-class analysis techniques.
Global operations and logistics
The development of strategic priorities to deliver business in a global environment and the efficient management of resources and operations to support strategies is vital as firm's endeavor to remain competitive. This module explores the relationship between business functions, logistics, and supply chain management and will enable students to identify the causes of operation and logistics problems and propose relevant solutions, minimising exposure to risk.
Digital and social media marketing
This module provides a practical introduction to digital and social media technologies (such as Twitter, Facebook, connected devices – the internet of things and affiliate networks) and their application within marketing. The module examines the key characteristics of digital and social media, identifies the theoretical underpinnings such as issues of trust and customer engagement together with trends and usage patterns to provide a framework through which to understand and evaluate them. In addition, the module examines the legal and ethical considerations that marketing in a digital world raises.
Effective business negotiation
Negotiation is a process that provides a vehicle for participation in problem solving and decision making to improve the effectiveness of discussions and sets the scene for operations. It is at the core of nearly every commercial activity. Systematic and thorough preparation, as well as an ability to manage shared, different, and conflicting interests, is critical to success. This module is designed to improve your negotiating skills set and enable you to master current knowledge and practice via a series of interactive and applied workshops.
Public relations
This module aims to develop a critical understanding of the practical context of public relations both within the field of marketing and its broader context. It will provide students with an insight into the discipline as part of integrated marketing communications activity as well as consider the wider influence of practitioners on society and culture. This module will provide students with a critical understanding of public relations both as it is practiced within marketing and as a wider communications discipline. It acknowledges that public relations have become part of the activities of a wide range of organisations to engage, promote and persuade. The module foregrounds influence and reputation management in a range of real-world contexts.
Take an internship
All students have the option to study for a 20 credit internship (instead of taking two 10 credit optional modules). This module allows the student to gain valuable work experience while studying for a master's degree. Responsibility for securing the work placement lies with the student. However, the student is supported during the search process and when the student is actually working. The work placement should have some direct bearing on what the student is studying - a student studying MSc Marketing would be expected to secure an internship with some connection with aspects of marketing within the business community.
Employability
This Masters degree is designed to produce graduates with advanced expertise. You may find employment in middle to top management positions in manufacturing, service and public sector enterprises with operations abroad. Successful students enter into different types of organisations including multinational and global companies, public sector organisations, charities and start-ups.
Our graduates are undertaking a variety of roles including marketing management, international brand management and market research analysts, fund raising and events management, product managers, and account management, public relations, advertising and communications agencies and digital marketing management.
Employability Service
We are University of the Year for Graduate Employment for the second year in a row - The Times and Sunday Times Good University Guide 2018, 2019.
At LSBU, we want to set you up for a successful career. During your studies – and for two years after you graduate – you'll have access to our Employability Service, which includes:
An online board where you can see a wide range of placements: part-time, full-time or voluntary. You can also drop in to see our Job Shop advisers, who are always available to help you take the next step in your search.
Our Careers Gym offering group workshops on CVs, interview techniques and finding work experience, as well as regular presentations from employers across a range of sectors.
Our Student Enterprise team can also help you start your own business and develop valuable entrepreneurial skills.
Professional links
Dual Award Accredited by the Chartered Institute of Marketing (CIM). Graduates of MSc International Marketing wishing to undertake CIM professional qualifications in the future, will qualify for entry to the Professional Diploma in Marketing, gaining exemptions from half of the diploma modules if entered within two years of graduating.
Teaching and learning
You will gain practical evaluative and problem solving skills to equip you for more senior roles in marketing management. The taught component of the course will provide you with the most current thinking in marketing management, including marketing science, changing consumer behaviour, new media and the communications process, pricing across borders, and marketing in emerging markets amongst others. You will be given the opportunity to develop an individual approach to research enabling you to specialise in a particular field of marketing.
Personal Tutoring
As a postgraduate student in the Business School, your personal development and wellbeing is very important to us, so we have developed a personal tutoring system that is tailored to your individual and group needs.
Firstly, you will be allocated a personal tutor who will be available to you on a 1:1 basis as well as facilitating group personal tutoring sessions, designed to enhance your academic and personal development within your postgraduate degree programme.
In addition to an allocated personal tutor, there will also be a personal tutor available 'on call' in a designated room, called 'Talk', for confidential 1:1 pastoral care meetings every day of the academic semester from 9am to 8pm. This personal tutor can be seen by appointment or within a few minutes in order to assist you with any concerns that you may have.
Our personal tutoring motto is that we want you to "Achieve, Succeed & Excel".
Entry requirements
Bachelor degree equivalent to UK Second Class Honours Lower Division in a related subject.
We welcome qualifications from around the world. English language qualifications for international students: IELTS score of 6.5.
The course is designed for students whose first degree is business-related with some knowledge of marketing or who have at least one year of practical experience of working in a marketing role after graduating from a non-specialist degree and who wish to specialise in international marketing.
If you are interested in studying at LSBU, please refer to our Standard Entry Requirements.
How to apply
International students
International (non Home/EU) applicants should follow our international how to apply guide.
Home/EU applicants
Mode
Duration
Start date
Application code
Application method

Mode

Full-time

Duration

12 months

Start date

September

Application code

5488

Application method

Mode

Part-time

Duration

24 months

Start date

September

Application code

5489

Application method

Mode

Full-time

Duration

15 months

Start date

January

Application code

5334

Application method
Postgraduate students and research students should apply through our dedicated application system. Full details of how to do this are supplied on our How to apply section for postgraduate students and our How to apply section for research students.
See our admissions policy (PDF File 544 KB) and complaints policy (PDF File 127 KB).
Accommodation
Students should apply for accommodation at London South Bank University (LSBU) as soon as possible, once we have made an offer of a place on one of our academic courses. Read more about applying for accommodation at LSBU.
Finance
It's a good idea to think about how you'll pay university tuition and maintenance costs while you're still applying for a place to study. Remember – you don't need to wait for a confirmed place on a course to start applying for student finance. Read how to pay your fees as a postgraduate student.
Postgraduate Application Service
Book a session with one of our specialist Postgraduate Advisors. Over a one on one Advice Session they'll advise you on postgraduate degrees at LSBU that match your interests and experience.
Prepare to start
We help our students prepare for university even before the semester starts. To find out when you should apply for your LSBU accommodation or student finance read the How to apply tab for this course.
Enrolment
Before you start your course we'll send you information on what you'll need to do before you arrive and during your first few days on campus. You can read about the process on our Enrolment pages.
Fees and funding
Fees are shown for new entrants to courses, for each individual year of a course, together with the total fee for all the years of a course. Continuing LSBU students should refer to the Finance section of our student portal, MyLSBU. Queries regarding fees should be directed to the Fees and Bursaries Team on: +44 (0)20 7815 6181.
Year 1 FT Southwark JAN (MSc)
UK/EU fee:

£9590

International fee:

£14470

AOS/LSBU code:

5334

Session code:

1FS00
UK/EU fee:

£9590

International fee:

£14470

AOS/LSBU code:

5488

Session code:

1FS00
UK/EU fee:

£4795

International fee:

£7235

AOS/LSBU code:

5489

Session code:

1PS00
Total course fee:
UK/EU
£9590
International
£14470
For more information, including how and when to pay, see our fees and funding section for postgraduate students.
See our Tuition Fees Regulations (PDF File 160 KB) and Refund Policy (PDF File 102 KB).
Possible fee changes
The University reserves the right to increase its fees in line with changes to legislation, regulation and any government guidance or decisions.
The fees for international students are reviewed annually and the University reserves the right to increase the tuition fees in line with the RPIX measure of inflation up to 4 per cent.
Postgraduate loan (PGL) for Masters study
If you are starting a Masters course, studying either full- or part-time, you may be entitled to apply for a postgraduate study loan. Find out more at our postgraduate fees and funding section.
Scholarships
We offer several types of fee reduction through our scholarships and bursaries. Find the full list and other useful information on funding your studies on the scholarships and fee discounts page.
Fee status
Please check your fee status and whether you are considered a Home, EU or International student for fee-paying purposes and for our regulatory returns, by reading the UKCISA regulations.
Contact information
Course Enquiries - UK
Tel: 020 7815 7815
Due to COVID-19, call waiting times may be longer than usual. Any questions? Use the green bubble on the bottom right hand corner to start a live chat with us
Get in touch