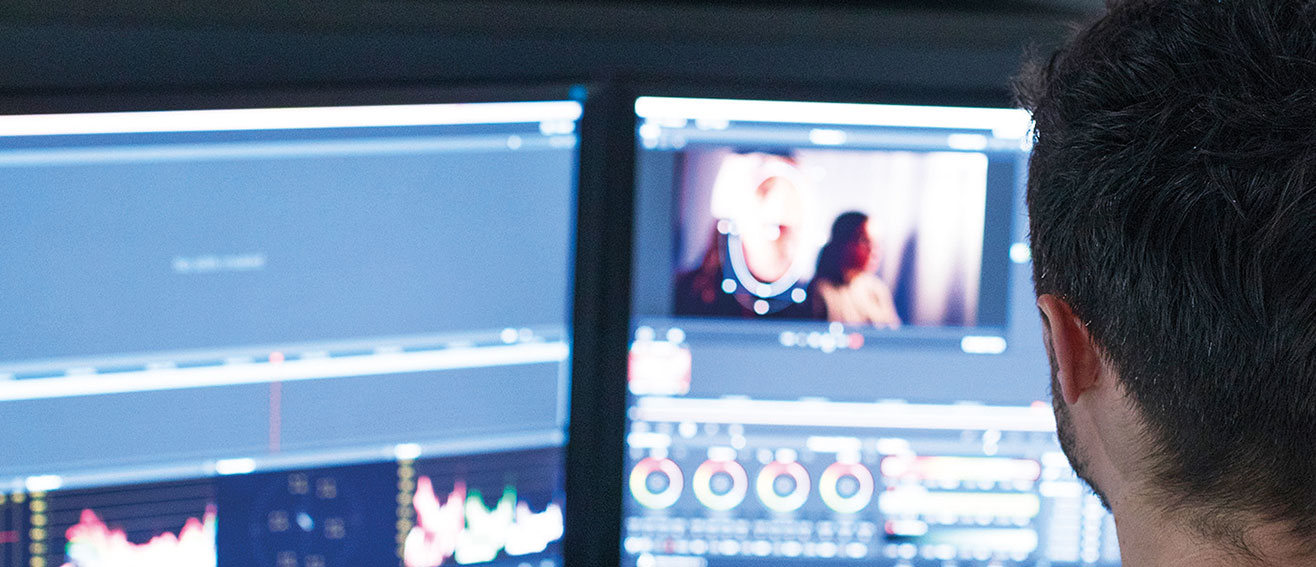 MA Editing and Post Production (EPP)
Southwark Campus
Editing and Post Production (EPP) - MA
Overview
Finishing touches
Our course has been designed in conjunction with the thriving London post production sector to make sure you'll be working on the most relevant platforms. We'll introduce you to a number of roles across post, including grading and compositing.
Teaching is delivered by industry specialists and emphasises professional collaboration in the context of digital film production. Subjects covered include working with digital cinema camera recording formats, colour grading and audio post production.
We aim to produce job-ready graduates, capable in freelance work, enterprise, and new economic models for the creative industries.
Why Editing and Post Production at LSBU?
Work with industry leading software such as Media Composer, Nuke and DaVinci/Fusion. Students will have the opportunity to gain accreditation in Da Vinci and Media Composer.

Regular guest lectures from professionals at all levels of the industry, including freelancer editors, colourists and compositors.

Elephant Studios: Multi-million pound studio facilities at the forefront of digital technologies and multimedia practice for creative students.

Students will be offered optional placements at post houses in London to help build up a network of contacts, which may lead to permanent roles.

Joint 2nd in UK and 1st in London for career prospects in Film Production & Photography (Guardian University Guide, 2021).
Key course information - ordered by mode
Mode
Duration
Start date
Location

Mode

Part-time

Duration

2 years

Start Date

September

Location

Southwark Campus

Mode

Full-time

Duration

1 year

Start Date

September

Location

Southwark Campus
Modules
Modules are taken in one year for full time study and over two years for part time study. They cover an array of topics, including the art of editing, visual effects and colour grading.
Role of the editor (40 credits)
There are two aspects of this module: you will be introduced to editing using Avid's Media Composer software, you will then also be given a detailed overview of the post production industry.
You will receive first-hand experience of the post-production pipeline, you will be provided with pre-existing footage in order to familiarise yourself with the basics of editing visuals and mixing sound and eventually exporting. You will also be familiarised with the post production sector. You will learn how the industry operates, its future trajectory and knowledge of the key plays in order to create a successful on-going career.
Colour grading and finishing (20 credits)
This technical module is designed to give you an experience of working in industry standards and according to established workflows in professional colour grading suits, using footage shot on high end digital cinema cameras. The role of the colourist in film and television is a creative role, and you will be called upon to exercise independent and creative decision-making. You will undertake the necessary research to make informed choices according to the demands of different professional, aesthetic and technological contexts.
The art of editing (40 credits)
This module will introduce you to the historical, cultural, political and artistic developments of editing film and digital video. You will explore editing techniques through both theory and practice based experimentation, as well as a range of editing concepts including options of montage, dialectical approaches to film form, duration, continuity and post-continuity and what Walter Murch calls 'the rule-of-six'.
Visual effects and compositing (20 credits)
You will develop an understanding of the concepts and technical processes involved in VFX. This module will introduce you to 2D compositing software, and while working with this software, you will be exploring keying, masking and tracking. You will be introduced to the exciting and growing world of the VFX industry in London and the key contacts that will help you progress after PG study.
Editing and post production: Major project (60 credits)
This module is your chance to undertake an ambitious project that will require you to bring together and test all your skills as an editor, thereby acting as a major part of your portfolio and demonstrating your readiness for employment in the industry.
Employability
We aim to produce job-ready graduates with the know-how and insight required to embark on careers in the creative industries, delivering professional practice skills around freelance work, enterprise, and new economic models.
Employability Service
We are University of the Year for Graduate Employment for the second year in a row - The Times and Sunday Times Good University Guide 2018, 2019.
At LSBU, we want to set you up for a successful career. During your studies – and for two years after you graduate – you'll have access to our Employability Service, which includes:
An online board where you can see a wide range of placements: part-time, full-time or voluntary. You can also drop in to see our Job Shop advisers, who are always available to help you take the next step in your search.
Our Careers Gym offering group workshops on CVs, interview techniques and finding work experience, as well as regular presentations from employers across a range of sectors.
Our Student Enterprise team can also help you start your own business and develop valuable entrepreneurial skills.
Professional links
The course provides opportunities to engage in collaboration with industry partners. Students have completed placements at Fifty-Fifty Post Production and The Farm.
We currently provide membership to the British Film Editors, which offers exclusive member's events and online resources as well as networking opportunities.
You'll also gain skills in AVID Media Composer and Blackmagic Design's DaVinci Resolve, with accredited trainers.
You will benefit from LSBU's close partnership with The British Film Institute (BFI), the UK's lead organisation for film, television and the moving image. This includes complimentary access to the BFI Player, the BFI's award-winning streaming platform. The player has over 700 films and is the leading platform for world and independent cinema. Our partnership also means access to a range of bespoke masterclasses given by BFI staff members and BFI network colleagues. You will also have access to a number of benefits, discounts and offers. As the BFI is only a short walk away from LSBU, on London's South Bank, you have ready access to the organisation that curates and presents the greatest international public programme of world cinema for audiences in cinemas, at festivals - and online.
The BFI is the UK's lead organisation for film, television and the moving image. It is a cultural charity that: curates and presents the greatest international public programme of world cinema for audiences – in cinemas, at festivals and online.

Avid is reshaping the entire media value chain with powerful technology for creating, managing, storing, distributing and monetizing film, television and music. Their tools and platforms empower more than a million users and thousands of media enterprises to tell powerful stories and build better businesses.

Black Magic design is a company dedicated to quality and stability and focusing on where it's needed most; Blackmagic has created some of the most talked about products in the industry. World famous for their unbeatable codecs, Blackmagic envisioned truly affordable high-end quality editing workstations built upon Blackmagic software and hardware.

Our Film courses are approved by the National Association for Higher Education in the Moving Image (NAHEMI), the professional body that represents excellence in film education and all of the major film schools and film courses in the UK and Ireland. This provides you with exciting opportunities to collaborate, share best practice and increased learning possibilities with film schools and universities, nationally and internationally. It provides a high profile showcase for your work and an opportunity to be at the forefront of debate in film pedagogies, extending our influence in film education and helping our students to succeed.
Teaching and learning
You'll be taught by experienced lecturers and visiting tutors, who combine their teaching with work in the EPP industry.
Classes are taught in studios and labs in the Elephant Studios facility at LSBU. There are editing, grading suites and project rooms for independent and collaborative work.
Individual and group tutorials support our students in every module and we use Moodle as our Virtual learning Environment (VLE).
During the course students may also have the opportunity to join the South Bank Collective a student-run professional creative agency based on the University campus.
Tutoring
As an Arts and Creative Industries student, you will be allocated a named tutor during your first three weeks at LSBU. The role of your tutor is to be your primary contact for academic and professional development support.
Your tutor will support you to get the most of your time at LSBU, providing advice and signposting to other sources of support in the University.
Your tutor should be the first person at the university that you speak to if you are having any difficulties that are affecting your work. These could be academic, financial, health-related or another type of problem.
Your tutor will keep in touch with you throughout your course and you can contact your tutor for additional meetings or support by email.
Entry requirements
UK Honours degree (2:2 or higher) in a relevant subject; or
Equivalent qualification; or
Relevant work experience.
Applicants should have some basic practical experience of editing and post production and are required to supply a link to online samples of their film and video work when applying.
How to apply
International students
International (non Home/EU) applicants should follow our international how to apply guide.
Home/EU applicants
Mode
Duration
Start date
Application code
Application method

Mode

Part-time

Duration

2 years

Start date

September

Application code

4932

Application method

Mode

Full-time

Duration

1 year

Start date

September

Application code

4933

Application method
Postgraduate students and research students should apply through our dedicated application system. Full details of how to do this are supplied on our How to apply section for postgraduate students and our How to apply section for research students.
See our admissions policy (PDF File 544 KB) and complaints policy (PDF File 127 KB).
Accommodation
Students should apply for accommodation at London South Bank University (LSBU) as soon as possible, once we have made an offer of a place on one of our academic courses. Read more about applying for accommodation at LSBU.
Finance
It's a good idea to think about how you'll pay university tuition and maintenance costs while you're still applying for a place to study. Remember – you don't need to wait for a confirmed place on a course to start applying for student finance. Read how to pay your fees as a postgraduate student.
Postgraduate Application Service
Book a session with one of our specialist Postgraduate Advisors. Over a one on one Advice Session they'll advise you on postgraduate degrees at LSBU that match your interests and experience.
Prepare to start
We help our students prepare for university even before the semester starts. To find out when you should apply for your LSBU accommodation or student finance read How to apply tab for this course.
Enrolment and Induction
Enrolment takes place before you start your course. On completing the process, new students formally join the University. Enrolment consists of two stages: online, and your face-to-face enrolment meeting. The online process is an online data gathering exercise that you will complete yourself, then you will be invited to your face-to-face enrolment meeting.
In September, applicants who have accepted an unconditional offer to study at LSBU will be sent details of induction, which is when they are welcomed to the University and their School. Induction helps you get the best out of your university experience, and makes sure you have all the tools to succeed in your studies.
Read more about Enrolment and Induction.
Preparatory Reading List
Atkinson, S (2016) From Film Practice to Data Process: Production Aesthetics and Representational Practices of a Film Industry in Transition. Edinburgh University Press: Edinburgh.
Chion, M. (2019) Audio-Vision: Sound on Screen. Columbia University Press, New York.
Crittenden, R. (2018) Fine Cuts: Interviews on The Practice Of European Film Editing, 2nded. Routledge – Focal Press, New York – London.
Frierson, M. (2018) Film & Video Editing Theory: How Editing Creates Meaning. Routledge, New York.
Hollyn, N (2009) The Film Editing Room Handbook: How to Tame the Chaos of the Editing Room. (4th Edition) Peachpit Press: California.
Hullfish, S. (2017) The Art of the Cut: Conversations with Film and TV Editors. Routledge- Focal Press, New York, Oxon UK.
Hullfish, S (2012) The Art & Technique of Digital Color Correction. Focal Press: Oxon.
Ondaatje M (2002) The Conversations - Walter Murch and the Art of Editing Film. New York: Random House.
Pearlman, K. (2015) Cutting Rhythms: Intuitive Film Editing. Focal Press
Purcell, J. (2013) Dialogue Editing for Motion Pictures: A Guide to the Invisible Art. Focal Press, Oxon UK
Reisz, K and Gavin Millar eds. (2009) The Technique of Film Editing. Focal Press.
Van Hurkman, A (2014) Colour Correction Handbook. (2nd Edition) Peachpit Press: California.
Fees and funding
Fees are shown for new entrants to courses, for each individual year of a course, together with the total fee for all the years of a course. Continuing LSBU students should refer to the Finance section of our student portal, MyLSBU. Queries regarding fees should be directed to the Fees and Bursaries Team on: +44 (0)20 7815 6181.
UK/EU fee:

£8270

International fee:

£14470

AOS/LSBU code:

4933

Session code:

1FS00
UK/EU fee:

£3675.55

International fee:

£6431.11

AOS/LSBU code:

4932

Session code:

1PS00
Total course fee:
UK/EU
£8270
International
£14470
For more information, including how and when to pay, see our fees and funding section for postgraduate students.
See our Tuition Fees Regulations (PDF File 160 KB) and Refund Policy (PDF File 102 KB).
Possible fee changes
The University reserves the right to increase its fees in line with changes to legislation, regulation and any government guidance or decisions.
The fees for international students are reviewed annually and the University reserves the right to increase the tuition fees in line with the RPIX measure of inflation up to 4 per cent.
Postgraduate loan (PGL) for Masters study
If you are starting a Masters course, studying either full- or part-time, you may be entitled to apply for a postgraduate study loan. Find out more at our postgraduate fees and funding section.
Scholarships
We offer several types of fee reduction through our scholarships and bursaries. Find the full list and other useful information on funding your studies on the scholarships and fee discounts page.
Fee status
Please check your fee status and whether you are considered a Home, EU or International student for fee-paying purposes and for our regulatory returns, by reading the UKCISA regulations.
Contact information
Course Enquiries - UK
Tel: 020 7815 7815
Due to COVID-19, call waiting times may be longer than usual. Any questions? Use the green bubble on the bottom right hand corner to start a live chat with us
Get in touch