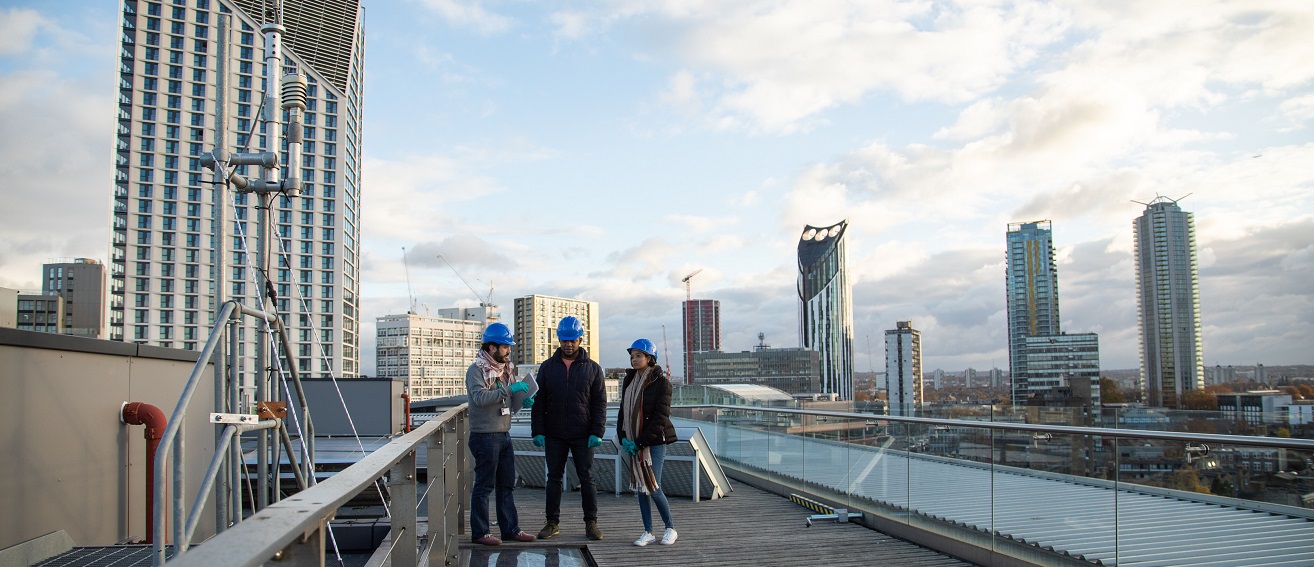 MSc Building Services Engineering
Southwark Campus
Mode: Full-time; Part-time; Day release
Building Services Engineering - MSc
Overview
Beautiful architecture. Solid structure. What else do buildings need? Try living in one without any heating, cooling, electrical power, lighting, water or drainage. What would it be like to work in a tower without lifts? How would you manage without telephones, an IT system or an internet connection? All of these systems and many more are designed by building services engineers. They turn buildings from empty shells into spaces fit for people to use.
What could you achieve?
From the very start of a building's design, building services engineers are involved helping architects and other members of the design team to get the size, shape and configuration of the building right, as well as determining strategies for designing energy efficient buildings, making them sustainable in the long term.
Buildings are responsible for a large chunk of carbon emissions, so this work makes a critical contribution to reducing a building's impact on climate change.
Of all the disciplines working in the built environment today, the building services engineer has the broadest reach and the deepest impact, affecting virtually every aspect of building design.
This course provides a broad basis of the technological areas of building services and energy engineering, with particular emphasis on the interaction between the built and natural environments, modern industry, and the analysis of developing technologies.
Why study Building Services Engineering at LSBU?
Ranked 11th amongst UK competitors for Research Intensity in General Engineering (Complete University Guide 2021).

Heritage: we have been running courses for the Building Services Engineering industry since 1947.

Professional accreditation: accredited by Chartered Institution of Building Services Engineers (CIBSE) and the Energy Institute.

We have one of the best laboratory–workshop complexes in London. Find out more information about our facilities.
Key course information - ordered by mode
Mode
Duration
Start date
Location

Mode

Full-time

Duration

12 months

Start Date

September

Location

Southwark Campus

Mode

Part-time

Duration

24 months

Start Date

September

Location

Southwark Campus

Mode

Full-time

Duration

16 months

Start Date

January

Location

Southwark Campus

Mode

Part-time

Duration

28 months

Start Date

January

Location

Southwark Campus
Modules
The course provides a practitioner perspective to analyse building energy requirements in terms of the external environment and internal space, and the effect on energy resources. We consider the principles of associated building engineering systems to understand control, simulation and modelling techniques.
As well as the core engineering skills, appropriate areas of management and research methods are studied to provide a balance foundation for specialist units. The MSc dissertation provides an opportunity to develop further research skills through in-depth and innovative thinking.
Thermal environment, acoustics and lighting
The module provides an introduction to the processes and characteristics that determine the quality of the internal built thermal, acoustic and visual environment. The aims of this module are to examine the principal parameters that affect the thermal, acoustic and visual environment, and the theory and principles necessary for the design of the internal environment.
Heating and energy in buildings
This module introduces the key components of building heating and cooling systems, and presents sizing methodologies of central plant and techniques for analysing energy consumption and carbon emissions. System configurations and controls are discussed that ensure optimum safe and efficient operation of the plant.
Energy resource and use analysis
This module offers the opportunity to develop strategic and operational management skills in the fields of infrastructure asset management and project appraisal. It covers design life extensions, risk and asset management techniques for infrastructure, and techniques for physical appraisal of infrastructure, and their economic, environmental and social impacts.
Electrical power
The module covers electrical power engineering as applied to the design of systems in buildings. In particular, this includes the connection of, and the effects of, small-scale embedded generation as might be employed to exploit renewable energy sources. The module aims to provide an appreciation and understanding of electrical services design in buildings with particular reference to safety requirements and the effects of embedded generation on the supplier and the consumer.
Sustainable refrigeration
The module introduces the principles of thermodynamics, and applies them to the study and design of energy efficient refrigeration systems. Vapour compression, absorption and other novel cycles are analysed and modeled. Practical applications of sustainable refrigeration are investigated through case studies.
Ventilation and air conditioning
This module introduces the theory and principles necessary for the evaluation of ventilation and cooling loads, the selection and design of ventilating and air conditioning systems. It examines the principles of operation and characteristics of contemporary systems and their associated controls and distribution systems with particular emphasis on energy use and heat recovery. It discusses the effect of system balancing and maintenance on the correct and energy efficient operation of the systems.
Energy engineering project
The primary aim of the project is to provide an opportunity for students to develop their research skills by applying them to problems that require in-depth and innovative thinking. The topic for the project will be directly related to the specialisation being studied and the student will be expected to identify a suitable area of study in their chosen specialisation.
Employability
Employment prospects are excellent. Construction and engineering activity is expected to accelerate in the UK, Europe and worldwide over the next 20 years and demand for building services engineers continues to outstrip supply.
Employability Service
We are University of the Year for Graduate Employment for the second year in a row - The Times and Sunday Times Good University Guide 2018, 2019.
At LSBU, we want to set you up for a successful career. During your studies – and for two years after you graduate – you'll have access to our Employability Service, which includes:
An online board where you can see a wide range of placements: part-time, full-time or voluntary. You can also drop in to see our Job Shop advisers, who are always available to help you take the next step in your search.
Our Careers Gym offering group workshops on CVs, interview techniques and finding work experience, as well as regular presentations from employers across a range of sectors.
Our Student Enterprise team can also help you start your own business and develop valuable entrepreneurial skills.
Professional links
Recent guest lecturers
Dr Guy Hundy, President, Institute of Refrigeration
David Hughes, President, CIBSE
Professor Martin Fry, Energy Consultant
Jonathan Evans, Norton Rose
Expertise
The course is based in what was formerly the National College for Heating Ventilation and Refrigeration Engineering as well as Centre for Energy Studies, and maintains extremely strong links with all areas of the associated industries. Many of the leaders in energy and building services engineering fields are former LSBU students, lending much support in guidance and industrial collaboration, placement and employment.
Accreditation
This course is accredited by the Chartered Institution of Building Services Engineers (CIBSE) and the Energy Institute as meeting the academic requirements to become a Chartered Engineer (with a suitable first degree). The course is accredited on behalf of the Engineering Council.
The Chartered Institution of Building Services Engineers (CIBSE) is the standard setter and authority on building services engineering in the UK and overseas. It speaks for the profession and supports career development.

The Energy Institute is the professional members' body for the energy industry, delivering good practice and professionalism across the sector. Its purpose is to develop and disseminate knowledge, skills and good practice towards a safer, more secure and sustainable energy system.

The Engineering Council is the UK regulatory body for the engineering profession. It sets and maintains the internationally recognised standards of professional competence and ethics that govern the award and retention of Engineering titles.
Entry requirements
The course is designed for students with undergraduate degrees in mechanical, electrical or chemical engineering, or other relevant engineering disciplines, and who seek to develop specialised skills in building services engineering to enter this industry.
A BEng (Hons) degree in an appropriate discipline. Normally upper second class would be considered a minimum, but lower class may be acceptable depending on experience.
Cognate degrees in appropriate disciplines (e.g. physics, chemistry or mathematics) will be accepted provided the candidate demonstrates some knowledge of building services engineering.
Other qualifications may be accepted depending on age and experience. This category would normally be reserved for mature candidates who have had several years experience in the building services industry.
For applicants whose first language is not English, an IELTS score of 6.5 or equivalent is required.
How to apply
International students
International (non Home/EU) applicants should follow our international how to apply guide.
Home/EU applicants
Mode
Duration
Start date
Application code
Application method

Mode

Full-time

Duration

12 months

Start date

September

Application code

5222

Application method

Mode

Part-time

Duration

24 months

Start date

September

Application code

5224

Application method

Mode

Full-time

Duration

16 months

Start date

January

Application code

5223

Application method

Mode

Part-time

Duration

28 months

Start date

January

Application code

5386

Application method
Postgraduate students and research students should apply through our dedicated application system. Full details of how to do this are supplied on our How to apply section for postgraduate students and our How to apply section for research students.
See our admissions policy (PDF File 544 KB) and complaints policy (PDF File 127 KB).
Accommodation
Students should apply for accommodation at London South Bank University (LSBU) as soon as possible, once we have made an offer of a place on one of our academic courses. Read more about applying for accommodation at LSBU.
Finance
It's a good idea to think about how you'll pay university tuition and maintenance costs while you're still applying for a place to study. Remember – you don't need to wait for a confirmed place on a course to start applying for student finance. Read how to pay your fees as a postgraduate student.
Postgraduate Application Service
Book a session with one of our specialist Postgraduate Advisors. Over a one on one Advice Session they'll advise you on postgraduate degrees at LSBU that match your interests and experience.
Prepare to start
We help our students prepare for university even before the semester starts. To find out when you should apply for your LSBU accommodation or student finance read the How to apply tab for this course.
Enrolment
Before you start your course we'll send you information on what you'll need to do before you arrive and during your first few days on campus. You can read about the process on our Enrolment pages.
Fees and funding
Fees are shown for new entrants to courses, for each individual year of a course, together with the total fee for all the years of a course. Continuing LSBU students should refer to the Finance section of our student portal, MyLSBU. Queries regarding fees should be directed to the Fees and Bursaries Team on: +44 (0)20 7815 6181.
UK/EU fee:

£9590

International fee:

£14470

AOS/LSBU code:

5223

Session code:

1FS00
UK/EU fee:

£9590

International fee:

£14470

AOS/LSBU code:

5222

Session code:

1FS00
UK/EU fee:

£4262.22

International fee:

£6431.11

AOS/LSBU code:

5386

Session code:

1PS00
Total course fee:
UK/EU
£9590
International
£14470
UK/EU fee:

£4262.22

International fee:

£6431.11

AOS/LSBU code:

5224

Session code:

1PS00
Total course fee:
UK/EU
£9590
International
£14470
For more information, including how and when to pay, see our fees and funding section for postgraduate students.
See our Tuition Fees Regulations (PDF File 160 KB) and Refund Policy (PDF File 102 KB).
Possible fee changes
The University reserves the right to increase its fees in line with changes to legislation, regulation and any government guidance or decisions.
The fees for international students are reviewed annually and the University reserves the right to increase the tuition fees in line with the RPIX measure of inflation up to 4 per cent.
Postgraduate loan (PGL) for Masters study
If you are starting a Masters course, studying either full- or part-time, you may be entitled to apply for a postgraduate study loan. Find out more at our postgraduate fees and funding section.
Scholarships
We offer several types of fee reduction through our scholarships and bursaries. Find the full list and other useful information on funding your studies on the scholarships and fee discounts page.
Fee status
Please check your fee status and whether you are considered a Home, EU or International student for fee-paying purposes and for our regulatory returns, by reading the UKCISA regulations.
Stuart Johnson scholarship
We are able to offer a subject scholarship from the generous donations of alumnus Stuart Johnson. Read more about the Stuart Johnson scholarship.
Contact information
Course Enquiries - UK
Tel: 020 7815 7815
Due to COVID-19, call waiting times may be longer than usual. Any questions? Use the green bubble on the bottom right hand corner to start a live chat with us
Get in touch