Bachelor of Osteopathic Medicine (BOst) Part-time
Overview
The Bachelor of Osteopathic Medicine (BOst) is a dynamic programme taught by expert and enthusiastic staff, and will provide you with the understanding and skill required for success as a practicing osteopath. The programme is validated by LSBU and delivered by Nescot.
Why study Osteopathic Medicine at LSBU?
The course is designed to equip you with the knowledge and skills required for professional osteopathic practice and life-long learning.

Each year you will have a dedicated tutor who is responsible for overseeing your learning experience and who is available for pastoral as well as academic support.

Professional accreditation: we're accredited by the General Osteopathic Council (GOsC)

Small cohort sizes of approximately 10 allow opportunity for personalised teaching both in the lecture room and student clinic.

Teaching runs over two days years 1 to 4 and 3 days in year 5 which helps you to manage your time effectively and efficiently.

You will gain 1000 hours of clinical training which is delivered on campus in our modern and bespoke training clinic.

LSBU Health and Social Care graduates are the second highest paid amongst all London Modern university graduates, and the sixth highest in the UK one year after graduating (DfE LEO data 2022).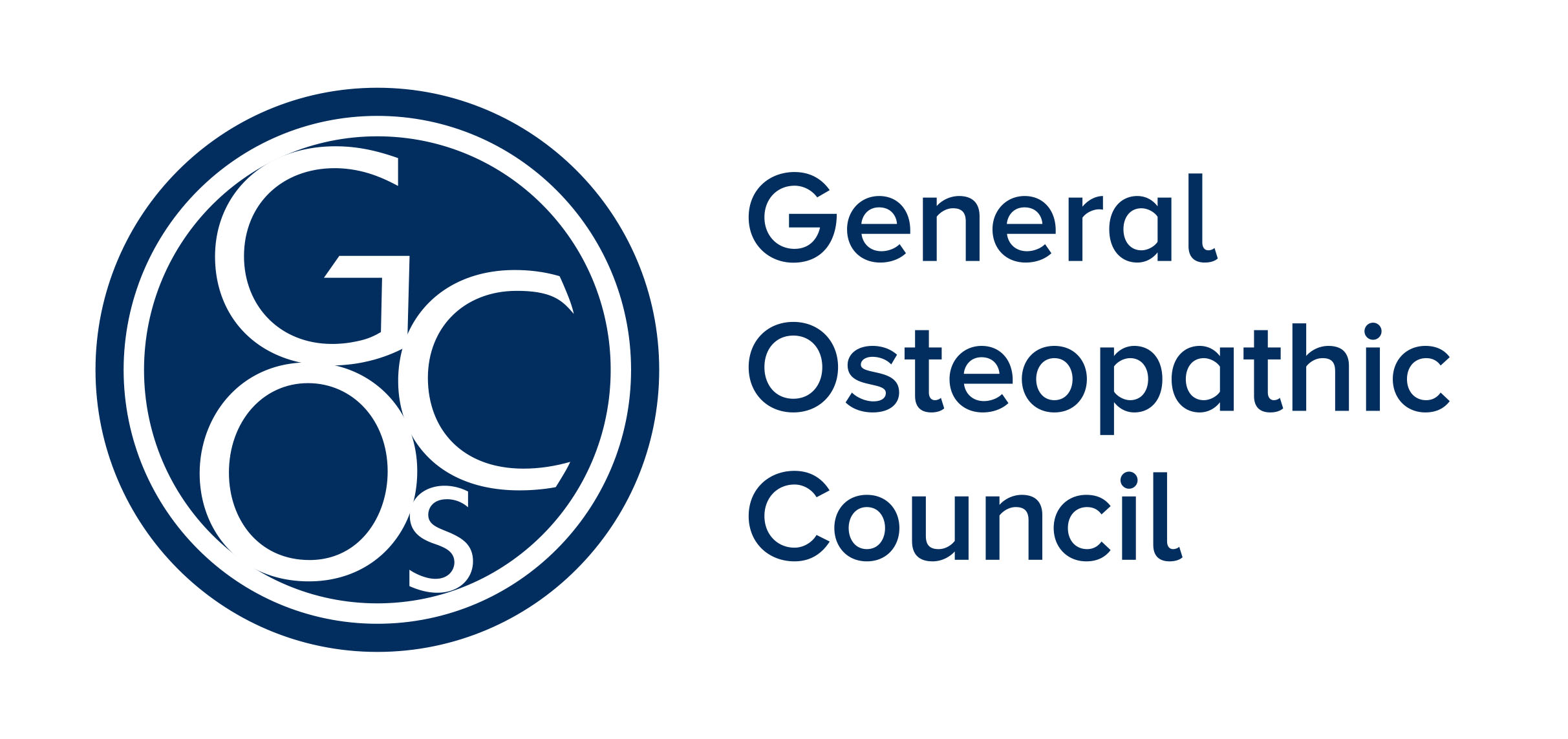 Please note that although we are accepting applications the programme is subject to review by our regulatory body, the General Osteopathic Council, and to their granting of 'Recognised Qualification' status. This review has been completed and outcome will be available in the new year 2024.
Mode

Duration

Start date

Application code

Application method

Mode

Part-time

Duration

5 year

Start date

September

Application code

5831

Application method

NESCOT
Location:
Register your interest
Applicants to this course will need to meet the following entry criteria (or recognised equivalents).

A levels: 96 UCAS Tariff points, including science based subjects
BTEC: 96 UCAS Tariff points, in science-based subjects
Access Diploma: Pass with 60 credits (Science based)
An Honours degree
A foundation degree in a professional relevant subject
Plus: GCSE (A*-C): minimum of five subjects including Mathematics and English Language.

We will consider a range of alternative qualifications or experience that is equivalent to the typical offer. Applications from international students with equivalent qualifications are welcome. A minimum IELTS score of 6 overall, with no element below 5.5, or equivalent is required for those for whom English is not their first language.

Disclosure and Barring Service (DBS) clearance is required.

All applicants must be 18 years or over at the commencement of the course.

Foundation Year

If you have been out of study for a considerable amount of time or have slightly missed the entry requirements this course, you can take your first steps to becoming a registered practitioner with our Health and Social Care Foundation year. Boost your qualifications and confidence for further study with this one-year introductory course and on completion of this course you will be guaranteed entry on to one of our 13 health BSc pre-registration health and social care degrees.
Missing English and Maths qualifications?
If you do not have the required English and Maths qualifications needed to satisfy the entry requirements for this programme, we have courses available at our partner College that you can take to upskill in these areas. Find out more at Southbank College site.
Advanced entry
Applicants who have studied in a related area and/or have relevant professional experience may be able to apply for advanced entry via our recognition of prior learning (RPL) policy. If you would like to apply for RPL please see our policy in the link below.
Fee for 2024/25 entry
Annual fees will be paid pro rata of credits achieved:
Year 1 – £6,200* (80 credits)
*This course has variable yearly credits upon which fees are based. £6,200 are fees for year 1, rising to £9,250 (for 120 credits)
Concession: NO
Government Subsidised: NO
Student Loan Available: YES (Higher education loan may be available)
Fees are for 2024/25 entry and are for UK students of all ages. For more information about financial support for students, please click here.
Osteopathy students may incur the following additional costs:
Clinical Tunics and equipment: Stethoscope, Sphygmomanometer (Blood Pressure Cuff), Patella Hammer and ideally an Ophthalmoscope. The approximate costs of these items of equipment is £300 - £500 and they have to be purchased at the start of the year.
Home
Mode
Duration
Start date
Application code
Application method

Mode

Part-time

Duration

5 year

Start date

September

Application code

5831

Application method

NESCOT
How to Apply
Please follow the link here to apply via Nescot. For details of Nescot's admissions policy please see here Nescot Admissions Policy (nescot.ac.uk).
Year 1 (Level 4) focuses on the acquisition of underpinning knowledge and skills. Modules are designed to help students develop self-reflective and critical thinking skills and to acquire theoretical knowledge of normal human function.
Year 1 Core Modules :
Human Anatomy and Physiology (40 credits)
In this module students learn about normal structure and function, anatomy and physiology of the human body with reference to osteopathic practice. Students will understand the processes by which the body and its systems function under normal circumstances to maintain homeostasis. Students will also develop a working knowledge of surface anatomical landmarks and confidence in the use of anatomical language and terminology.
Introduction to Academic Skills and Professional Practice (40 credits)
This module will develop learners' academic skills necessary for writing, critical thinking, presenting and reading research articles. It will introduce them to the concept of professional development with specific reference to the Student Fitness to Practice Guidelines and the Osteopathic Practice Standards. Learning will be facilitated by guided observation in the teaching clinic.

Year 2 (Level 4 & 5) develops students understanding of the basic principles of osteopathic practice and fundamental manual therapy skills and techniques. Their critical thinking and professional practice skills are further developed through engagement and understanding of the research literature and a using a more reflective and critically evaluative approach to their clinical observation experience.

Year 2 Core Modules include:

Introduction to Osteopathic Practice Level 4 (40 credits)
In this module students will develop a basic knowledge and practical understanding of osteopathic examination and technique. The module will include the teaching of observation, active and passive examination, palpation and soft tissue and articulatory techniques for both the axial and appendicular systems. The module also introduces learners to osteopathic theory and principles and the application of these to osteopathic practice.
Foundation in Evidence Based and Professional Practice (40 credits)
This module will develop students understanding of evidence-based practice and professionalism. The module will provide students with the confidence and skills necessary to search and review the literature in order to answer clinically relevant questions. The module will also support the students as they progress their clinical training and prepare them for their role as a student practitioner.

Year 3 (Level 5 & 6) focuses on students ability to consolidate upon and develop their knowledge and skills in preparation for their clinical progression from student observer to practitioner. Students are introduced to pathology and clinical assessment. Their manual therapy, examination and assessment skills progress with the introduction of more complex and intricate techniques and clinical tests. Students also further develop the research skills necessary to conduct a project.

Year 3 Core Modules include:

Human Disease and Dysfunction Level 5 (40 credits)
This module is designed to give students an understanding of disease processes and their effect on the normal structure and function of the human body. Students will learn the epidemiology, aetiology, pathogenesis and presenting signs and symptoms of diseases that they are likely to encounter in their clinical practice. Traditional medical management including surgery and pharmacology as well as nutritional support will be discussed. Students will be taught the necessary clinical skills to physically assess the different body systems and to interpret basic medical test and imaging results in order to support their differential thinking.
Foundation in Osteopathic Practice Level 5 (40 credits)
In this module students will develop their repertoire of osteopathic manual therapy techniques and learn common orthopaedic tests. They will also be introduced to the use of exercise as an adjunct to osteopathic manual therapy techniques. Emphasis will continue with regard developing the students understanding and appreciation of the relationship between osteopathic principles and applied techniques.
Developing Evidenced Based Practice Level 6 (20 credits)
This module will introduce learners to research methodologies and data analysis techniques to prepare them for their final year project. It will continue to develop their critical thinking and general academic skills

Year 4 (Level 6) focuses on the student's ability to integrate and synthesise previous learnt knowledge and acquired skills and to apply them in clinic. Their scope of practice and range of osteopathic management approaches is also enhanced as they learn how to manage special populations and also how to best integrate manual therapy techniques with exercise and educational advice.

Year 4 Core Modules include:

Clinical Reasoning and Differential Diagnosis Level 6 (20 credits)
This module is designed to further develop students' clinical reasoning and practical examination skills in order that they can formulate a well justified clinical diagnosis. The module will also introduce students to the pain science literature as well as develop their ability to identify presentations which are likely to require onward referral. Due consideration will be given to biopsychosocial model and its application to clinical reasoning and patient management.
Developing Osteopathic Practice Level 6 (40 credits)
This module will give students the opportunity to broaden and refine their osteopathic manipulative and exercise rehabilitation skills. Emphasis will be given to developing students skill and confidence in the use of manipulation techniques. Learners will also develop a critical understanding of the specific clinical issues relating to special populations including obstetrics, geriatrics and sports injuries and will be encouraged to consider critically the osteopathic management of these.
Developing Professional Practice Level 6 (40 credits)
This module is designed to build upon the clinical and professional skills acquired by the student at level 5. In year 3 the students role in clinic as observer changes to practitioner and the module will support this transition. The module will encourage students to reflect on their clinical experience and personal and professional development in the context of the Osteopathic Practice Standards.

Year 5 (Level 6) will prepare students for professional osteopathic practice by developing business skills, clinical reasoning skills, refining technique and widening scope of practice. Additionally, students will be expected to produce a research proposal.

Year 5 Core Modules include:

Research Proposal (40 credits)
The module enables students to demonstrate research and analytical skills through the completion of a research proposal. The learners will identify a clinically relevant area for research and formulate a research proposal applying the skills acquired in previous modules and Developing Evidenced Based and Professional Practice. Learners are allocated a project supervisor to support the development of their research proposal.
Integrated Osteopathic Management (40 credits)
This module will develop students proficiency and autonomy as highly reflective osteopathic practitioners who are capable of providing care to a broad range of individuals with neuromusculoskeletal conditions and associated comorbidities. Due attention will be given to their role as educators and their ability to demonstrate leadership and team working skills. Students will also continue to develop confidence in their manual therapy and exercise rehabilitation skills and their ability to integrate these effectively in clinical practice.
Autonomous Clinical and Professional Practice (40 credits)
This module is designed to build upon and refine students osteopathic professional and clinical skills. It aims to develop students' competence as autonomous practitioners and provide them with the business and communication skills required to work successfully in private practice and as an employee. Students will be encouraged to critically evaluate current research and challenge and justify the beliefs that influence their approach to clinical reasoning and patient management. Consideration will be given to the osteopathic practice standards and the CPD process required of graduate practitioners.

Placements

Clinical training is supported by the professional practice modules that run during each year of the course.

All clinical training occurs on site in our bespoke clinic and is supervised by our clinical tutors who are all registered and practicing osteopaths as well as experienced and qualified educators.

In Year 1 students accumulate 56 clinical observation hours. One 2-hour session a week over 28 weeks.

In Year 2 students accumulate 56 clinical observation hours. One 2-hour session a week over 28 weeks.

In Year 3 students accumulate 56 clinical observation hours. One 2-hour session a week over 28 weeks. During the summer students complete a further block of 68 hours prior to starting Year 3. During this period they begin to treat patients

In Year 4 students accumulate 238 clinical hours. Two 3.5-hour sessions over 34 weeks. During the summer students are also required to complete a further block of 106 hours prior to starting Year 4.

In Year 5 students are required to accumulate 420 clinical hours. Three 3.5-hour sessions over 16 weeks and four 3.5-hour sessions over 18 weeks.
Careers
Most osteopaths are self-employed and work in the private sector, although some are working in multi-disciplinary environments within the NHS and in occupational healthcare in public bodies and private companies.
Professional Links
Please note that although we are accepting applications the programme is subject to review by our regulatory body, the General Osteopathic Council, and to their granting of 'Recognised Qualification' status. This review has been completed and outcome will be available in the new year 2024.
Employability Service
At LSBU, we want to set you up for a successful career. During your studies – and for two years after you graduate – you'll have access to our Employability Service, which includes:
Free employability workshop and events for student all year round, more details can be found on our event section.
Online board where you can see a wide range of placements: part-time, full-time or voluntary. You can also drop in to see our Job Shop advisers, who are always available to help you take the next step in your search.
LSBU Careers Hub offering group workshops on CVs, interview techniques and support, guidance on future careers, as well as loads of career resources, connecting you with employers, exciting events, 1-1 support and relevant workshops.
Our Student Enterprise team can also help you start your own business and develop valuable entrepreneurial skills.
Teaching and Assessment
All lecturers are qualified osteopaths and ensure that theory taught is enhanced with their own real life clinically relevant experiences.
A blended teaching approach is used with face-to-face lectures supported and enhanced by group work, guided clinical observation and informal and formal (twice a year) one-to-one tutorials. Teaching is further supported by digital resources available via the Virtual Learning Environment that include lecture presentations and handouts and module related online courses.
The assessment strategies are varied to promote inclusivity and variety. They include formative approaches which provide opportunities for students to gain valuable ongoing feedback on academic, practical and professional ability. Summative assessments used include written exams, technique, exercise and clinical examination practical assessments, presentations and viva, reflective essays, literature reviews, case study presentations and essays, data interpretation exercises, research project, teaching tasks and clinical based assessment.
Students will be provided with module guides which will provide details of content, learning outcomes and modes of formative and summative assessments. Each individual assessment will have its own assignment brief' to provide learners with details of the assessment rational, mode, related learning outcomes and guidelines for successful completion.