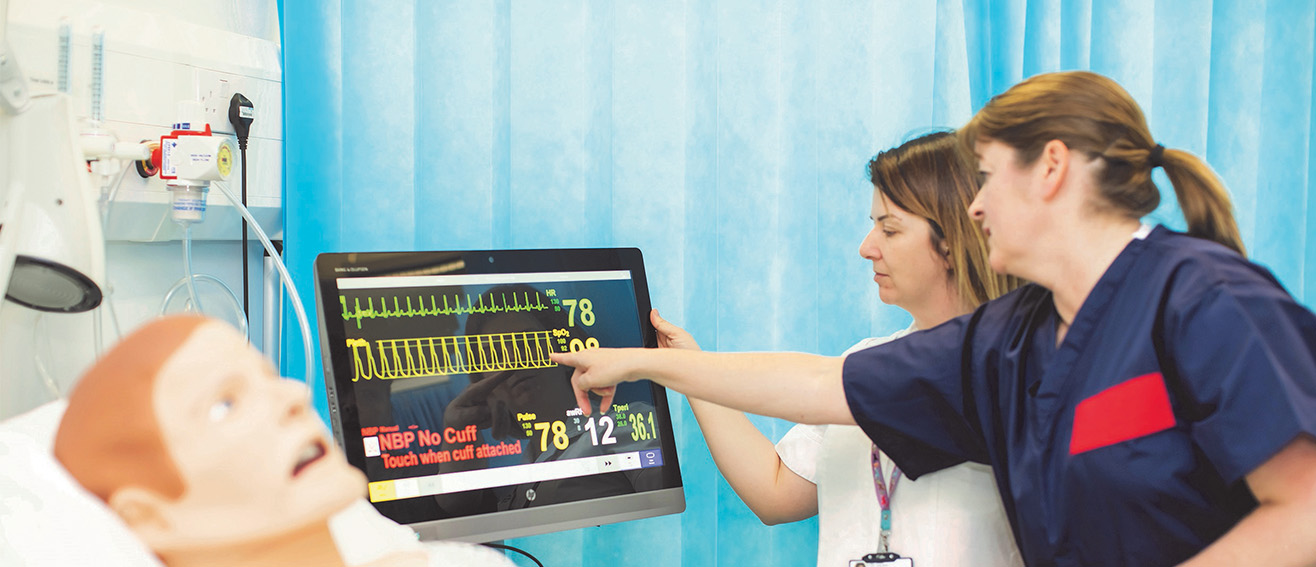 PgDip Adult Nursing
Southwark Campus
Mode: Full-time
Overview
Exceptionally rewarding
Adult nurses help care for people over 18 who are ill, injured, or have physical disabilities. They monitor patients' progress and, in conjunction with doctors and other members of the health care team, decide what care to give, as well as advising and supporting patients and their relatives. Although demanding and intense work, it can be exceptionally rewarding.
Our innovative two-year course will prepare you for a career in a wide range of rewarding adult nursing opportunities, including in general medical and surgical wards, as well as specialist units such as Accident and Emergency or intensive care. Many of our graduates take their first posts as qualified practitioners in the NHS Trusts and hospitals in which they gained experience.
Top-up to MSc
After graduating, you'll be able to gain a Masters degree by completing a dissertation. Students who successfully complete the PgDip course have up to four years to complete the dissertation module via part-time study. This will incur an additional cost.
Why Nursing at LSBU?
Professional accreditation: our courses are approved by the Nursing and Midwifery Council.

Student satisfaction: we're the no. 1 London modern university for overall satisfaction with course in Health Professions (Guardian League Table 2018).

Our PG Dip nursing course is designed to ensure that student develop well-rounded nursing knowledge, skills and attitude to represent a highly valued profession.

Dedicated facilities: We have two adult nursing skills laboratories at our Southwark campus and three at our Havering campus.

No.1 in the UK for graduate prospects in Nursing (Complete University Guide 2019).
Accreditations
Key course information - ordered by mode
Mode
Duration
Start date
Location

Mode

PgDip Full-time

Duration

2 years

Start Date

September

Location

Southwark Campus
Modules
Some compulsory skills sessions may take place in the evening.
You will be taught separately from the traditional three-year undergraduate students and will study the following:
Year 1
Assessing, planning and providing care in Adult Nursing
In this module, you will learn the values, frameworks and skills that underpin adult nursing. The module focuses on different methods and frameworks and teaches holistic assessment underpinned by evidence-based practice. The module is mapped against the NMC (2018) standards and prepares you to carry out fundamental nursing skills across the four fields of nursing utilising a combination of teaching methods including simulated practice.
Applied physiology for Adult Nursing
This module will extend and deepen your understanding of human physiology, which will then be applied to physiological changes that take place during disease processes. Knowledge of cell receptors and some receptor groups will be linked to physiological activity in different systems.
Promoting health and preventing ill health
In this module you will be introduced to public health concepts and contemporary public health issues. These principles can then be applied at an individual and population level and within a local, national and global context. This module of study is aligned to the NMC Standard Platform 2, promoting health and preventing ill health (NMC 2018, Future nurse: Standards of proficiency for registered nurses).
Pharmacology and medicines management in Adult Nursing
This module aims to develop your knowledge and understanding of the principles of pharmacology and medicines management to ensure you are prescriber-ready upon registration with the NMC. It will explore and discuss the principles of pharmacodynamics and pharmacokinetics alongside the pharmacology of groups of drugs commonly used in clinical practice. It will consider and evaluate the roles and responsibilities of the nurse in relation to the safe administration of medication in clinical practice, including competency with drug calculations. This module focuses on the theoretical aspects of prescribing and the practical application of administration.
Practice Experience Year 1
You'll continue to have scheduled Preparation for Practice prior to practice learning and your personal tutor will continue to meet with you on a one-to-one basis to support the integration of theory and practice. In the first year you will have five placements of between four and six weeks. Most of these will be within the adult nursing field but there will also be placements within different nursing areas so that you will gain a wide experience of nursing in its differing contexts.
Year 2
Enhancing and evaluating care in Adult Nursing
In the module you will develop the ability to utilise clinical reasoning to respond to and manage unfamiliar and complex scenarios in adult nursing, to evaluate care that is provided and to develop the skills of other members of the team. The module is mapped against the NMC (2018) standards and prepares you to carry out fundamental nursing skills across the four fields of nursing utilising a combination of teaching methods including simulated practice.
Acute and complex care in Adult Nursing
This module focuses on addressing the care needs of an adult patient in line with the NMC (2018) adult field proficiencies. It will enable you to develop your understanding of assessment, altered pathophysiology and management of a patient with complex physical and acute mental health care needs. It also aims to develop your insights into the way in which complex care can be managed to improve the holistic care of patients. Using a period of reflection both in and on action, you will be supported to consolidate your knowledge and skills in a range of clinical proficiencies which will enable you to become a registered nurse. This will be achieved by using an enquiry based learning (EBL) approach. Facilitation will include lectures, simulation and eLearning activities.
Mother and new-born
This virtual learning module introduces you to the nature of normal childbirth and neonatal care. It explores the concepts of antenatal care, childbirth and postnatal care and the role of the midwife in the delivery of woman centred care. Utilising a variety of on line resources, you will share knowledge gained with your peers on labour, infant feeding and maternal care. This module ensures compliance with European Union Directive 2005/36/EC.
Research in health and social care
The purpose of this module is to allow you to consolidate and extend your knowledge of research approaches and methods and to enhance your ability to be a critical user of research evidence. The module examines philosophical and theoretical perspectives underpinning health and social care research approaches including exploration of research design and key aspects of data gathering and interpretation of both qualitative and quantitative analyses. You will develop practical skills for identifying, critical reviewing and synthesising research evidence relevant to professional practice.
Transition to Leadership
This module will help you to develop and build effective leadership skills in a complex and multidimensional health care setting. It will explore theoretical models of leadership, quality improvement and patient safety and provide you with an opportunity to explore how these concepts interrelate and impact on the delivery of care and prepare you for your final clinical placement.
Practice Learning
You'll continue to have scheduled Preparation for Practice prior to practice learning and your personal tutor will continue to meet with you on a one-to-one basis to support the integration of theory and practice. There will be three placements, one in a non-adult nursing setting. The final twelve week practice learning opportunity is undertaken in your Host Trust with identified practice assessors.
Dissertation (MSc only)
This module provides you with the opportunity to undertake original enquiry in a chosen area of professional practice, either through a systematic review of the literature or a research/work-based project such as service evaluation or audit. You will be able to consolidate and extend your knowledge and understanding of research and evaluation design and associated methods of enquiry during six taught sessions. You will subsequently be supported by a named supervisor to develop the practical skills necessary to plan and carry out your chosen project.
Top-up to MSc
After graduating, you'll be able to gain a Masters degree by completing a dissertation. Students who successfully complete the PgDip course have up to four years to complete the dissertation module via part-time study. This will incur an additional cost.
Employability
The course will enable you to develop through a vocational approach to teaching, leading to registration with the Nursing and Midwifery Council (NMC).
Role and responsibilities
It is said that no two days as an adult nurse are the same, but common tasks include monitoring vital signs like pulse and blood pressure; meeting the hygiene needs of patients and providing them with consistent care. With experience, there are multiple opportunities for specialisation, such as: district nurse, occupational health nurse, sexual health nurse and specialist nurse.
An adult nurse typically starts on a salary of £21,000, which can increase to £30,764-£98,453 in senior posts. (Take a look at our Prospects section for more detail).
Top-up to MSc
After graduating, you'll be able to gain a Masters degree by completing a dissertation. Students who successfully complete the PgDip course have up to four years to complete the dissertation module via part-time study. This will incur an additional cost.
Employability Service
We are University of the Year for Graduate Employment for the second year in a row - The Times and Sunday Times Good University Guide 2018, 2019.
At LSBU, we want to set you up for a successful career. During your studies – and for two years after you graduate – you'll have access to our Employability Service, which includes:
An online board where you can see a wide range of placements: part-time, full-time or voluntary. You can also drop in to see our Job Shop advisers, who are always available to help you take the next step in your search.
Our Careers Gym offering group workshops on CVs, interview techniques and finding work experience, as well as regular presentations from employers across a range of sectors.
Our Student Enterprise team can also help you start your own business and develop valuable entrepreneurial skills.
Professional links
Practice experience is gained in a variety of leading NHS Trusts across London including Guy's and St Thomas' Hospital and University College London Hospitals (UCLH).
Placements
During the course you'll spend 50% of your time involved in academic study and 50% in clinical practice. A clinical practice placement allows you to work with a range of health professionals in clinical situations to become a competent nurse. Although sometimes challenging, practice learning is one of the most interesting and exciting aspects of learning to be a nurse.
Clinical settings
At LSBU, you will experience a variety of clinical settings, including NHS acute Trusts, community placements, independent sector and voluntary sector organisations.
If you are based at our Southwark campus you'll be placed at Guy's Hospital, St Thomas' Hospital, University College London Hospital , Royal London Hospital, St Bartholomew's Hospital, Newham University Hospital and Whipps Cross University Hospital and/or Frimley Park Hospital. You'll also undertake a placement in the community.
Structure of placements
Placements are spread over the two years:
Your first clinical placements are designed to introduce you to working in a professional setting and to develop essential care and basic assessment skills, infection control and learn about safeguarding vulnerable people.
You will then begin to take on more responsibility, looking at small groups of patients and making confident, proactive decisions for their health management.
We ensure you receive continuous support and guidance from a dedicated mentor and practice learning teams made up of lecturers and practitioners.
Accreditation
Our courses are approved by the Nursing and Midwifery Council.
The Nursing and Midwifery Council regulates nurses and midwives in England, Wales, Scotland, Northern Ireland and the Islands.
---
Facilities
Adult Nursing skills laboratories
We have two adult nursing skills laboratories at our Southwark campus and three at our Havering campus. These labs are set up like nursing wards and are used by all student nurses and midwives throughout their courses. They learn manual handling and basic life support skills and skills that are specific to their field of nursing or midwifery.
SimMan
The nursing wards have simulator mannequins: SimMan, SimBaby and SimMom. These life-size mannequins are computer controlled and can be programmed with various clinical conditions. These are operated by a computer in real-time and so respond to a student's actions. They also allow students to see the outcome of specific interventions in certain scenarios, which could make the patient better or deteriorate quite quickly.
The mannequins are used to teach students how to recognise clinical signs, and to also associate those clinical signs with the actions they are taking to care for the patient. SimMan can be male or female with fully accurate anatomy and can breathe, blink, sweat, speak and groan in pain as well as have a pulse. Read more about SimMan.
Teaching and learning
Personal tutoring
As a Health and Social Care student, you will be allocated a named tutor during your first three weeks at LSBU. The role of your tutor is to be your primary contact for academic and professional development support.
Your tutor will support you to get the most of your time at LSBU, providing advice and signposting to other sources of support in the University. They should be the first person at the university that you speak to if you are having any difficulties that are affecting your work. These could be academic, financial, health-related or another type of problem.
You will have appointments with your personal tutor after every clinical placement throughout your course. You can contact your tutor for additional support or meetings by email.
Entry requirements
Applicants will be considered on an individual basis but will normally require:
A Bachelor degree with a minimum 2:2 classification. Candidates without a health or science related degree are required to complete a Life Sciences work book package to satisfy the Life Sciences element of the APL portfolio.
Please make sure you have the required GCSE qualifications (or equivalent Level 2 qualifications) before applying for this course.
Maths and English GCSEs/equivalent (at C or above) to meet the Nursing and Midwifery Council (NMC) selection criterion.
How to apply
Home/EU applicants
Mode
Duration
Start date
Application code
Application method

Mode

PgDip Full-time

Duration

2 years

Start date

September

Application code

B741

Application method
How to apply for the PgDip
Although this is a postgraduate course, all students apply to the Universities and Colleges Admissions Service (UCAS). Full details of how to do this are supplied on our How to apply webpage for undergraduate students.
When making your UCAS application you will need to apply for your chosen field of nursing practice.
Attributes and values
Nursing is a very competitive career and it is important you make a high quality application to us. Here are some tips on what attributes, skills and values we are ideally looking for in an LSBU nursing student:
Meet the required entry requirements for LSBU nursing courses
Good understanding of basic numeracy and literacy skills
Impeccable communication, caring and helping skills
Able to work as part of a team as well as independently
Reliable, patient and understanding
Motivated
Dedicated to a career in nursing and fully comprehend the responsibilities of the role
Personal qualities and values in line with those expected by the NHS constitution.
Accreditation of Prior Learning (APL)
All applicants are required to make an APL claim. You may apply for APL through both certificated learning and the production of a portfolio to demonstrate achievement of programme outcomes for the programme you have applied for through experience. If you are offered a place on the course you'll be provided with guidance notes to assist you in constructing this.
Interviews and assessments
As part of the selection process you'll be expected to attend an MMI interview. Find out more.
If offered a place, you must successfully complete both a Disclosure Barring Service (DBS) and occupational health check, and provide proof of ordinary residency requirements and satisfactory references. A valid passport is required for enrolment purposes.
English language
For those whom English is not their first language must achieve a minimum score of 7.0 overall or equivalent with not less than 7.0 in the listening and reading sections and not less than 7.0 in the writing and speaking sections for the International English Language Test Score (IELTS) at the time of application.
Postgraduate Application Service
Book your time with one of our specialist Postgraduate Advisors. Over a one on one Advice Session they'll advise you on postgraduate degrees at LSBU that match your interests and experience.
Prepare to start
Disclosure Barring Service (DBS)
All pre-registration students need to be DBS cleared before going on placement. You'll need to have an enhanced DBS check even if you have had one before and will not be able to go on placement until this is complete.
The DBS process is not difficult but can take some time so it's best to get started as soon as you receive your email. You will receive the email during Summer 2021.
DBS update service
If you're part of the DBS update service, your subscription is up to date and you already have a DBS certificate, please bring in your original green DBS certificate for the document check. To take advantage of the update service, your certificate needs to be classified as 'Enhanced' and workforce must be listed as 'Adult and Child'. If you have any queries, please email us at hscdbsoh@lsbu.ac.uk.
How to complete your DBS
Our DBS supplier, Verifile, will send you an email with all the details you need to complete your DBS.
Verifile will give you instructions to log into their system and complete your personal details and information. To complete the process, you'll need your passport or driving licence and 5-year address history including dates when you moved in/out.
You can use your application number to track the progress of your DBS.
When you've finished, your Disclosure Statement will be mailed to the most recent address in your submission, so please make sure it's correct. We don't automatically receive a copy of this Statement, which is why we need you to bring it in as part of the next step.
Frequently asked questions
Document check
Once you have completed the online part of the DBS process, you will need to produce three accepted documents from this list to be verified.
Occupational Health (OH)
An exciting part of many of our Health and Social Care courses is the opportunity to learn off-campus and work with patients, clients and/or service users. Before you start, we need to make sure that you have the correct levels of immunisations.
Questionnaire
GP appointment
The second part of your occupational health check is to get any inoculations that you may need from your GP. When attending your GP appointment, please take printed copies of these two documents with you.
Vaccination Screening Advisory Letter
GP Vaccination and Screening History
Occupational Health appointment
After these steps are complete you will receive an email from OHWorks Ltd inviting you to attend an appointment on-campus with an Occupational Health Nurse. These appointments take place during the week and sometimes when your classes have already started.
The OH team have prepared this guide which outlines what to expect at each stage. If you have queries or concerns about your Occupational Health clearance or inoculations please contact the Occupational Health team.
Frequently asked questions
Holidays
Your holiday periods will not follow the normal University timetable because of placements. You'll receive more details once you start your course.
Practice placements
Most health and social care courses' practice placements will operate outside normal working hours e.g. evenings, nights, weekends and bank holidays.
Uniforms
Most placements and some practical sessions in our skills laboratories will require you to wear a uniform and name badge. You will be measured for uniforms specific to your course as part of your Welcome Week activities after enrolment. In the meantime, we have prepared answers to frequently asked questions that you might find useful.
Frequently asked questions
Enrolment and Welcome Week
Before you start your course we'll send you information on what you'll need to do before you arrive and during your first few days on campus. You can read about the process on our new students pages.
Fees and funding
Please note that this course is not currently open to international students.
Possible fee changes
The University reserves the right to increase its fees in line with changes to legislation, regulation and any governmental guidance or decisions.
The fees for international students are reviewed annually and, additionally, the University reserves the right to increase tuition fees in line with the RPIX measure of inflation up to 4 per cent.
Scholarships
We offer several types of fee reduction through our scholarships and bursaries. Find the full list and other useful information on funding your studies on the scholarships and fee discounts page.
Fee status
Please check your fee status and whether you are considered a home, EU or international student for fee-paying purposes by reading the UKCISA regulations.
Funding for pre-registration postgraduate programmes
Since August 2018 new postgraduate pre-registration nursing, midwifery and allied health professional students have been able to access loans from the Student Loans Company. Accessing loans provides at least 25% more up-front living cost support whilst you study. You will also have access to the Learning Support Fund, which is administered by the NHS Business Services Authority, for support while attending clinical placements.
Background to these changes can be found on Gov.uk.
Council of Deans have prepared a briefing paper and Student Finance have outlined who qualifies. The Funding Clinic provides further information on what support is available.
NHS Bursary will produce guidelines and information once the information has received parliamentary approval.
MSc students, please note: you are able to apply for a £9250 student finance loan each year but this will not cover the full cost of the second year of this course.
Contact information
Course Enquiries - UK
Tel: 020 7815 7815
Due to COVID-19, call waiting times may be longer than usual. Any questions? Use the green bubble on the bottom right hand corner to start a live chat with us
Get in touch