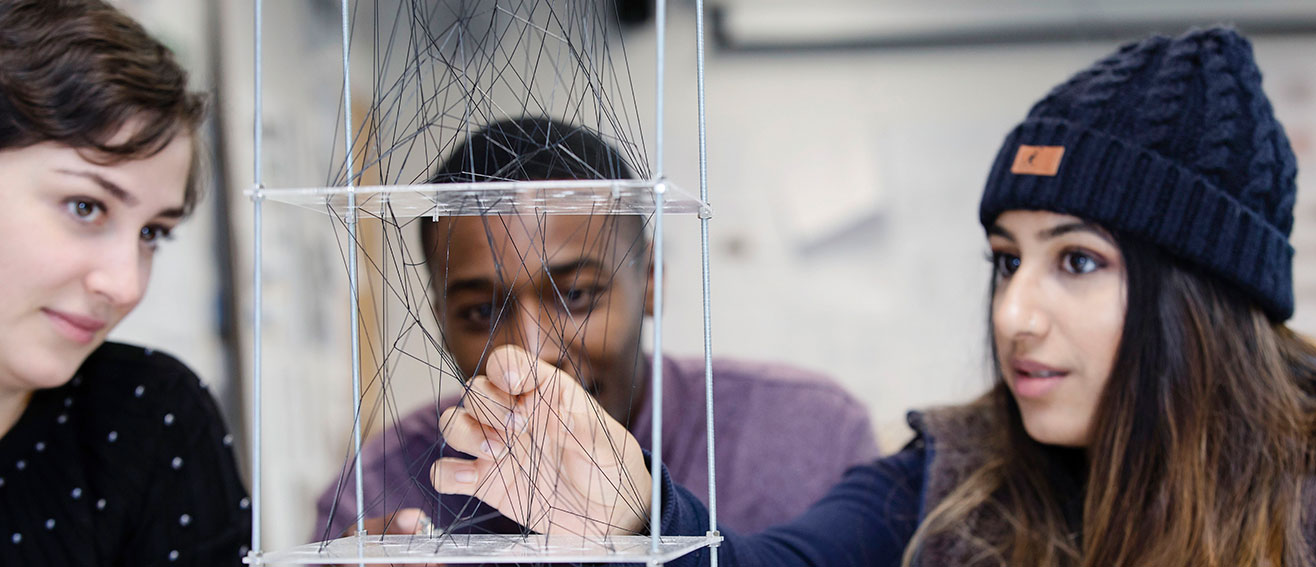 Virtual Engineering lab
Our virtual engineering laboratory allows engineering students to walk around their designs in 3-D
Comprising five different zones, everything in the lab has been carefully engineered to help students in the School of Engineering become familiar with new technologies to design, develop and test their ideas. They can use the equipment to perform detailed design reviews, rehearse in-depth training tasks, validate maintenance procedures or verify assembly and manufacturing processes at 1:1 scale. They can view their engineering projects in real-time, using the latest 3D modelling and visualisation technologies.
Take a tour
Take a 360 virtual tour of the Virtual Engineering lab.
Virtual reality
The laboratory consists of a virtual reality auditorium, a project-based learning laboratory, a rapid prototyping and post-production suite, a digital factory and a head-mounted-display suite, which allows students to navigate their engineering projects in 3D, using virtual reality headsets.
The virtual reality auditorium features an ActiveWall with a 6m x 3.2m screen from Da-Lite that enables students to view their models at full size. The fully tracked system uses Intersense wireless tracking, with navigation provided by a wireless MicroTrax controller.
Live link
Next door sits the head-mounted display suite, the two separated by an electrostatic glass wall that can be made opaque at the flick of a switch. The two environments are joined by a live link so that our students can understand how the VR world is developed using high-tech physical sensor-based rigs.
3D printing
The project-based learning suite is home to 23 workstations running a range of CAD software from Autodesk, Ansys and Siemens, while the rapid prototyping suite has the capability to turn the solutions created in the CAD suite into reality thanks to 3D printing solutions from Stratasys, including the Fortus 360mc and the Connex Objet260.
Between them, these facilities give LSBU staff and students the chance to visualise and test their design before making physical prototypes that help them to understand how their project will work, as well as spotting and correcting any design flaws quickly and easily.
Cross-collaboration
We're planning to put the facility to work finding solutions in other areas besides engineering too, using VR in areas such as medicine, sports science, architecture and the built environment and applied science.
Hands-on experience
Tony Roberts, Head of technical support, is delighted with the new facility. "We want to give students a hands-on experience of using Virtual Reality as a development tool, as this technology changes the way we interact not only with our designs, but with our colleagues too," he says. "We are using these exciting technologies to challenge the next generation of engineers to think differently and develop more creative solutions to real-world problems. Postgraduates, undergraduates and even younger students from our affiliated Academy of Engineering will all benefit from these facilities. This is part of a new chapter of engineering teaching and LSBU has a leading position in delivering the kinds of skills industry needs."
Read more about our facilities for mechanical and design engineering.
Photo: copyright Virtalis, 2015