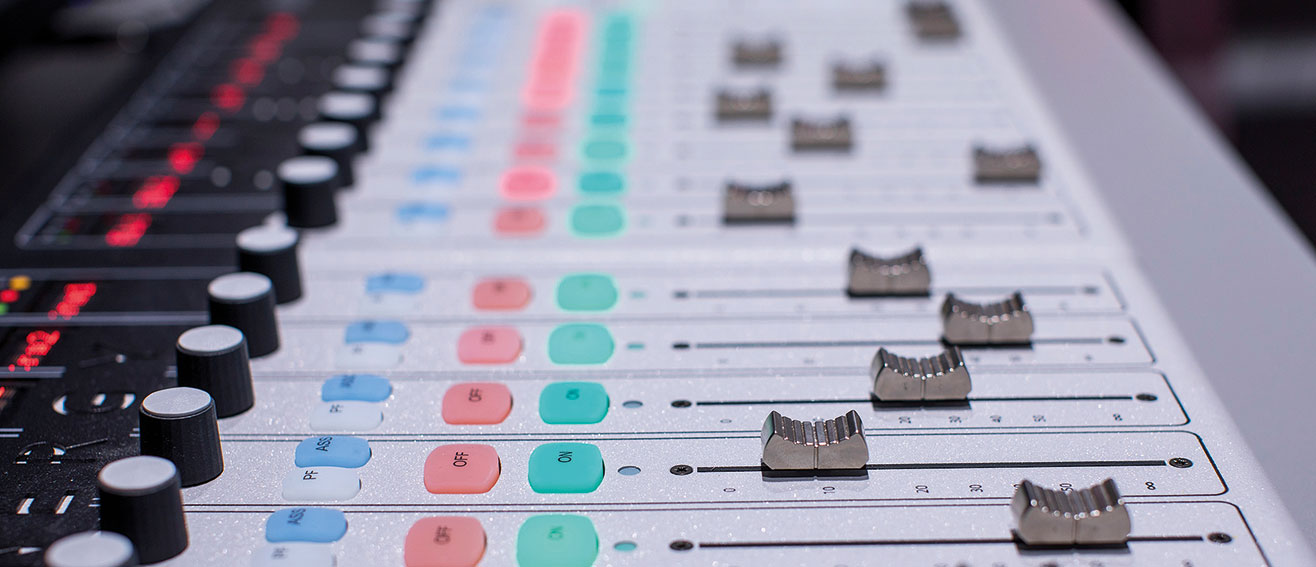 Sound Studio
The Sound Studio, based at Elephant Studios at LSBU, consists of high specification floating rooms that have been designed by industry-leading acoustic designers
The Sound Studio features a control and live room, and provides a versatile environment to work on music projects and film sound post-production. Both rooms are high specification floating rooms that have been acoustically treated and isolated.
The mixing console is an SSL AWS 924 Delta, with Dynaudio AIR and Genelec monitoring. Projects can be mixed from stereo through to 5.1 / 7.1/ 9.1 and Dolby Atmos.
The Sound Studio is part of Elephant Studios at LSBU – multi-million pound multidisciplinary studio facilities at the forefront of digital technologies and multimedia creative practice.
Equipment and software
SSL AWS 924 Delta (24 Channels with DAW integration)
Mitchell & Mosses Patchbay
Dynaudio AIR 15 / 6 / Airbase 24 Sub
Dynaudio AIR 15 / 6 / Airbase 24 Sub
Denmark Audio AX32 Sound Cards
Antelope Audio Trinity Wordclock
Mac Pro with Pro Tools HDX 12
Rane 6-way headphone amplifier
Eventide 7600 Effects Processor
2x Neve 1073 Mic Pre
2x Neve 1073 EQ
4x API Mic Pre
2x Chandler Compressors
Cranesong STC-8 Compressor
Warm Audio Limiting Amplifier / Compressor
2x ADL1000 Tube Limiting Amplifier / Compressor
Selection of high end plugins (UAD, Plugin Alliance, Waves, Dolby)
Dolby CP750
Microphones available for hire on request.
Virtual tour
Please note, these images are representative of the equipment available. However, the layout and space may be different.