ZONES
Transforming our learning environment
ZONES is a £65million programme to transform the learning environment. It's the biggest re-development in our history, and it will affect how we think, feel and do our jobs.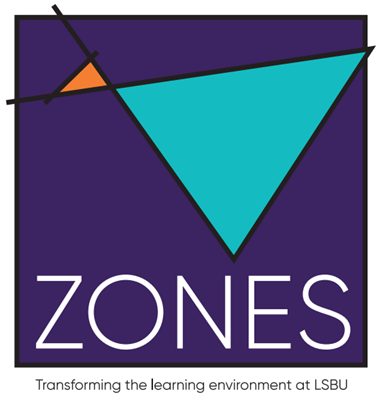 It will revolutionise how we teach, interact and work together as a community. It's bold, complex, and exciting.
The programme involves two major projects: one to radically transform LSBU's Southwark campus, and the other to create a flagship technical college at Nine Elms – Vauxhall Technical College.
The executive sponsor for ZONES at Southwark is Prof. Paul Ivey, Chief Business Officer (Deptuy Vice Chancellor of Innovation).
For Vauxhall Development, the Executive Sponsor is Fiona Morey, Exec. Principal of Lambeth College.
ZONES Southwark
By modernising our facilities, learning spaces and technology so radically, we will at last have a campus in South London that is fit for the future of LSBU, the LSBU Group, and our surrounding communities. One that we can all be proud of.
It will be influential. It will leave a legacy. We're setting the bar for modern campuses in London.
We need to make our environment fit for the future. The London Road building needed major repair work and parts of our Southwark Campus are underused. Put simply, our staff and students expect and deserve better, and ZONES is a direct result of their feedback.
Student and staff surveys repeatedly mention issues with our environment - including the quality of rooms, accessibility, a lack of space for modern flexible and innovative teaching practices and few community areas for socialising and group study on our Southwark campus.
With London Road needing modernisation, this presented the perfect opportunity to act on this feedback and make our campus ready to deliver the best teaching and working practices.
We could have repaired and renovated London Road, but that would have left us with the same teaching and community space issues, and facing regular repairs. We would also risk falling behind in adopting flexible teaching and modern learning methods; and we would disappoint students and staff, who tell us we need to make improvements.
---
Fit for the future
By September 2021, ZONES will deliver:
A dedicated learning / student zone (London Road)
New library and learning resource centre
More zones for group work and space for quiet work
More open access computer rooms
Bookable study rooms
Small group work rooms
Updated tech
Training rooms and enhanced capacity for general study
Improved sports and social facilities
New catering options
A more sustainable building built to industry standard energy efficient ratings, supporting our sustainability agenda
Significantly improved accessibility
Teaching intensive zones
Flexible space designed to support new, innovative ways of teaching
Adding lecture capture capability to 30 rooms in K2 and Keyworth
A staff focused space
A hub where staff can come together to share learning and ideas
A place to have meetings and network with colleagues
School zones
Dedicated spaces for certain Schools – through moving facilities closer together, like bringing the Schools of Law and Social Sciences (LSS) and Arts and Creative Industries (ACI) into Borough road, or the School of Business into the Learning Resources Centre (LRC), we are helping to build a School spirit across courses.
---
Achieving our plans
To achieve this, the following work will be done over the 2019/20 and 2020/21 academic years:
Completely overhauling and modernising all four floors of the London Road building to accommodate 20,000sqm of teaching and learning resource space plus an open-plan library.
Moving the Perry Library and wider Library & Learning Resources (LRR) services and the Academy of Sport (AoS) back into London Road during spring 2021 ready for the 2021/222 academic year.
Improved AoS facilities including re-configured changing rooms and showers to improve accessibility, work to the sports hall, new entrance, relocation of gym facilities to provide active frontage to London Road.
New brickwork, glazing and façade.
New entrance by Technopark
Updated technology with enhanced capacity for specialist packages, training rooms and enhanced capacity for general study.
Cycle park with changing, locker and shower facilities.
New lifts.
New public area in the Technopark car park.
Improving the sustainability of London Road to meet the latest energy efficiency standards.
Do you want to find out more? Have a great idea that you want to share? Have any feedback on the programme so far? There are plenty of ways that you can be involved, whatever your role at LSBU.
You can visit one of our drop-in zones in Technopark, Keyworth, or the Student Life Centre or email ZONES@lsbu.ac.uk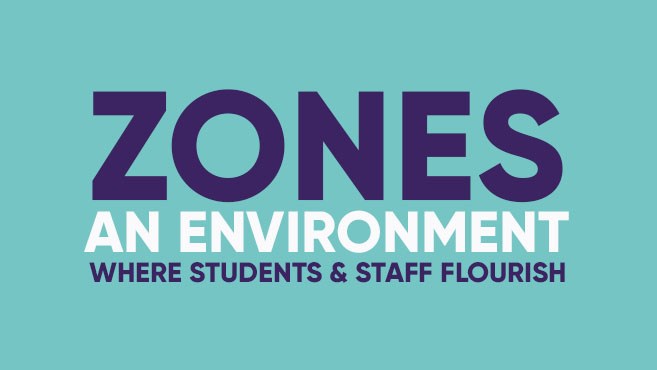 Our flagship technical college for the 21st century
We are creating a flagship technical college at Nine Elms – Vauxhall Technical College. It's part of our Group mission to transform lives, businesses and communities.
The modern, industry-driven facilities will provide career-led opportunities for people of all ages and backgrounds, not just locally, but from across London and beyond.
Alongside the existing Lambeth College Centres, Vauxhall Technical College will become part of South Bank Colleges within the LSBU Group, based across three Centres:
Lambeth College: Clapham Campus
The Gateway Centre at the Clapham Campus will focus on delivering English, maths and digital skills and supporting entry to employment. The Centre will continue to host our SEND (special educational needs and disability) provision, helping students develop employment skills and supporting more people to progress to level 3 and 4 qualifications.
Brixton Campus
The Brixton Campus is well established as a Centre of Excellence for ESOL (English for speakers of other languages), including providing employment and digital skills, and will support people progressing to Vauxhall Technical College.
Vauxhall Technical College: Vauxhall Campus
This will be the heart of our ground-breaking technical further education offer. We will involve local employers to ensure the education is current and relevant to the workplace, so leavers have a clear route into their chosen careers.
Vauxhall Technical College is in the Vauxhall Nine Elms Battersea Opportunity Area (OA), which straddles the boroughs of Lambeth and Wandsworth. It will offer world-class vocational courses alongside traditional technical education using high quality technical facilities.
Every course will be clearly linked to a career pathway and feature industry-recommended technology and resources, and will include work experience, internships, apprenticeships, or on-the-job training.
The Vauxhall Campus will comprise:
STEAM Centre
The STEAM Skills Centre is being designed in collaboration with employers to create realistic workplace environments. It will include construction workshops and laboratories as well as classrooms, offering sector-based, vocational learning in
Construction
Engineering
Science
Dentistry
Computing
Digital Arts Industries.
Employer and Business Centre
Our Employer Centre will provide the interface between employers, learners, local people and staff.
It builds on LSBU Group's unique experience in enterprise programmes, apprenticeships and employer engagement. And we will work closely with employers so they can advise us on curriculum content, specialist resources and latest developments in their sectors. Students will be able to engage with employers; and employers will be able to recruit new staff and to upskill current employees.
The Employer and Business Centre will enable:
clear direction to work and career opportunities for students of all ages;
enterprise-oriented programmes and facilities to attract 16-19-year olds, NEETs (not in education, employment or training), and others who have missed out on education;
vocational careers education for the whole community including regular 'employer encounters' for primary and secondary school children, supported by local employers;
programmes to encourage local people to pursue business start-up opportunities, including those in the digital and creative sectors;
expanding our already UK-leading apprenticeship work, including advising employers, providing a high-quality matching service between employers and potential apprentices, and creating clear apprenticeship pathways that help in-work progression and reduce in-work poverty;
delivering the National Retraining Scheme once it is rolled out to London.
We have developed our approach partly through discussion with local partners including leading employers and employer groups like South Bank Employers' Group and Battersea Academy for Skills and Employment (BASE).
Health and Life Sciences Centre
This will provide state-of-the-art simulation and other specialist facilities to train the health and social care staff needed by providers in the area, with vocational training at levels 2-4 in:
Nursing
Health and Social Care
Early Years Education
Sport Science
Psychology
Pharmacy
The Centre's simulation suites will also support careers education by providing school pupils with access to life-like experience of working in the NHS.
We hope to develop this Centre with Guys and St Thomas' Trust, which is already a sponsor of South Bank Technical College, part of LSBU Group.
---
Have a question? Ask it here!
The ZONES project steering group will discuss your question at the next monthly steering group meeting and get back to you as soon as possible.
The information in this newsletter article is intended for LSBU Group staff only. Whilst every effort has been made to ensure the accuracy of the information supplied in this article, London South Bank University cannot be held responsible for any errors or omissions.