Group working practices
As the Group ethos continues to grow, we are seeing more great examples of Group working throughout our family.
Bringing Lambeth College into our family has energised everyone. We have been asked to think about what 'Group' really means, and how it works, and this renewed focus has led to a more unified mindset across the whole Group.
Integration over the first year concentrated on areas of the College that needed urgent attention.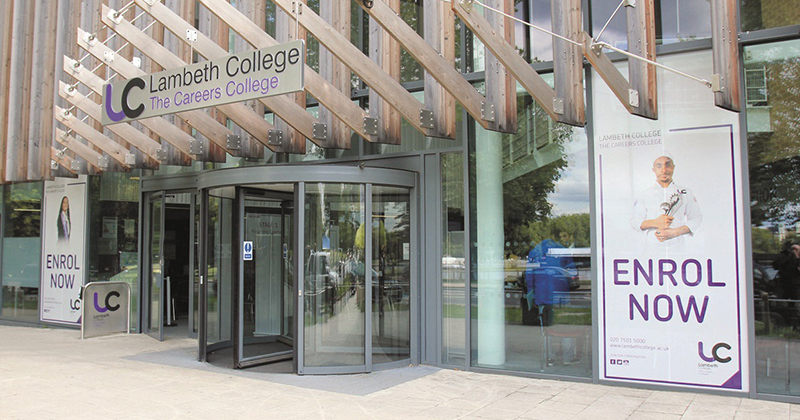 Working conditions and marketing
Making our colleges a safer place to work for staff and students has been a key priority. We have done a lot of work on issues ranging from asbestos and hazardous chemicals, to emergency lighting and fire risk assessments.
As the first to experience cross-line management from LSBU, the Lambeth College Marketing team has benefited directly from the wider Group mindset.
Changes have included a website overhaul, new digital channels and social content, the deployment of local market intelligence to develop new courses, and curriculum mapping to build career pathways.
"Our marketing has been greatly improved through close collaboration with our new colleagues. We now have a robust operational confidence and a stronger collective identity we can use when marketing existing and new courses," said Kathy McCormack, Head of Marketing at Lambeth College.
Finances and the future
Financial management is another area set to enjoy a boost. We have identified potential growth areas for Lambeth College based on solid evidence and innovation through the estates strategy to create the new Vauxhall Technical College.
Enrolment and progression data are currently showing positive trends for Lambeth College, indicating bigger ambitions for students. It's positive news, but of course we don't want to stop there.
We have committed to research activity with our first cohort of students progressing from Lambeth College to LSBU, so that we can understand how best to support future cohorts.
The successful transition is a credit to our dedicated staff, who have worked together to overcome challenges while appreciating the broader vision.
CoderDojo raises awareness of UTC
Meanwhile, at South Bank UTC, cross-Group collaboration has been giving local school students the chance to learn coding, and raising the Academy's profile.
Despite its STEM (science, technology, engineering, and mathematics) expertise and facilities, student recruitment at UTC is still challenging because many local people remain unaware of it.
Now Dr Safia Barizkai has organised a Coder Dojo for local children, aged 7-11, who are interested in learning how to code, and she was helped by LSBU Student Ambassadors as 'Dojo Ninjas', as well as UTC and University academics and staff.

Using UTC facilities and LSBU equipment, the Dojo took place after school on 5 December, with young people from Brixton, Streatham, Clapham, Dulwich and Stockwell all invited.
They were able to experiment and play with Raspberry Pi computers, Lego and more. There was also pizza and soft drinks on offer.

"We believe in learning through play and were keen to provide a fun-filled learning experience," said Dr Barizkai.
CoderDojo is a global network of free programming workshops for young people, supported by the Raspberry Pi foundation.
The children had to be with a parent or guardian, which meant the UTC and LSBU Group message reached a vital local audience.
The information in this newsletter article is intended for LSBU Group staff only. Whilst every effort has been made to ensure the accuracy of the information supplied in this article, London South Bank University cannot be held responsible for any errors or omissions.