New opportunities for staff
New opportunities for staff
The LSBU Group is starting to bring exciting benefits for staff. Involvement in the Group will bring fresh ideas and perspectives to our business challenges, as well as providing potential opportunities for development and promotion.
The Organisational Development (OD) team is now providing its services across the Group, including more than 100 internal short courses available to staff Group-wide, ranging from presentation skills to giving and receiving feedback and leadership development.
OD will be reviewing its strategy and approach in the new year to ensure it continues to support the Group as it evolves and develops.
Courses are delivered by OD or the internal learning partner, and access to online training and classroom-based courses is already proving valuable to staff in Lambeth College, UTC and UAE.
"Managers can approach us for bespoke training," explained Argyrios Georgopoulos, Head of Learning and Development. "And we can facilitate away days or focus groups too."
There are also LSBU delivered apprenticeships and a no-cost internal coaching service.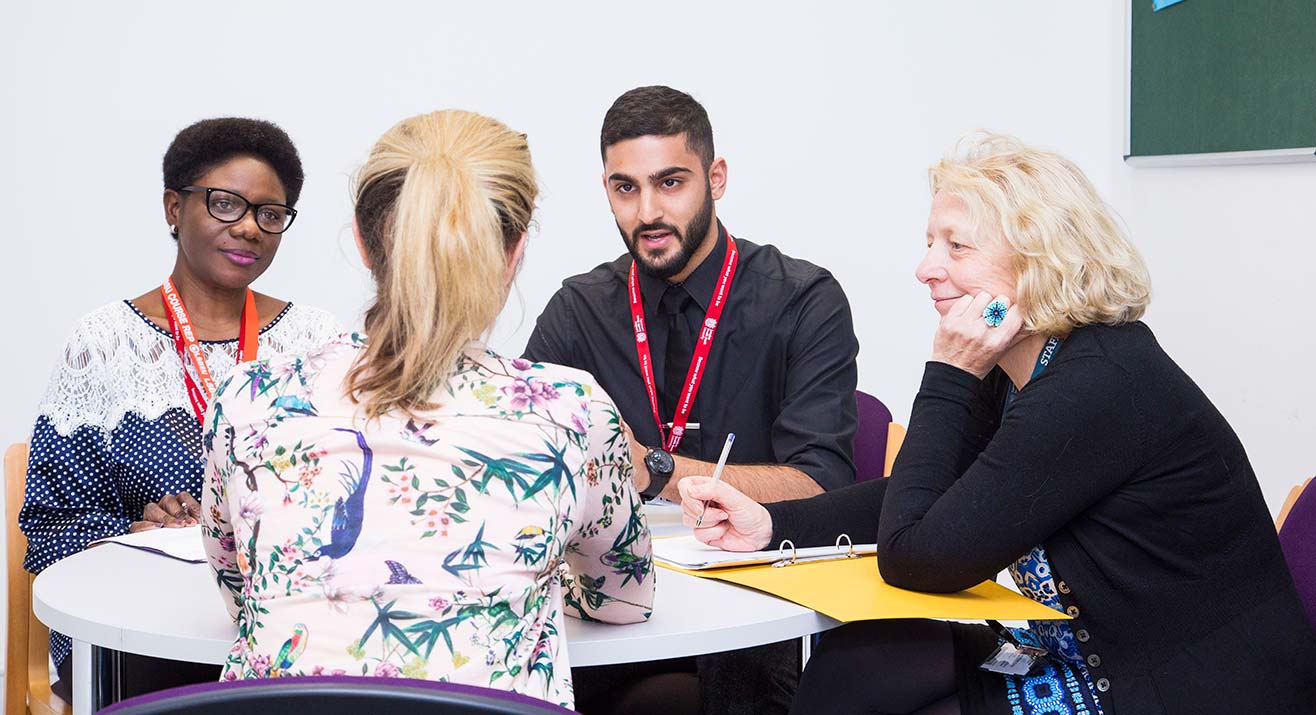 Group-wide induction has been running since September, making all new staff aware of the benefits of being part of the family, and helping to establish a new attitude that will reinforce the identity of the Group in the future.
We are now developing a Group-wide appraisal system and rewards strategy, and you may have noticed that this year's staff survey has been delivered Group-wide.
The first Group-wide management forum took place in the summer, and the 2020 staff conference will be a Group conference.
The Group-wide HR system has led to savings across the Group and will also help ensure more effective staffing and continuing professional development (CPD).
With information from the twice-yearly organisational effectiveness reviews, which identify progress and needs for development in each area, the OD team are now meeting with heads of areas to see how they can help.
"We are moving away from a 'buffet' approach to training and development - take what you want from the selection," said Argyrios. "We are moving to a 'what do you need?' 'what can we do for you?' approach, where you decide the menu and we provide it."
You can find the Organisational Development team on the first floor of Technopark or email od@lsbu.ac.uk
Exciting promotion for Daniel
One of the latest appointments for the South Bank Academies (SBA) has been exciting for the Group as a whole.
Daniel Pike, previously Campaign Marketing Officer at LSBU, has been promoted to Marketing Manager for the SBA where he is responsible for the marketing activity across the two Academies.
Daniel has been at the University for seven years - first as a student, then School Administrator for the School of Arts and Creative Industries and, as a rising star in the Marketing and Communications team (MAC), as Campaign Marketing Officer.
We are keen to help everyone in our family to succeed with us throughout their career, and establishing the Group will mean even more internal opportunities for staff to progress in their chosen profession.
The information in this newsletter article is intended for LSBU Group staff only. Whilst every effort has been made to ensure the accuracy of the information supplied in this article, London South Bank University cannot be held responsible for any errors or omissions.