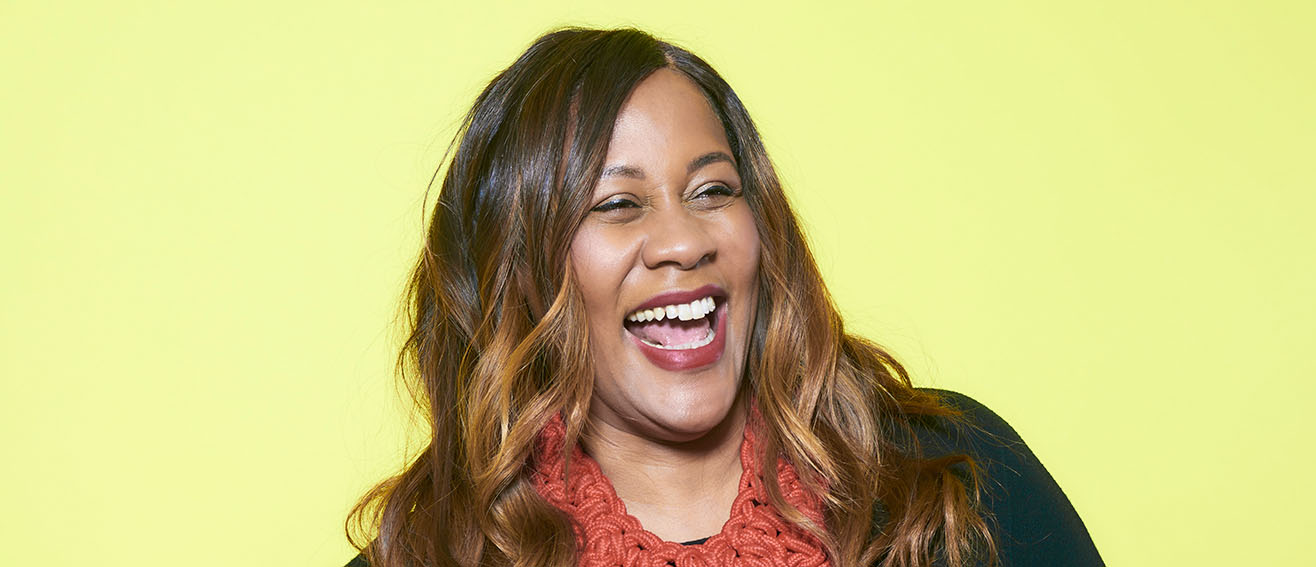 Karen Blackett OBE, Honorary Degree
"Learn your craft, earn your money – then give something back"
Karen Blackett OBE, Honorary Degree
As country manager for media giant WPP and chair of MediaCom, Karen Blackett OBE is among the most powerful people in the UK advertising industry. A passionate advocate for diversity and inclusion, she is a regular fixture in the Powerlist 100 of the UK's most influential black people. A government adviser on race equality, she was recently appointed as a trustee of the Duke and Duchess of Sussex's charitable foundation. She receives an honorary degree.
A big focus for the Sussex Foundation is on community, family and equality. That really resonated with me. I'm from a working class background – my parents came over from Barbados, and my mum trained as a nurse while my dad started out working on the buses – but they instilled such self-belief in me. I grew up thinking I could be whatever I wanted to be. There's so much talent out there that doesn't have that in their armoury. We need to focus on how we can work together to offer that support.
My first love was athletics. I only do what I do now because I'm a failed sprinter! I learned so much from sport that still applies today. It honed my competitive spirit, helped me learn to focus and instilled that belief in practice and preparation.
Advertising always fascinated me. I was lucky, I was the second child. All the pressure and expectation to become a lawyer, doctor or accountant was focused on my older sister. That gave me the freedom to zigzag a bit behind her. I remember as a child sitting in our front room, watching TV, and being more interested in the ads than the programmes. I didn't know what the industry was, or how to get into it, but I knew I wanted to be part of it.
When I started out, it was very much a white, male-dominated environment. In some ways, I think that gave me an advantage – I stood out, people remembered me. I also had that ability to connect and engage that came from growing up in a more diverse environment. I wasn't just used to dealing with 'people like me'. And I loved telling stories – ultimately, what advertising comes down to is finding a story that encapsulates a human truth. That's how you connect.
Diversity and inclusion are absolutely key to future-proofing this industry. We've got to find ways of tapping into different pools of talent, and reaching out to people that might never have thought about a career in marketing communications. That might be through an apprenticeship scheme like the one I set up while I was at MediaCom, or through the outreach and support for start-ups we're going to offer at the new WPP campus in Manchester. Things have changed, but there's still a long way to go. People who're privately educated are still massively over-represented, for example, and in terms of the ethnic make-up we're still lagging behind, especially when you look at London where the industry is largely based. The UK is such a fruit salad of people, and we need to build an industry that reflects that.
I think of every role I take on in terms of a three- to five-year timescale. Year 1, you're setting the strategy. Year 2, you're executing it. And year 3, you should be starting to see the impact of what you've put in place. Then, if you want to keep yourself fresh and energised, it's time to move on.
If you want a happy, successful career, you need cheerleaders. I've been so lucky to have some great people in my corner. They don't always tell you what you want to hear, but that's what you need. Nick Lawson, my boss at MediaCom, has been my sponsor for more than 20 years now. I don't think he ever saw my colour or my gender, he just saw my talent and nurtured it. There are two great women too, Sue Unerman, the chief transformation officer at MediaCom and Jane Ratcliffe, who used to be the chair. When I became a single mum in 2009 they were absolutely crucial in helping me work out how to navigate that new territory and figure out a way to be successful at work and enjoy being a mum too. And I've worked with a life coach for the past 15 years too. He's an ex-athlete as well and he's helped me so much, both professionally and personally.
My advice to those graduating? Get your armour on! You need to be resilient. I got rejected so many times when I was looking for work after graduating. You can't let it get you down. And once you've found that job, I'd say listen, and wait for the right time to put your ideas forward. Remember, you've got two ears and one mouth for a reason.
The piece of advice that always stays with me came from my dad. His mantra was: Learn, Earn, Serve. Learn your craft, earn your money – then give something back. Stick to that and you won't go far wrong.