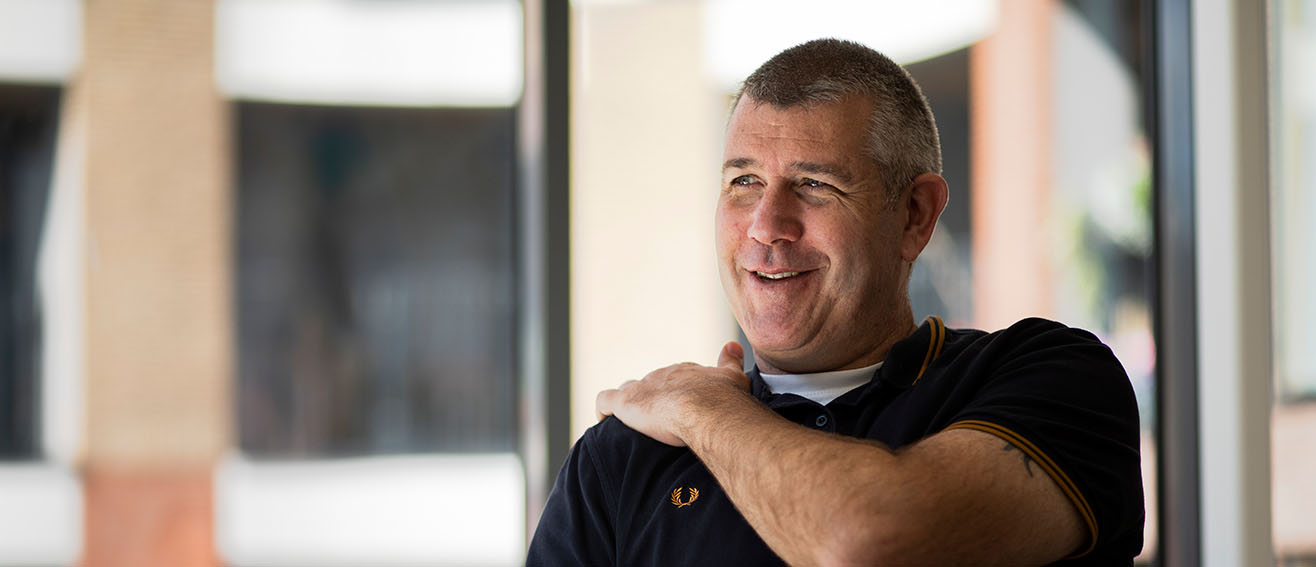 Gary Stannett MBE, Honorary Fellow
"When you've achieved your vision, do something to bring the next generation along with you"
Gary Stannett MBE, Honorary Fellow
Gary Stannett MBE has been awarded an honorary fellowship. Through sports development organisations Active Communities, Positive Futures and his latest venture Tactic Connect, Gary – a long time LSBU supporter and collaborator – has done much to raise aspirations and create opportunities for young people in Southwark and beyond.
When I started out, people thought getting young people involved in sport was just about keeping them off the streets. The idea that if you get them playing football they won't be stealing cars definitely had a lot of currency 25 years ago! If there's one thing I'm really proud of, it's having played a part in changing people's perceptions about sport. It's not about diversion and distraction, it's a gateway to so many opportunities.
The role of the coach is absolutely vital. After I finished my masters in social science at the University of Birmingham, I did some coaching in Zimbabwe and the US. When I came back I started volunteering with a youth programme in north London. We invigorated their gym, got more young people coming in, started really building connections with them. It opened my eyes to the potential of the coach to act as a role model and mentor in so many ways. Unlike a policeman, parent, teacher or social worker, a coach only has authority if the young person gives it to them. It's that buy-in that makes it so powerful.
I first started working with LSBU in the Kickstart days. That programme was based on the Rockingham Estate, not far from the campus. The sports department let us use their facilities and we had student ambassadors supporting us with coaching. One of the things I most admire about the University – and one of the main reasons I wanted to accept this award – is that deep connection with the community and commitment to working with local people.
Positive Futures was our big opportunity to show that sport could be a catalyst for change. Initially Kickstart became part of Positive Futures. Then around 2002 when the programme secured funding from the Premier League I was asked to go in and manage it. Eventually it grew to include 120 projects all over the country. I'd go from Premier League HQ on Soho Square to a meeting with Home Office ministers at Marsham Street to a boxing gym in Doncaster. It was a really exciting time.
With Active Communities, we really focused on creating a positive narrative. The young people we worked with weren't potential criminals. They had the same ambition and talent as anyone else – they just didn't have the opportunities, support or guidance. That's the gap we set out to plug. We also wanted to pull together a really strong evidence base for how you can use sport in all sorts of settings. In ten years, we went from nothing to five offices, including one in South Africa, running international programmes from Gambia to Pakistan to Brazil, and publishing at least seven research papers based on our work.
When Active Communities won the Laureus Global Sport for Good Award, I realised the time had come for a new challenge. I'd achieved everything I'd set out to do and more, and I didn't want to stagnate. With Tactic Connect I'm involved in athlete representation and contract management, social impact and CSR – athletes wanting to set up their own foundations, or clubs looking to connect with the community – and athlete education. I'm still involved in sports development too, and I recently became CEO of the Rio Ferdinand Foundation. I think it's what you'd call a portfolio career…
In many ways the challenges facing young people have become even more acute. You've still got young people growing up in under-privileged communities, lacking access to those pathways that their peers in other parts of the country or even the same city might have. But now the inequalities are even greater and so is the pressure on young people. But I'm not discouraged. When you see the difference some of our projects have made to young people, and you see those young people growing up and starting to give back themselves, it's all worthwhile.
To anyone graduating now, I'd say follow your passion. For me, that passion has always been sport, and its power to change lives. People are always going to tell you something can't be done, but you have to find the tenacity to stick with it and keep going. And when you've achieved your vision, whatever it may be, do something to bring the next generation along with you.