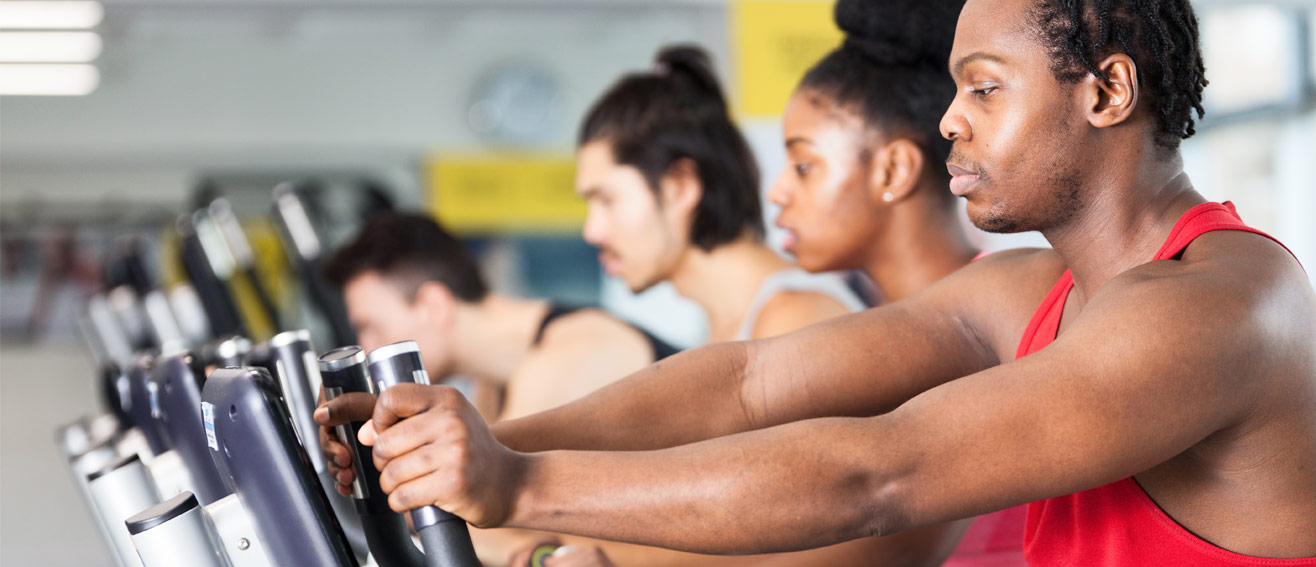 Sport and Exercise Science Research Centre
Our world-class research into human functions and wellbeing promotes athletic performances and healthy lifestyles
Sport and Exercise Science Research Centre
The Sport and Exercise Science Research Centre (SESRC) provides an environment for fundamental and applied research, inclusive research-led education and innovation. We work in multidisciplinary teams to target the main societal challenges from health-, performance- and behaviour-led perspectives.
We develop novel technologies and study designs and implement the research results in sport, community and clinical practices to attract funding and establish international multi-centre research programmes. Our work generates impact across diverse social areas including commercial, organisational, health and wellbeing, local government and regulatory bodies' policies and cultural perception of science.
Investigated topics
The team works across complementary scientific disciplines and has a unique blend of excellent facilities, funding and skills for research and innovation in the following core areas of the Sport and Exercise Sciences:
gait analysis and neuro-mechanics
environmental sport science
psychology and coaching
nutrition and metabolism
strength and conditioning
The affiliated Human Performance Centre is our enterprise arm for delivering innovative science services to individuals, businesses and communities under three branded themes:
InnovateWell for Intellectual Property generation, product testing, evaluation and development;
PerformWell for development and testing of tailor-made programmes for professional and recreational athletes, coaches and those wishing to initiate an active lifestyle;
LiveWell for tailored lifestyle assessments, interventions and guidance as well as for delivery and effectiveness monitoring and evaluation of health promotion programs.
Our research is consolidated into two multidisciplinary themes that address major scientific priorities and societal challenges:
Mind and Motion
Led by Prof. Markus Raab. this focuses on the reciprocal interactions between perception, action and cognition and their implications in sport and exercise settings. In collaboration with national and international partners, our experts in sport psychology, direct perception and human movement science utilise behavioural and multidisciplinary methods to investigate the role of the environment in the development and maintenance of expert behaviour.
Body and Movement
Led by Prof. Kiros Karamanidis, this focuses on understanding the human interaction with environmental factors, mechanical interventions and nutritional strategies underpinning performance and health. Our experts in human physiology, biomechanics and nutrition team up with engineers, clinicians and industrial partners to generate impact for sports, rehabilitation, communities and healthy ageing.
Our highly applied academic environment supports the communities and businesses we serve by providing the high quality applied research they need to improve and grow. The external academic and professional links of the SESRC members enhance student success by offering opportunities, enriching their learning experience and ensuring our students have the knowledge and skills that are attractive to employers.
Current projects
This Girl Can with Lambeth
(Leads: Dr. Katya Mileva and Dr. Rita De Oliveira)
In line with the Active Lambeth Physical Activity and Sports Strategy 2015 this project aims to increase and sustain participation in sports and exercise programmes among 14-25 year old females in Lambeth. The project was undertaken to generate the evidence base needed to inform future Council's commissioning activity. The intervention programme within the project was designed in consultation with London Sport and the evaluation components were guided by Lambeth and Southwark Public Health Clinical Commissioning Groups. The LSBU research team' is responsible for the monitoring and evaluation components of the project.
To date the project has reached its ambition to engage in excess of 5000 young girls in the programs delivered by notable charities and local sport and physical activity providers. This project is producing impact on public health, public services and policy via stakeholder engagement, awareness and understanding of the facilitators and barriers for engaging and sustaining active lifestyle of adolescent females from communities with high level of socio-economic deprivation. Recent analysis of these factors has been published by the research team (Hull, R. , de Oliveira, R. and Zaidell, L. (2018) An Ecological Approach to Exploring Physical Activity Interventions Aimed at Young UK-Based Females: A Narrative Systematic Review. Psychology, 9, 2795-2823. doi: 10.4236/psych.2018.914161.)
The team work on this project has been supported with a 3-year grant (2017-2019) from Sport England and Lambeth Council (total value £636K).
TEMULAB ® (ProTendon®)
A diagnostic device for the prevention of Achilles tendon injuries. (Lead: Prof. Kiros Karamanidis)
The development of this device has been informed by 15 years of research conducted by Prof. Karamanidis and his team in the area of motor-tendon unit biomechanics and over 35 publications on the topic. Currently the team is working to realise the huge potential of this innovation to produce impact on sports medicine, economics, innovation, health and wellbeing. The German Federal Institute of Sports Science has invested €115K into the work of the team to evaluate elite jumpers in the German Athletics Federation (completed). Recently, the team has secured additional circa £315K investment from Lanserhof London at The Arts Club for setting up brand new state-of-art diagnostic facilities at the London franchise of the company to ensure a regular muscle-tendon unit diagnostic offer for their patients and athletes starting summer 2019.
OrthoSportsLab
(Lead Prof. Kiros Karamanidis)
The aim of this project is to develop software for assessment of muscle structure and function for clinical settings. The current work of the team is supported with a £213K grant from OrthoSportsLab. This project has potential for impact on clinical practice and diagnostics for improved public health as well as for producing economic impact via licensing the software to clinical-end users.
Device for foot muscle strengthening
(Lead Dr. Darren James)
Facilities
SESRC benefits from state-of-art facilities, established as part of the £47 million development at the Southwark campus and equipped with sophisticated technology. Our Human Performance area, with specialist biomechanics, physiology and gait analysis laboratories, grows in reputation year on year. Over the years we have assisted elite and Olympic level as well as developing athletes.
The research takes place in 7 dedicated laboratories:
Gait analysis - Qualisys 8-camera 3D motion analysis system and 5 Kistler force platforms, Footscan pressure distribution platform, telemetric EMG and kinematics systems
Elite Human Performance - motorised treadmill with body harness, veloergometry, Laser Doppler flowmetry and imaging for peripheral blood perfusion, Near-Infrared spectroscopy for brain and muscle oxygenation, clinical rate digital bioimpedance scales for full body composition analysis, body core and skin surface temperature psychometric suite of tests for full scale analysis of cognitive, mental and emotional state, software for sport performance and team play analysis (Dartfish), software for qualitative data analyses (MAXQDA)
Perception-Motor Control - eye-tracker with…
Neuromuscular Physiology - a range of specialist experimental techniques for measurement of neuromuscular activation such as: surface electromyography, peripheral electrical muscle and nerve stimulation, transcranial magnetic and direct current brain stimulation, 3D accelerometry, dynamometry, whole-bodyn and targeted muscle and tendon vibration.
Cardiopulmonary Physiology - specialist equipment for measurements of peripheral and central cardiovascular function such as: Breath-by-breath gas analysis systems, Doppler Ultrasound and Flow-Mediated Dilation, Blood pressure, cardiac output and heart rate monitors, blood lactate, cholesterol, lipid profile, haemoglobin and haematocrit.
OrthoSport lab - 8 TEMUTRAIN isometric training devices, custom made force plate on the basis of a WII balance board, HUMAC isokinetic dynamometer, surface electromyography, Lode Sport 2XL treadmill; custom made pneumatic driven gait perturbation device, 8 infrared cameras Qualisys motion capture system, TEMULAB, Mobil Ultrasound device (ESAOTE MyLab Gamma)
Biochemistry - Flow cytometer, RANDOX clinical analyser and ELISA systems for testing inflammatory status and human tissue biochemistry before, during and after physical activity and exercise.
The team benefits from an in-house Environmental chamber for testing human performance in controlled temperature and humidity, a unique normobaric Hypoxic chamber and 4 hypoxicators for altitude simulation and training.
You can take a virtual tour of some of our labs.
SESRC is led by Dr Katya Mileva, Associate Professor in Human Neurophysiology. The Deputy Lead of the Centre is Professor Kiros Karamanidis, a Professor of Ageing and Exercise Science and Leader of the 'Body and Movement' research theme. Professor Markus Raab leads the 'Mind and Motion' research theme and is also the Head of the Department of Performance Psychology and Head of the Institute of Psychology at the German Sport University in Cologne.
The mix of academic staff, post-doctoral, doctoral and visiting researchers with internationally recognised expertise, allow the Sport and Exercise Science Research Centre to offer a stimulating and diverse research, enterprise and learning environment.
---
Visiting researchers
Dr David Cook (Head Coach, Norway National Taekwondo team)
Dr Karl Cook (Head of Sports Science & Sports Medicine at British Swimming)
Prof Matthew Solan (Consultant Trauma and Orthopedic surgeon at Nuffield Health Guildford Hospital, Royal Surrey County Hospital and London Foot and Ankle Centre)
Dr Sebastian Racinais (Head of Athlete Health and Performance Research Centre, Aspetar, Qatar)
Postgraduate students
SESRC offers on a competitive basis MRes and MPhil/PhD programmes to highly qualified individuals with a keen interest in our research topics. These can be self-funded or supported via fully and match-funded scholarships. SESRC has extensive record of winning financial support post-graduate study and internships from external and internal sources.
Traditionally, the team accommodates exchange students from UK and universities around the globe on academic internship and work placements schemes, or as part of their degree project work.
Adri Bester
Andrei Oliveira-Perez
Bruno Striotto
Clare Scoot
Freya Bayne
Helen Lumbard
Julian Werth
Liam Hobbins
Louis Annan
Mark Hines
Matthias Köenig
Milou Brand
Nathakan Beck
Nazli Aytekin
Reisha Hull
Sarah Williamson
Scott Pollock
SESRC promotes research excellence and real-world impact, and provides a supportive working environment, in which all members are inspired to keep up to date with knowledge and technology by engaging in internal and external academic and professional collaborations. Our success generates success for our academic and professional partners.
Industry connections
SESRC has an established track record for offering market leading innovative knowledge- and technology-driven solutions to improve human health, wellbeing and physical performance. Since its establishment 25 years ago, the centre has built a number of successful and lasting collaborations with professional partners helping them to stay ahead of their competitors. The team works closely with the University's Academy of Sport as a conduit to professional bodies within National Sport and community organisations.
We generate scientific evidence to identify and support marketing claims, develop and commercialise intellectual property through research, monitor and evaluate programs for improved sport performance, health and well-being. The research undertaken at LSBU provides reliable fundamental evidence to justify the feasibility of trials on clinical populations. Such activities are supported via research development grants (e.g. Knowledge Transfer Partnerships and Knowledge Connect), contracted research and matched-funded doctoral and post-doctoral scholarships.
Examples of the Sport and Exercise Science Research centre partners include:
Actegy Ltd.
Active Communities Network
African Confederation of Football
BodyCap Ltd, France
Brandhandling Ltd (FitFlop™)
British cycling
British School of Osteopathy
British swimming
CherryActive Ltd
European Space Agency, Cologne, Germany
FIFA Centre of Excellence UAI, Algeria, Qatar
Football Federation, Portugal
Guy and St Thomas' Hospital
Horseware Ltd
Lambeth Council, London UK
Lanserhof
Silverfit Charity
The Altitude Centre, UK
Valkyrie industries
Academic collaborators
The team draws on additional expertise and access to advanced research techniques by engaging with academic partners from other universities in the UK and oversees. Examples of our partnerships include:
Aspetar Orthopaedic & Sports Medicine Hospital, Qatar
Faculty of Human Kinetics, Portugal
German Sport University, Cologne, Germany
Institute of Biophysics and Biomedical Engineering, Bulgarian Academy of Sciences, Bulgaria
King's College London, UK
Liverpool John Moores University
Long Island University, New York, USA
LUNEX International University, Differdange, Luxembourg
Manchester Metropolitan University, UK
Murdoch University, Perth, Australia)
Sul Ross State University, USA
University Institute of Maia, Portugal
University Medical Centre+, Maastricht, Netherlands
University of Applied Sciences Koblenz, Germany
University of Heidelberg, Germany
University of Augsburg, Germany
University of Exeter, UK
SESRC's reputation and ranking for research and teaching in sport sciences have shown consistent growth and vitality since its establishment in 1994. The research centre provided the platform for expanding the research expertise and teaching quality of its members via stimulating their engagement in research and enterprise, appointing senior, post-doctoral and doctoral researchers, and collaborating with academics of international standing and professional reputation. Out of 80 entries, the Complete University Guide 2019 ranks LSBU 1st by research intensity for sport sciences in the UK and 21st overall out of 81 entries.
REF 2014
In Research Excellence Framework (REF) 2014:
73% of our research into Sport and Exercise Sciences was ranked of world-leading (4*) or internationally excellent (3*) quality, rigour and significance
90% of our research and enterprise activities received ranking of 4* and 3* for 'impact' (reach and significance)
75% of our research environment was qualified as conducive to producing research of internationally excellent quality, in terms of its vitality and sustainability (3*).
Other accolades
To contribute to advancements in science, economy and professional practice the SESRC members hold:
Scientific and Professional Board/Committee membership and advisory roles
Accreditation by professional societies
Honorary appointments at other universities
Appointments in Editorial/Review boards of scientific journals
Young researcher's awards
The SESRC members deliver talks and keynotes, and organise symposia at scientific congresses, co-supervise PhD students based at other universities and peer-review for journals in relevant scientific disciplines and write editorials of scientific books.
SESRC regularly hosts research visits of distinguished national and international scientist and supports visits of SESRC members to partner universities for joint research and use of facilities, research presentations, publication and grant preparation.
The team has already hosted three editions of the Serious Sport Conference at LSBU as a platform for engagement of scientists with sports, technology and health practitioners, and general public on hot topics such as the use of digital technology in sports and physical activity, sport in extreme environment etc. In 2018 the team organized a public event where a wide audience of scientists, practitioners and members of the local community have met with the key speaker, Dr Leeja Carter - a Fulbright specialist and a feminist sport psychology expert from Long Island University in NY, USA and a panel of SESRC's partner charity and sports organisations to discuss the barriers for women's participation in sports.
On 11-12 July 2019 SESRC and the Active Community Networks, a charity based at LSBU, will co-host at LSBU the annual conference of the UK Sport Development Network. The conference will bring academic experts, policy makers and practitioners together to discuss the key issues faced by the community sport: "Sport Development – What are we developing?"
---
---
---
---
---
---
---
---
---
---
---
---