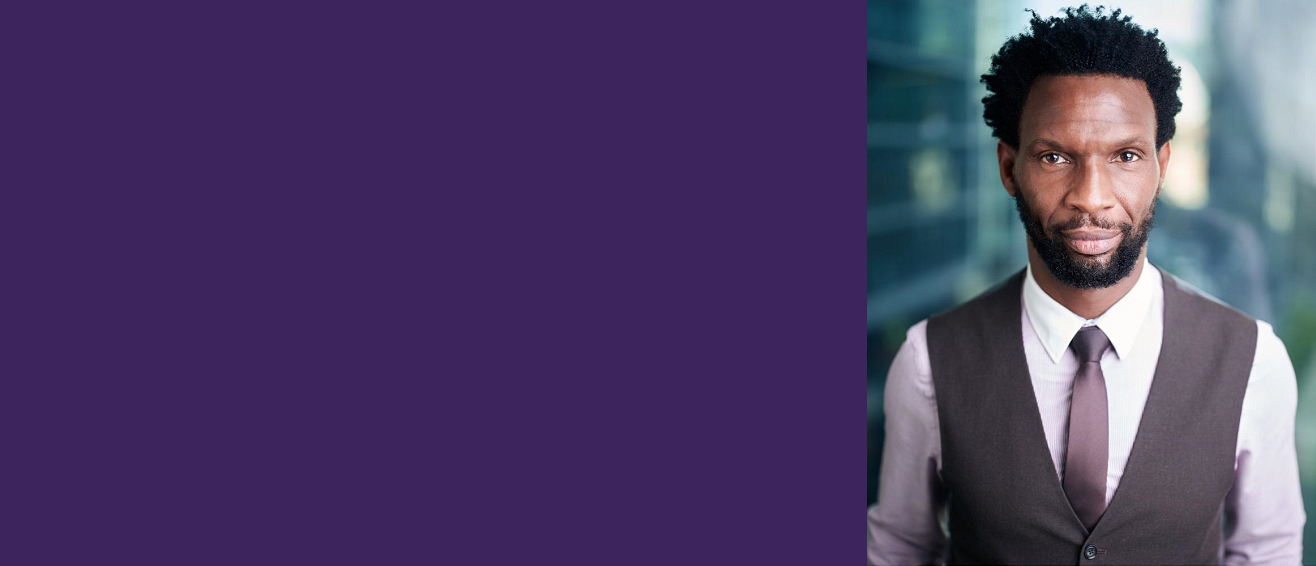 Douglas Elom-Ogbodo, alumnus, Computer Science
Elom details his career journey, including times he's doubted himself, and discusses why finding a hobby is paramount
Douglas Elom-Ogbodo, alumnus, Computer Science
It wasn't a difficult choice to study at LSBU as at the time it was an up-and-coming university with a very well respected department in Computer Systems and Networking and in addition to having very good facilities, it was ideally located for me.

However, my time at LSBU was very challenging as I was changing discipline, having already acquired a Masters Degree in Analytical Chemistry from another university. It meant balancing the part-time nature of the programme with making the academic move into the digital world of zeros and ones along with juggling family life whilst also holding down a full-time job as a retail manager. It's amazing to think I juggled all of that.

My first year out after graduation was the most difficult part, as before receiving my Master's Degree, job interviews for an IT position did not make their way to me due to the lack of my commercial experience. But I found myself in the right place at the right time because LSBU implemented an infrastructure change by deploying it's first-ever IT helpdesk about the same time I graduated so I got snapped up and began working for LSBU.
My career journey has been very exciting
My career journey has been very exciting as I changed gears from helpdesk supervisor to IT manager and then Head of IT, based in the 'square mile' with access to a range of migration projects from office moves to IT platform changes. My industry is constantly changing with Apps, Cloud Technology, and Compliance & System Security, just to mention a few, hence keeping me on my toes. Regrets? Genuinely? None whatsoever because the journey set the scene for where I am now and where I plan to take my company Compudoug Services Limited.

One of my biggest career achievements was financial when as Head of IT, I saved my last company over 40% in telecommunication costs. It was so gratifying because the uncertainty surrounding the UK telecoms industry at the time meant making changes during that period was like a leap of faith even after carrying out good due diligence.

I love what I do and feel that motivation at any level is like a genetic blueprint as I don't believe it can be taught. The concept of falling and learning to bounce back bigger and better is, in my opinion, instinctive. But I owe my outlook to my parents, as they were very influential in creating my mentality. My immediate family have also been so supportive of me so it's important I balance time with them. Having a good work-life balance is true career satisfaction to me and I'm motivated to achieve that.
Finding a hobby is paramount
We are all prone to exposure from good and bad influences, but how we deal with any unexpected change is important. Do we dwell? Do we move on? How you answer those questions determines how you choose to move forward.

I think stress is integrated into modern life. Finding a loved hobby is paramount. I found that as I carried out my hobbies it allowed me to keep any stress at a distance and by repeating the cycle, I was able to cope with stress. But if you are someone who is plagued with stress you should reach out for help and don't allow yourself to feel like an outcast.

I do remember a time I doubted myself though. It was my very first presentation in my first job. It was a daunting experience as the panel's feedback derailed my self-confidence at the time. Another time that knocked my confidence was when I went to become part of a social group where I was covertly turned down and meant I had to bounce back. I naturally learnt from these lessons, found a way back and have used the experience going forward ever since. I don't let these experiences hold me back or cause me stress.
Aim to be an entrepreneur
LSBU alumni allow you to give back and help but at the same time get something in return. I believe that the true British character lies in helping others and being an LSBU alumni give you ways to do that. I believe philanthropic activities are essential as they provide a voice for those that lack one. I would love to hold inspirational talks with LSBU students and share my wisdom.

The best advice I have ever received is to invest in a family home as early as possible. If you are in a position to take heed with this advice, do it. Practical advice I could give to anyone now is to always believe in yourself and to avoid procrastination, but remember to seek help if needed from the vast array of available resources. And my advice specifically for the Class of 2020 is: aim to be an entrepreneur, embrace technology, remain fearless and adapt to the norm considering Covid-19.