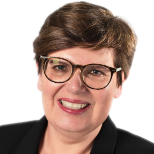 Alex Bush
Chief People Officer
EA Natalie Richardson Email:natalie.richardson@lsbu.ac.uk Tel: 0207 815 6202
Alex Bush is the Chief People Officer at LSBU.
Telephone: EA Natalie Richardson 0207 815 6202
Alex has a track record of leading HR and OD functions over the past 15 years. She is responsible for the delivery of the People and Culture Strategy across the Group and has a passion for collaborative leadership inspiring people to exceed as managers and facilitating change to improve organisational performance.