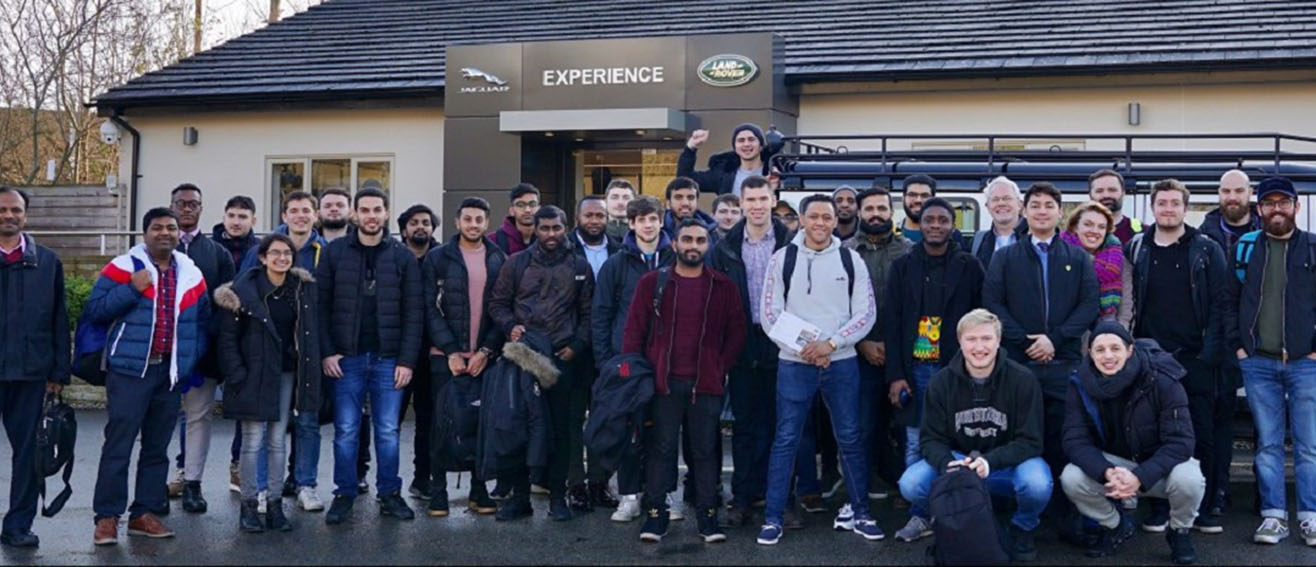 When LSBU's mechanical engineers met JLR's robot army
In February 2020, LSBU's School of Engineering organised a factory visit, to Jaguar Land Rover's (JLR) state-of-the-art manufacturing facility in Solihull, for their final year BEng/MEng Mechanical Engineering students
04 March 2020
In February 2020, LSBU's School of Engineering organised a factory visit, to Jaguar Land Rover's (JLR) state-of-the-art manufacturing facility in Solihull, for their final year BEng/MEng Mechanical Engineering students.
In total, 36 students and staff visited the highly impressive manufacturing plant, where both the iconic Range Rover and the award-winning F-PACE are built. The F-PACE in particular was of great interest, as not only is it Jaguar's first ever foray into the ever-growing SUV market, it also utilises a revolutionary aluminium-intensive monocoque design.
Following an introduction at the JLR Experience Centre, the students were then taken on a behind-the-scenes tour of the advanced manufacturing facilities. They experienced the full engineering cycle of how a car is transformed from raw materials and base components to the beautifully-styled machines we see on our roads.
The students saw firsthand how, in just two and a half days, an aluminium billet (a solid block of aluminium from which parts are carved, cut and shaped) is transformed into a completed vehicle.
Employing hundreds of highly-skilled technicians and craftsmen, working alongside a cybernetic army of 1,800 hi-tech production robots in the body shop alone, the factory operates a three-shift pattern and is operational 24 hours a day.
The LSBU delegates were given a front-row seat as the engineering mastery took place, watching as 627 robots worked in perfect unison to construct the F-PACE's unique lightweight aluminium body, in just a matter of seconds. Using state-of-the-art cameras to locate the precise positions, the robot army shaped, riveted and bonded the parts, before the skilled craftsmen customised and finished each car to order.
This hugely-successful combination of mechanical and robotic engineering means that a completed, aluminium-intensive, Jaguar leaves the production line every 90 seconds.
The devil is in the detail
1,800 cybernetic robots operate in the 29,000 M² body shop.
2,800 components are fitted to each vehicle, including 270 profile nuts and studs.
54 robots spray approximately 2,195,500 litres of paint every year, in the 30,000 M² paint shop facility.
Completed cars are dispatched to over 170 countries worldwide.
It takes 627 hi-tech robots to construct the F-PACE's lightweight aluminium body.
A completed car leaves the production line every 90 seconds.
The car's bodies are dusted with ostrich feathers taken solely from female ostriches; male ostriches tend to fight more and this can damage their feathers.
The Solihull factory tour gave LSBU's mechanical engineering students a unique opportunity to experience the whole process of how JLR brings their cars to life – from the moulding of sheet metal to those intricate final touches - and how hundreds of skilled technicians and craftsmen, along with nearly 2,000 sophisticated machines and cybernetic production robots, work seamlessly together.
But more than just receiving an educational insight into the cutting-edge of automotive engineering, the students were also given the opportunity to pick the brains, and gain valuable careers advice, from the tour guides themselves, many of whom were qualified and experienced JLR engineers.
The tour served as yet another example of how LSBU provides far more than just academic tuition, and emphasises our commitment to preparing our students for life in the modern world of engineering.
Find out more about BEng Mechanical Engineering or MEng Mechanical Engineering.