LSBU's engineering students take on Constructionarium 2019
The BEng and BSc Civil Engineering students were tasked with constructing a replica of the Torre de Collserola communications mast
13 May 2019
Twelve of LSBU's BEng and BSc Civil Engineering students attended the Constructionarium 2019 construction experience week at Bircham Newton in Norfolk.
Constructionarium challenged students to create a replica of the Torre de Collserola communications mast in Barcelona, covering all aspects of planning, surveying, health and safety and site operations. Technical assistance was provided by Careys Contractors.
The task involved the students receiving power tools training, surveying and levelling their site, excavating foundations, fixing steel reinforcement and pouring concrete.
The finished product was an aluminium mast structure of 9m – not quite as tall as the actual Torre in Barcelona, but impressive nonetheless!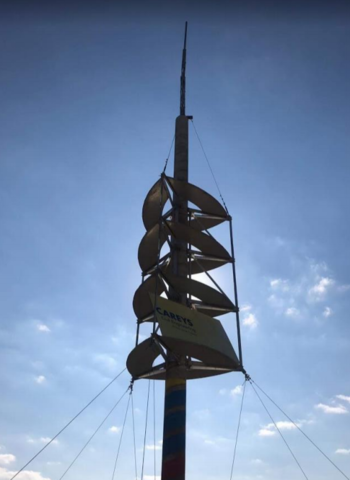 Tariku Shalemu, BEng Civil Engineering second year student, said: "Working alongside numerous practising engineers from the industry, the challenge exposed us to a real-life construction scenario and brought us face-to-face with the reality behind the design calculations we learn in class."
LSBU has already committed to attending the event next year, eager for an even more ambitious project in 2020.
Find out more about BEng Civil Engineering and BSc Civil Engineering.