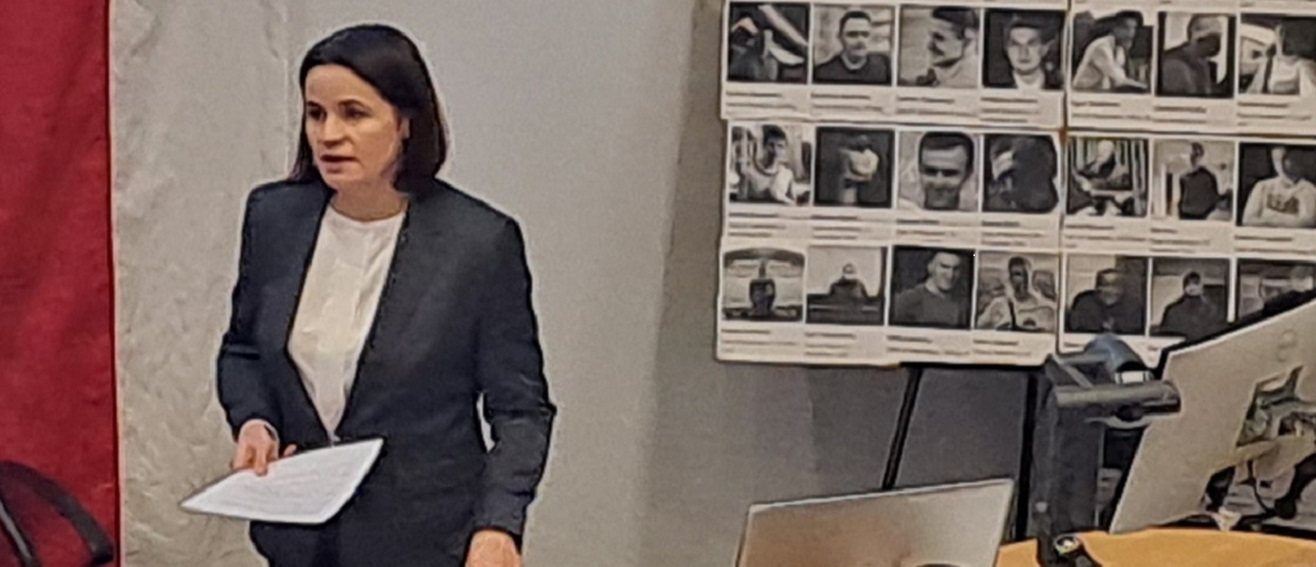 Sviatlana Tsikhanouskaya welcomed to LSBU
18 October 2023
We are delighted to welcome Sviatlana Tsikhanouskaya to London South Bank University (LSBU) on Tuesday 17th October 2023 where she is holding a major event. This is the second time that Sviatlana has visited LSBU in two years, the previous meeting was held in March 2022.
Sviatlana Tsikhanouskaya is a Belarusian political activist who after standing as a candidate in the 2020 presidential election against the authoritarian president Alexander Lukashenko has led the political opposition to his rule through a government in exile operating from Lithuania.
Lukashenko, became the first Belarusian president in 1994 and has cracked down on dissent and independent media earning the nickname of "Europe's last dictator." Sviatlana Tsikhanouskaya became an opposition leader after her husband ran as a presidential candidate in the 2020 Belarus presidential election. After he was arrested in May 2020, along with most other opposition leaders, and, as she was unable to file for the presidency on his behalf, she entered herself into the election race as a candidate.
Most opposition candidates were removed from the race, either through arrest or disqualification. Lukashenko allowed Tsikhanouskaya's candidacy, believing that as a woman she was not a significant political threat and belittled her for being a female political candidate, using sexist language.
Election observers consider the election result fraudulent and according to election monitor Golos, Tsikhanouskaya was the legitimate winner of the election. After Lukashenko was declared the victor, Sviatlana was held by Belarusian authorities and forced into exile in Lithuania after being given an ultimatum to leave the country, go to prison and have her children taken away.
Since fleeing to Lithuania, Sviatlana Tsikhanouskaya established an alternate Belarusian government-in exile and as a representative of a democratic Belarus, has met with world leaders to negotiate sanctions against Lukashenko's government and to deny him recognition as a legitimate head of state. She has visited 28 countries, advocating for the release of more than 1,500 political prisoners and a peaceful transition of power through free and fair elections.
Sviatlana Tsikhanouskaya has met President Biden, President Macron, President von der Leyen and other world leaders to emphasise the need for a braver response to the Belarusian dictatorship. She has also appealed to the international community to recognise her as the winner of the elections and Western nations and the European Parliament have generally opted not to recognise Lukashenko's reelection.
During the Russian invasion of Ukraine, she has been an advocate of increased Western involvement while warning that Russia's actions should not overshadow the dictatorship in Belarus. In January 2023 Belarus declared Tikhanovskaya's organizations to be extremist formations making her subject to prison time should she be captured by the Belarusian government and on 6 March 2023 she was tried in absentia and sentenced to fifteen years in prison.
Sviatlana Tsikhanouskaya has been recognized in Bloomberg's Top 50 Most Influential People and Financial Times' Top 12 Most Influential Women. Sviatlana's meetings in the last month include: President of NATO Parliamentary Assembly, Danish Foreign Minister, Prime Minister of Armenia, Prime Minister of Norway, Bulgarian Prime Minister, Latvian Prime Minister, Finnish Foreign Minister, Italian Prime Minister and Canadian Prime Minister.
Sviatlana Tsikhanouskaya, said, "I know that The People's Embassy of Belarus in the UK and the Professional Union of Belarusian in Britain (PUBB) had a very fruitful collaboration with London South Bank University's Human Rights Clinic. In particular, LSBU students helped us with compiling the list of legally possible ILO sanctions against the Belarusian regime. We used some of these ideas in correspondence with ILO. It's a great example how universities can help and support the fight for human rights. Thank you very much!"
Professor Tara Dean, LSBU Provost said, "It is a huge honour for LSBU to host this meeting for one of the leading global symbols of the peaceful struggle for democracy. We stand with the people of Belarus in their quest for democracy and universal human rights."