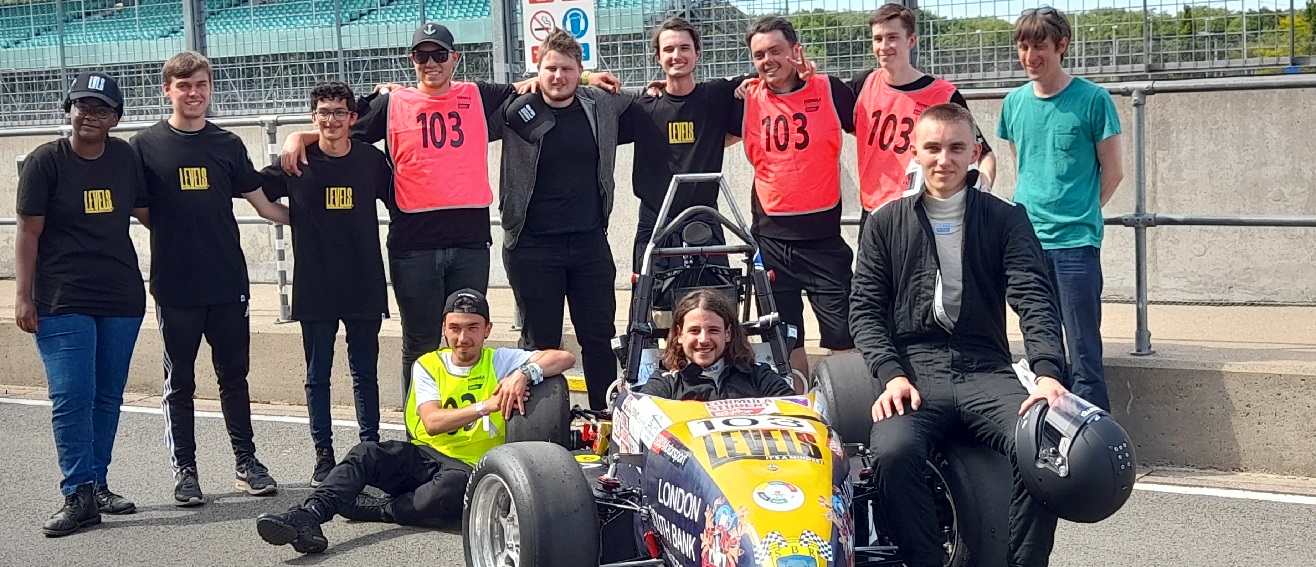 South Bank Racing go through the gears at Formula Student
21 July 2022
South Bank Racing, a collection of LSBU students who designed and built their own race car, put it through extensive testing at Silverstone racecourse for Formula Student (FS).
Formula Student is Europe's most established educational engineering competition, and over 100 university teams competed at this year's event. The cars were put through their paces on a number of tests including scrutineering, acceleration, endurance and a number of technical challenges.
It was the first time a team from LSBU has taken part in Formula Student and managed to get through the rigorous pre-tests to make it all the way to the main track event. South Bank Racing were the only 'rookies' to compete this year who managed to get their vehicle to the track. Despite some technical issues on the Saturday which saw the team having to stay up all night to fix these, they finished 42nd overall, 17th in lap time simulations, and 30th in the design presentation.
Giovanni Cornaglia, LSBU Engineering student and South Bank Racing Team Principal, said: "It's been an incredible journey for the South Bank Racing team since I first had the idea in 2019. We've been slowly building the team since then and to be able to see the car at the famous Silverstone circuit was just incredible.
"It's been such a team effort, and everyone involved should be immensely proud of the result. We learnt a lot this year and are looking forward to building further on what we already have and going again next year."
Alessio Corso, Head of Mechanical Engineering and Design at LSBU, said: "It was a fantastic result for the whole team and to see them go from nothing nearly 3 years ago, to racing their car at Silverstone is testament to their skills and dedication. I'm looking forward to seeing the heights South Bank Racing will now reach."
Dr Phillip Howes, Senior Lecture at LSBU, said: "The achievements of South Bank Racing at Silverstone exemplified so much of what we strive to achieve in engineering education: high level technical skills combined with teamwork, time management and professionalism. The students themselves brought with them their immense energy and determination combined with a never-say-die attitude that saw them achieve the seemingly impossible of getting their car through an extremely stringent scrutineering process to take to the start line of the endurance race on Sunday afternoon.
"Above all else, Formula Student is an engineering competition, not just a motorsport competition. Accordingly, our students achieved an immense feat, and we couldn't be more proud of them."
Further information on the South Bank Racing team can be found here: https://sites.google.com/view/southbankracing/home