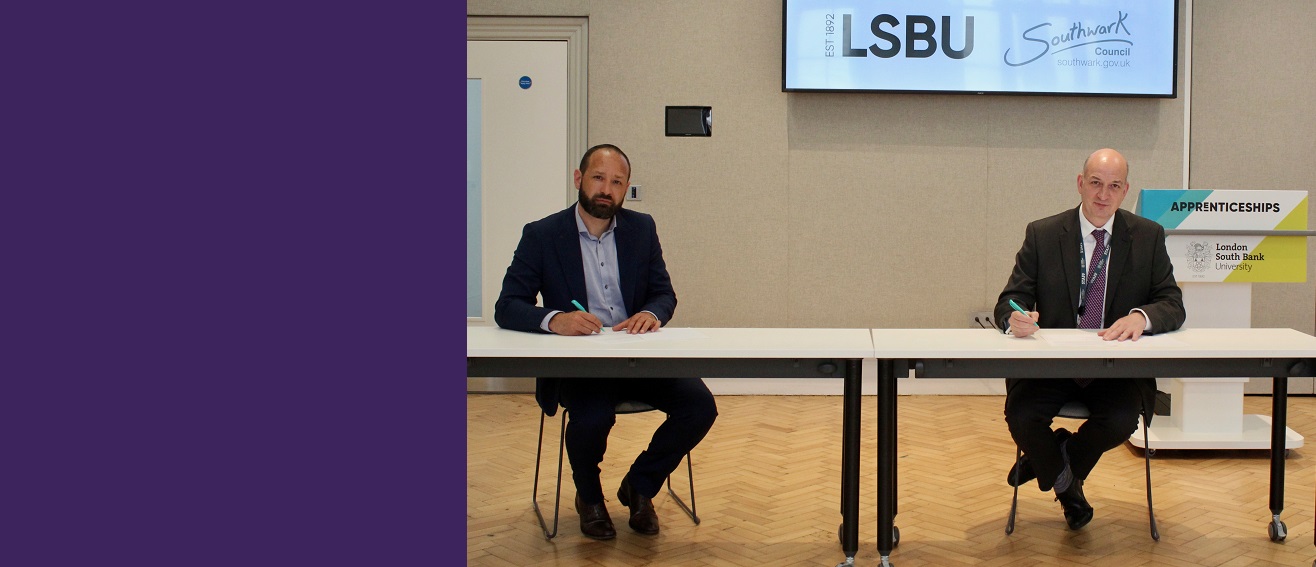 Skills and local business support at heart of new university and council recovery plan
Skills and local business support at heart of new university and council recovery plan
24 June 2021
London South Bank University (LSBU) and Southwark Council have signed a new agreement to work in partnership to strengthen the borough's recovery from the pandemic. The agreement will enable more Southwark residents to learn new skills, find new employment opportunities and make the borough a greener place to live and work by:
Working to increase the number of training and development opportunities for residents.
Making Southwark a leading London borough for health and life sciences, through projects like the new Southwark Health Skills Centre, which will train the next generation of nurses and health professionals.
Using LSBU's research and business support to promote a more inclusive local economy which will benefit residents regardless of their gender, age or community.
Finding new ways to make Southwark greener by reducing carbon emissions and training the next generation of green skills technicians.
Developing plans for new adult skills centres to provide training to help residents find jobs and build strong careers.
This renews the current agreement between LSBU and Southwark Council, signed in 2014 which:
Gave thousands of residents access to LSBU's Academy of Sport following a £300,000 investment by Southwark Council to improve its facilities.
Provided access to over 2000 higher and degree apprenticeship opportunities through the opening of the Passmore Centre with investment of £5m from Southwark Council and a further £4m from government and LSBU.
Supported hundreds of residents to gain high-level qualifications.
Opened the Southwark Health Skills Centre, in partnership with Guy's and St Thomas' NHS Trust, which will train hundreds of residents to find work and build careers in health and social care.
Professor David Phoenix, Vice-Chancellor of LSBU said: "The London Borough of Southwark is LSBU's home and we have been working with the Council for many years to provide new opportunities to local businesses and residents. The Council's support in opening the Passmore Centre in 2018 – the only dedicated university centre for higher and degree apprenticeships in the UK - is a testament to the strength and importance of the relationship between our two organisations.
"By formally renewing our partnership, we will be able to expand our capability to tackle the impact of Covid-19 on Southwark residents, including through the creation of new apprenticeships and training opportunities in health and green jobs, as well as providing insight to local businesses who are adapting to new ways of working in light of the pandemic."
Cllr Kieron Williams, Leader of Southwark Council said: "I'm delighted that we have LSBU as one of our core partners in Southwark, working with us to deliver a better future for local people. We share a determination to make Southwark a fairer and greener borough and to build a local economy that works for everyone. We are doing that through really practical work. Supporting local people into apprenticeships and jobs, helping local businesses to start and grow, and building the health and care workforce we need for the 21st century. I know the progress we have already made together is just a start, and today we are declaring our shared ambition to go much further".