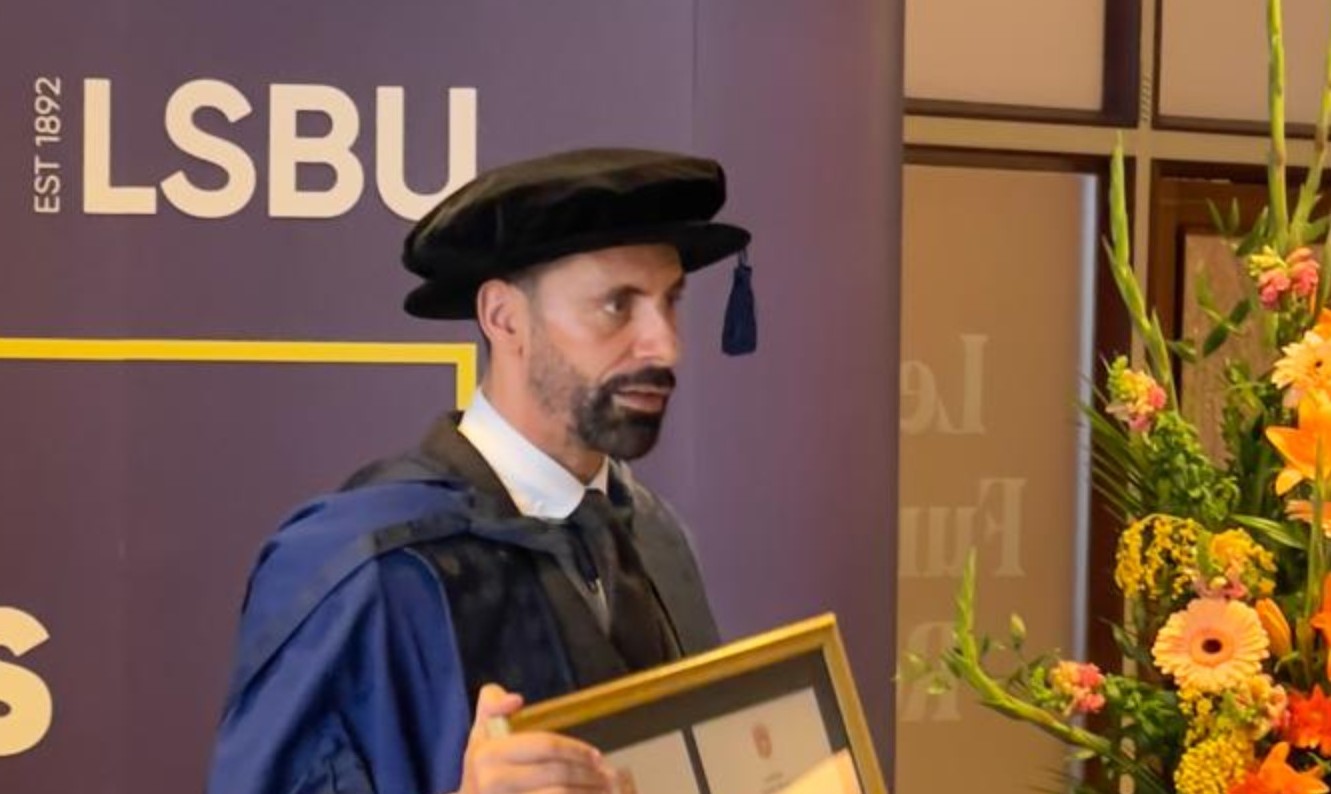 Rio Ferdinand awarded honorary doctorate for his leadership in tackling inequality across the UK
Rio Ferdinand awarded honorary doctorate for his leadership in tackling inequality across the UK
03 March 2022
Rio Ferdinand has been presented with an honorary doctorate by London South Bank University (LSBU) for his leading work in tackling inequality in all its forms, following his huge success as a footballer for England, Manchester United and West Ham.
Rio Ferdinand has played a leading role in tackling a range of important issues including mental health and racism in sport by:
Setting up the Rio Ferdinand Foundation in 2011 to tackle the inequalities he experienced and to help young people realise their potential through sport, media, the arts and education, empowering them to take charge of their own lives and bring about positive change in their communities
Launching Youth Voices in 2020 which runs creative events that give young people the chance to make themselves heard through podcasts, film, spoken word and music
Speaking out about his experiences of bereavement and doing a huge amount to tackle the stigma that remains around mental health issues, particularly among young men, through the BBC1 Rio Ferdinand: Being Mum and Dad programme and his subsequent bestselling book, Thinking Out Loud.
LSBU awards honorary doctorates and degrees to distinguished individuals who have made significant achievements. Alongside Rio Ferdinand over 1000 students who recently finished their studies at LSBU were presented with their degree scrolls at the major graduation ceremony on 3 March 2022 at The Royal Festival Hall.
Rio Ferdinand said, "I'm incredibly proud to be presented with an honorary degree by LSBU. I hope it inspires young people to learn, to help their communities and to break down the barriers that too many people face in their lives. My foundation has been based at LSBU for two years which is a great help to our work to give young people the support, inspiration and opportunities they need."
David Phoenix, LSBU Vice-Chancellor said, "Rio Ferdinand, was born and brought up in South London and became one of the UK's most successful and best-known footballers. Rio has played a leading role in tackling issues including inequality, mental health and racism in sport through the Rio Ferdinand Foundation which is tackling the inequalities he experienced when he grew up in South London, and we are very proud to be working with him on this agenda. Rio Ferdinand's leadership in the fight against inequality and his Foundation's leading work to give a voice to young people in South London and across the country, means there is no better person we can present an honorary LSBU degree to."