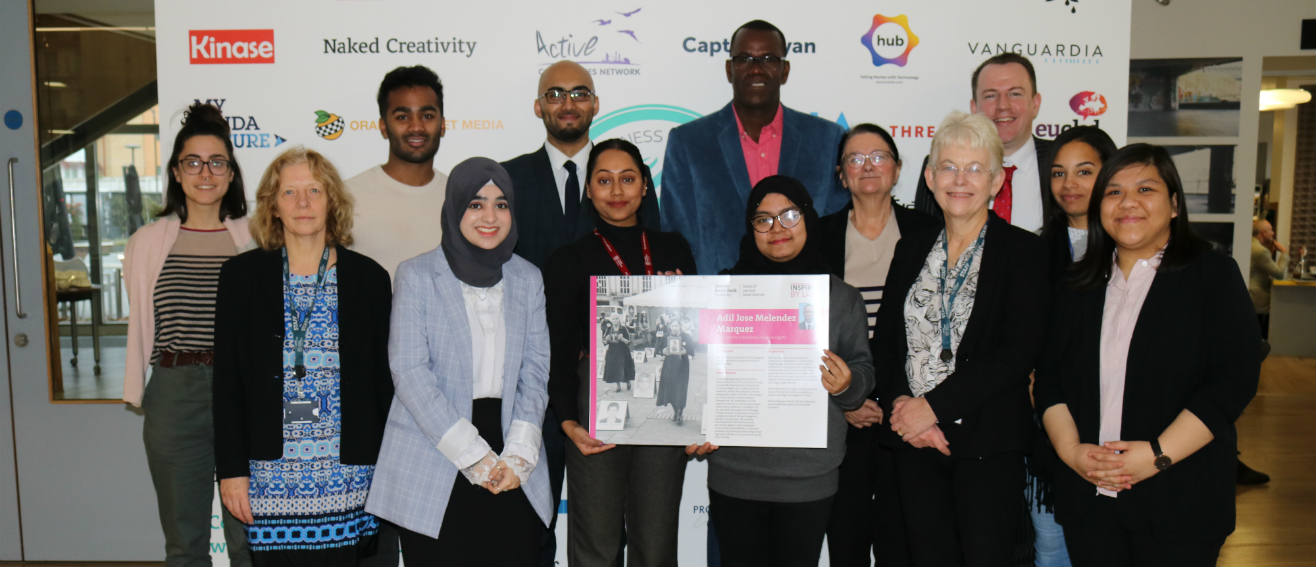 Prominent Colombian human rights lawyer visits LSBU on World Human Rights Day
Prominent human rights activist and lawyer, Adil Melendez, met with law students at LSBU
19 December 2019
Prominent human rights activist and lawyer, Adil Melendez, met with law students at London South Bank University's (LSBU) Legal Advice Clinic, to inspire them with tales about his influential career as a human rights activist in Colombia on World Human Rights Day.
Adil is currently in the UK touring a number of academic and legal institutions to foster relations with various university law schools and raise awareness of the historic complex land rights struggle and environmental challenges his country faces.
He was invited to attend LSBU in his role as one of the University's 'Inspired by Law' advocates, initially chosen by our law students in 2015.
Adil Melendez lives in the Colombian city of Cartagena. He practices law as a prominent human rights activist. In 2005 he founded the 'Movement for the Victims of State Crimes' (MOVICE). In 2006, as a result of his campaigning, the Inter-American Commission on Human Rights set in place a number of protective measures.
Adil undertakes his work despite threats to his life and surviving an assassination attempt in Cartagena. He has also been the subject of a campaign of stigmatisation to discredit his work as a lawyer accused of being a 'dangerous element' by the police. He currently coordinates theNational Movement for Human Rights in Afro-Colombian Communities (CIMMARON) and he has been involved in successfully prosecuting corrupt high-level officials in his home municipality of San Onofre.
Adil has drawn on his personal and professional experiences to continue the ongoing fight for human rights crisis in Colombia. His activism has a particular focus on tackling the displacement of communities in two parts of the region. Adil has continued his work despite frequent death threats made towards him by violent and illegal organisations. He has the protection of three bodyguards in light of the fact that Colombian lawyers are frequently murdered without forewarning.
Adil was nominated and chosen by CPE graduate, Yue Zhang, to be featured as one of LSBU's 'Inspired by Law' gallery of lawyers and legal campaigners in 2015.
Adil Melendez said: "In the face of injustice and inequalities, today we are celebrating one more International Human Rights Day anniversary. This is a day when we must continue to struggle against inequality, and in favour of justice, and for the defence of the environment. It has become necessary and imperative that governments adopt changes in their economic models in order to prioritise natural species. This is the only way we can avoid a global catastrophe in the short term."
Alan Birbeck, Senior Law Lecturer in LSBU's School of Law and Social Sciences, said: "It was inspiring to welcome Adil Melendez on World Human Rights day, to speak to students in LSBU's Law Division.
Adil is part of LSBU's Inspired by Law project which is committed to increasing access to higher education, regardless of social background, barriers or perceived barriers.
"We are proud to support Adil's work. He was nominated by our law students for his dedication to promoting and protecting human rights inColombia. His life story provides welcome inspiration to all young, would-be human rights lawyers."
Professor Sara Chandler QC (Hon),a solicitor in LSBU's Legal Advice Clinic, said: "It is an honour that Adíl Melendez is celebrating International Human Rights Day with staff and students at LSBU, where we value human rights and social justice.
"Mr Melendez defends human rights at considerable risk to himself and his family, having survived one assassination attempt and receiving regular death threats.
"He is attempting to implement transitional justice in Colombia, where those opposed to peace still impede the peace process. The defence of human rights by courageous lawyers means that the rule of law and access to justice will survive, whatever the cost."
Read more about Adil Melendez's life achievements here.