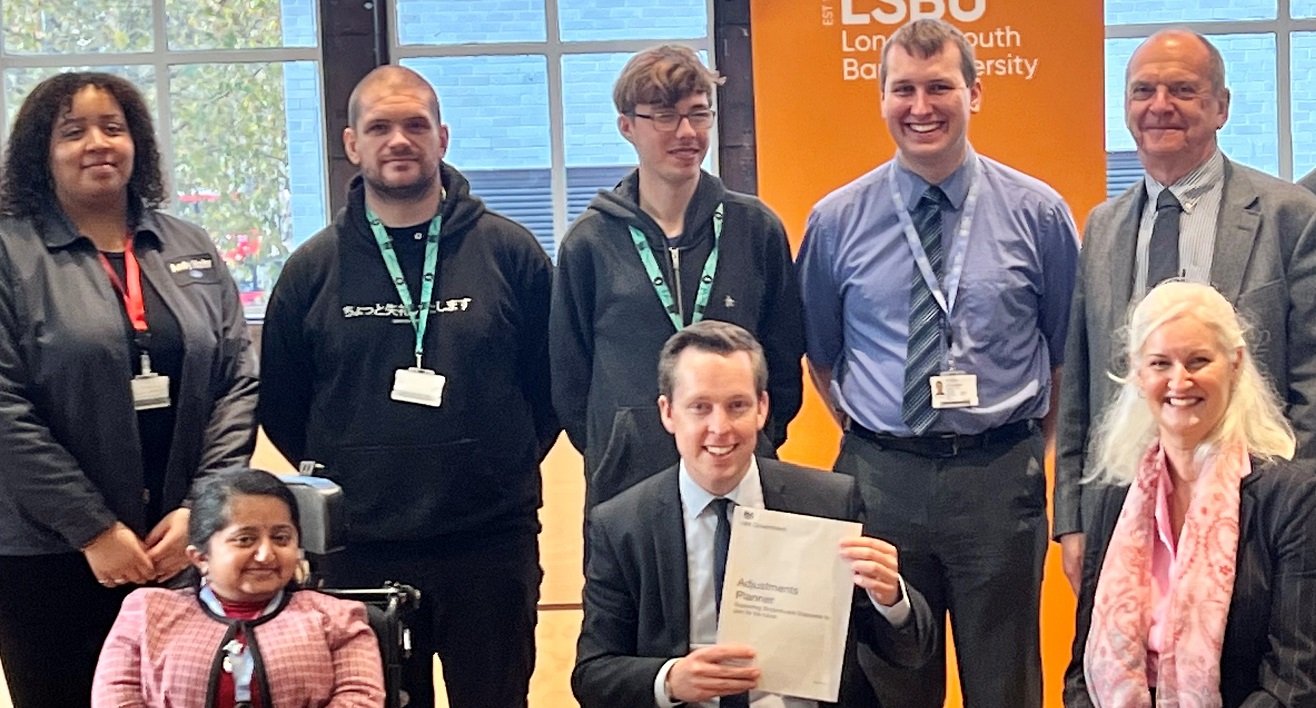 New planner to help disabled students into work launched at LSBU
15 November 2023
A new government planner designed to help thousands of disabled university students into work was officially launched at London South Bank University (LSBU) on Wednesday (November 15).
The Minister for Disabled People, Health and Work, Tom Pursglove MP, visited LSBU to promote the new Department of Work and Pensions' Adjustments Planner, which collects key information about a graduate's needs. This data can be easily shared with prospective employers.
Trial results show that disabled students using the Adjustments Planner are more confident to discuss with employers their support needs at the point of entering employment.
The Adjustments Planner is set to be rolled out to all students in higher education in time for the next academic year.
The Adjustments Planner will collate the relevant needs of students which can then be simply passed on to employers. It will mean repeated assessments will no longer be needed, nor will conversations about reasonable adjustments such as specific desks and chairs, assistive software or arranging travel to the workplace.
The new scheme was warmly welcomed by LSBU's Deputy Vice-Chancellor Professor Deborah Johnston. "Making the transition from education to the workplace is never easy and for students with a disability it can be even more difficult," she said. "The pilot scheme of the Adjustments Planner overwhelmingly showed disabled students feel more confident their needs will be understood and met by their new employers."
Robert Tait, 25, who is studying on LSBU's BEng (Hons) Rail and Rail Systems Senior Engineering (Apprenticeship) course, and has Asperger's syndrome, said the planner would make a big difference. "I do think it sounds very useful because the amount of paperwork and meetings I have to go through to get adjustments already takes a lot of time," he said. "My parents give me a lot of support, but I think this could be a huge boost for disabled students."