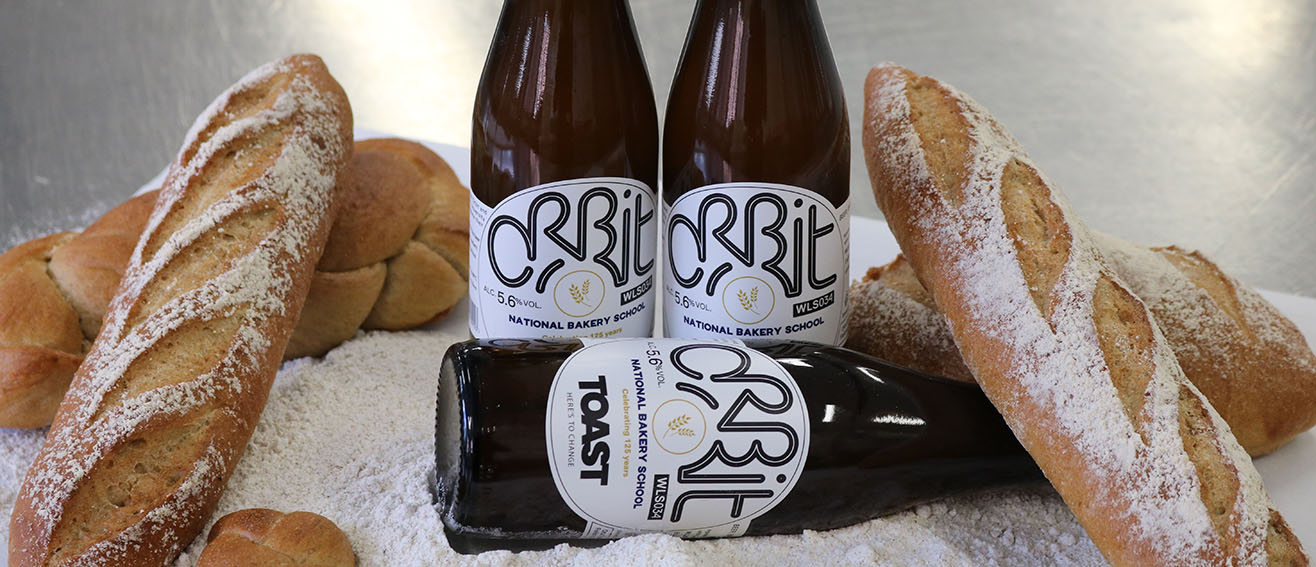 National Bakery School launches eco beer made from leftover bread to mark 125th anniversary
The brew has been made in partnership with Toast Ale and Orbit Beers, two local, Southwark-based brewing companies
National Bakery School launches eco beer made from leftover bread to mark 125th anniversary
12 September 2019
In a move that would satisfy the most ardent of eco-food and drink enthusiasts, the National Bakery School is launching a sustainable brewing partnership with two local, Southwark-based brewing companies - Toast Ale and Orbit Beers. The three way partnership has produced a specially branded beer to mark the National Bakery School's 125th anniversary this year.
The commemorative ale has been brewed using surplus bread left over from the Alliance for Bakery Students and Trainees competition earlier this year, in which LSBU bakery students took part.
Toast Ale brew their collaboration beers with at least 25% bread in place of grain and on this occasion, Orbit Beers used German hops to create a uniquely flavoured and branded pale containing faint hints of banana, thanks to the German 'hefe weizen' yeast Orbit Beers used to brew it.
All Toast Ale collaborations make a donation to a food or environmental charity and Orbit Beers will be generously giving 20p per litre brewed to local South London foodbank charity, Pecan.
The launch is being celebrated at an event at Rake bar inside the foodie haven of Borough Market.
Elaine Thomson, Director of LSBU's National School of Bakery, said: "What better way to celebrate our 125th anniversary than with the production of a new, specially-branded beer?
"Brewing and brewery products is a new departure for the National Bakery School and we're really very excited about this new three-way partnership with Toast Ale and Orbit Beers.
"It is an absolute bonus for LSBU that the surplus bread the school produces is not going to waste, but is being put to good use instead, helping to create a delicious new ale.
"The plan is to eventually make the new pale ale available to LSBU students through the Student Union as part of a project to combat waste on campus."
Chris Head, Head of Partnerships at Toast Ale, said: "It's really exciting to be doing such a locally-focused brew with Orbit Beers for such a special occasion for the National Bakery School and LSBU. We're looking forward to working with the National Bakery School in the future to create more surplus bread brews."
Robbie Sykes, Operations Manager at Orbit Beers, said: "When Toast Ale got in touch regarding the project with the National Bakery School we were really happy to come on board.
"It is fantastic to be able to get involved in a project that has sustainability at its core, while also giving something back to the local community, with donations from the proceeds going to local food waste charity Pecan, which is part of Southwark Food Bank.
"Historically breweries were often implanted firmly in their locality, as a vital part of the local community. It's nice to be able to give a nod to that tradition here in south London as it is a principle we subscribe to at Orbit Beers."
Find out more about the National Bakery School.