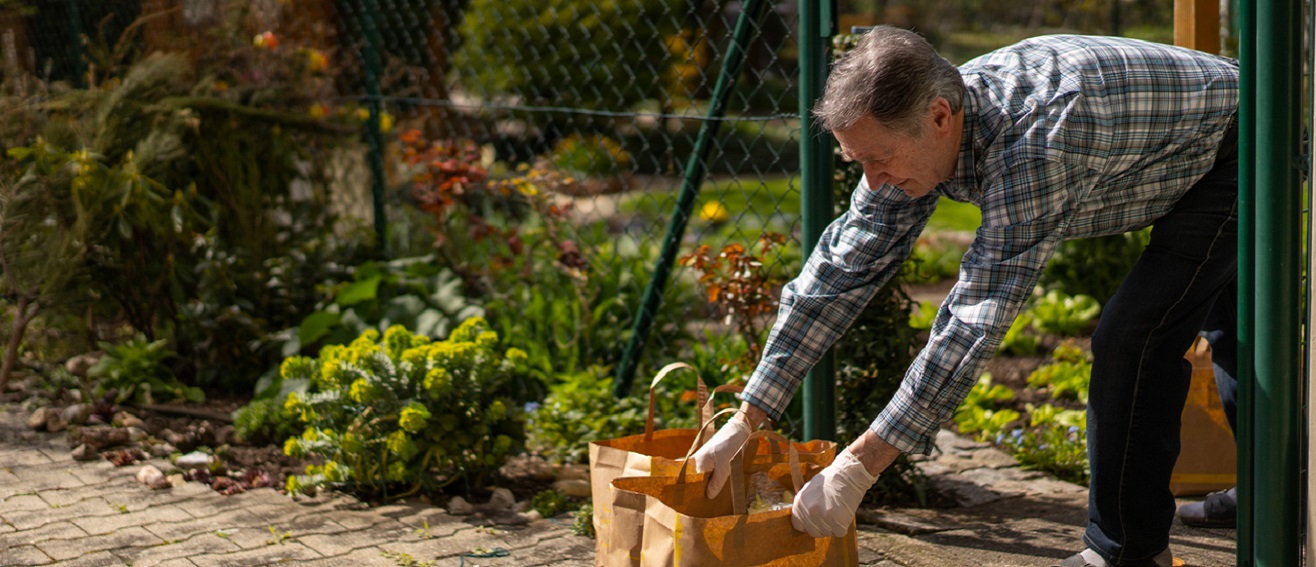 LSBU's Tim Hannam goes the extra mile to deliver lunches to elderly and vulnerable people in the community during lockdown
Tim, who is part of the University's CAFM team, has been helping his local Salvation Army branch to deliver a total of around 250 meals once a week in the Southwark area
LSBU's Tim Hannam goes the extra mile to deliver lunches to elderly and vulnerable people in the community during lockdown
06 May 2020
Tim Hannam is one of LSBU's helpful administrators in the Computer Aided Facilities Management (CAFM) team. During the working week, Tim generally spends his days helping to solve facilities problems for the University's teaching staff on campus.
But there is another side to Tim that his colleagues have seen recently which has surprised them. Because, in his own lunch-break and in the evening, Tim has been seen going out to distribute around 40 ready-made packed lunches and hot food to local people in need during the Covid-19 pandemic. He has been helping his local Salvation Army branch to deliver a total of around 250 meals once a week in the Southwark area.
Talking about his inspiration for doing good deeds, Tim turns immediately to inspiring memories of his mum, who was a longstanding stalwart volunteer for the Salvation Army, whose head office is based right next door to LSBU's campus, at the Elephant and Castle.
Tim says: "Sadly, in September last year, my mum passed away. She had been ill for quite some time and unfortunately her body had shut down, even though she wanted to carry on.
"Since a young age my mum was a big follower and helper for the Salvation Army. She got involved in everything they did - from running the children's play group at Nunhead during the week to running jumble sales to raise funds and doing the soup run on Friday nights for the homeless.
"In the last few years before she passed away, the core group at Nunhead was there for her, as she had been there for them in the past. It was their honour to oversee my mum's funeral for her, just as she had requested.
"This experience has opened a whole new chapter for me. I wanted to help the core Salvation Army group at Nunhead in any way I could to show my gratitude for the way they helped support my mum in her final days and to continue mum's legacy.
"When we took over my mum's home after she passed away, I cleaned out her attic and donated everything we found up there to the Sally Army to sell and raise funds, as she would have wanted. But I personally wanted to do more to help them, which is why I've been volunteering ever since."
Tim currently volunteers to help the charity for two hours a week, by delivering lunches and he fits this task round his full-time job at LSBU.
Through his generosity and kind deeds, Tim embodies the selflessness and self-effacing modesty typical of so many LSBU staff who are currently facing up to the various challenges posed by the pandemic.