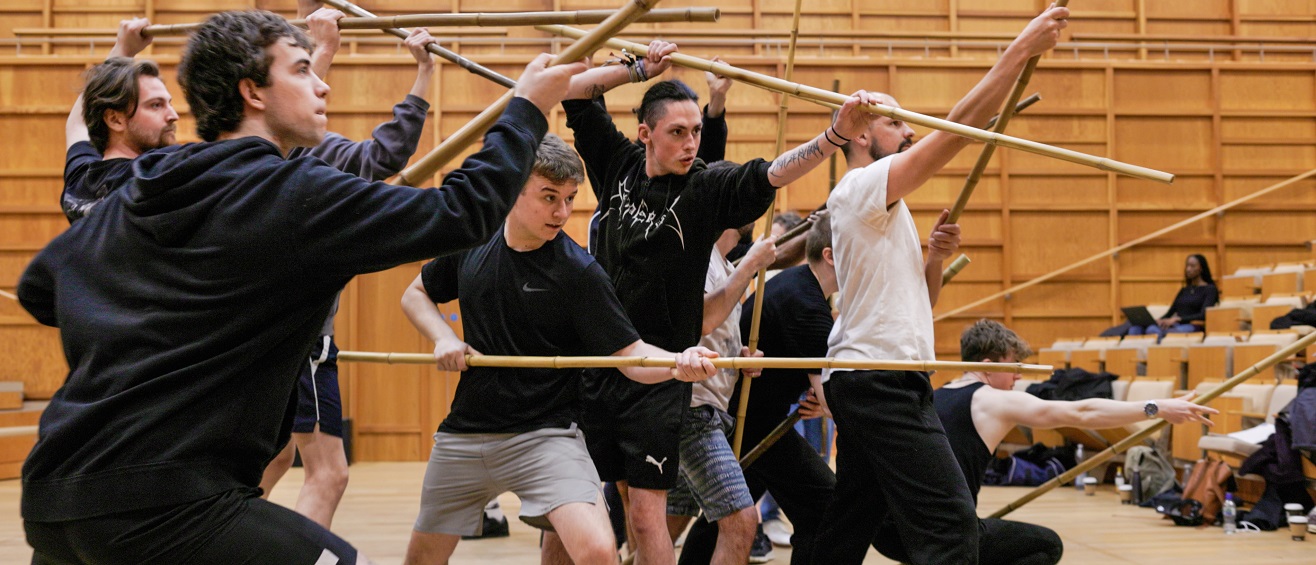 LSBU students star in gripping reimagining of lost Greek tragedy
22 February 2023
11 students from London South Bank University (LSBU) will make their professional debut this week, performing as the chorus in a reimagining of the lost Greek tragedy, Egyptians – the much-anticipated second instalment of Aeschylus' lost epic, Danaids.
Opening at The Gulbenkian at the University of Kent on Wednesday 22nd February, Egyptians is a dramatic reconstruction, exploring themes of migration, belonging and consent. Only fragments of the play survive, and the show has been brought to life through painstaking archaeological research, academic expertise, and a unique creative process. LSBU formed an essential part of the research, hosting several workshops with LSBU students and graduates, exploring and developing the text, movement and music of the play, approximating the process of Aeschylus in ancient Athens.
Professor Gill Foster, LSBU's Head of School of Performance said: "It is hugely exciting to have 11 LSBU Performance Arts Students involved in the first performance of Egyptians in two and a half thousand years. LSBU's close involvement in the play, from the early stages of research to the final production, shows how LSBU offers students fantastic opportunities to learn from industry experts and be involved in vibrant, historical productions. Working with top creatives, such as the internationally renowned playwright David Greig and director Ramin Gray, gave the students an incredible opportunity to network with the profession whilst still studying. This is an opportunity we aim to provide to all students and extends beyond this individual project. All acting students become part of the renowned LSBU Student Theatre company and take part in an annual professional season of work directed by industry professionals and theatre companies. At the end of the season all the students have extended their understanding of the realities of the theatre industry and developed robust, professionally facing CVs in preparation for their post-uni careers."
Egyptians is produced by Wild Yak and the ICCI at the University of Kent, in association with The Foreign Office, The Royal Lyceum, and London South Bank University.
Tickets are available from www.thegulbenkian.co.uk or by emailing boxoffice@kent.ac.uk
Find out more about LSBU's School of Arts and Creative Industries and the opportunities available for the students.