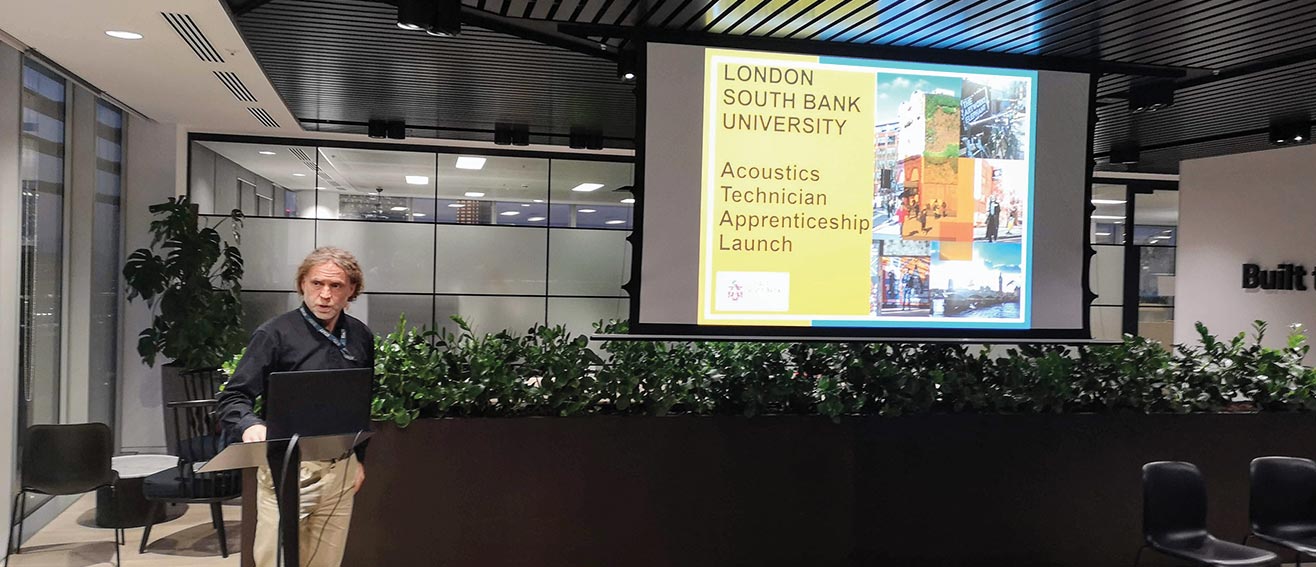 LSBU launches new Acoustics Technician Apprenticeship
An exciting new opportunity in an exciting and important industry
19 February 2020
The new Acoustics Technician Apprenticeship Level 4 was officially announced to industry at an informative launch event on 21st Jan 2020 at AECOM offices in Aldgate Tower, London. The well attended ANC event was organised by the Apprenticeship Trailblazer group. On invitation, the apprenticeship academic lead at LSBU (BEA) Dr Luis Gomez-Agustina and business developer manager Sammy Shummo from the LSBU Apprentice team, presented LSBU as an education provider committed to the development and delivery of the apprenticeship from September 2020. The audience formed by potential employers form the relevant industries, showed a clear interest in the apprenticeship during the Questions and Answers sessions and informal discussions over wine and pizza.
Typically, companies that are involved in acoustics include specialist consulting firms for the built environment; planning consultants; construction companies; health and safety practitioners; entertainment and performing arts venues; product manufacturers; engineering, and national and local government. Due to the specialist nature of the subject, an Acoustics Engineering Technician would commonly be part of a wider project team, focusing on the acoustic aspects of a project alongside fellow specialists such as Acoustics Consultants and Engineers.
An Acoustics Engineering Technician will undertake tasks in support of practitioners in acoustics, including consultants, laboratories, local authorities, transport authorities and other engineering disciplines in a variety of professional areas.