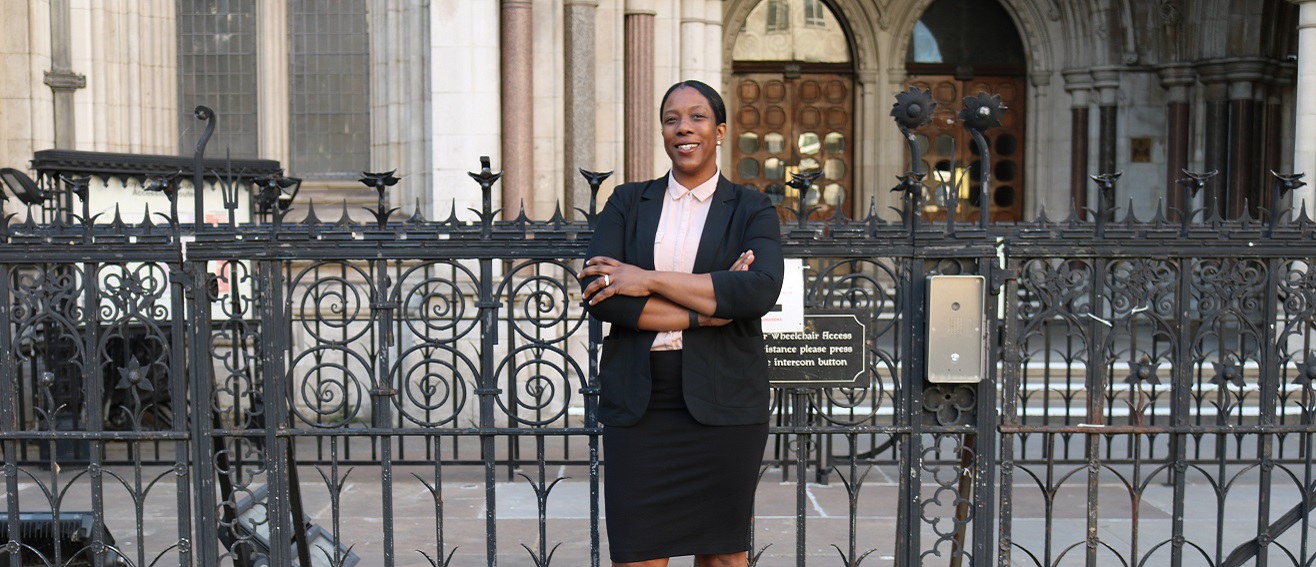 LSBU alumna wins Inner Temple scholarship to study at the Bar
The scholarship, one of only 100 handed to aspiring barristers, supports students through their postgraduate law conversion studies
20 May 2020
LSBU alumna Creanna Dodson, is this month (May 2020) the recipient of one of 100 Inner Temple Exhibition awards - exclusive scholarships handed out by the Inner Temple Court every year to aspiring barristers, to help support them through their postgraduate law conversion studies.
Islington born, Creanna, 39, is no stranger to overcoming life's challenges. As a mother to four children, aged two, three, ten and 16, she has somehow managed to juggle the demands of parenthood and domestic family life with a previous career in the Probation Service and social work, before applying to study on a one-year law conversion course and aim for the Bar.
Discussing her inspiration, she says: "My children are a motivating factor for me to continually attain. It is a struggle, but at the same time it allows my children to see that these opportunities are limitless. All it takes is dedication, perseverance and a desire to want more. This is something I have always wanted and as a firm believer in Social Justice, it's something I must now do."
Speaking about what the Scholarship award means to her, Creanna says: "This bursary will allow me to attend the Bar Vocational Course in September without the additional concern of struggling to pay the fees. It means I can work less and really focus on successfully completing the course and getting closer to becoming a barrister. This is the first time I have ever been awarded a scholarship and the recognition from my Inn that I have the potential to succeed at the bar is so encouraging."
Creanna was initially attracted to studying at LSBU for a Graduate Diploma in Law (GDL, an essential foundation conversion course in legal study for non-law graduates) as she had previously completed a Practice Educator Award in Social Work at the University in 2018 which led to her supervising social work students from LSBU and other universities in London. She says: "LSBU's excellent teaching record was very important to me, plus the central location and ease of travel to and from the university campus. LSBU also had the most competitive fees for the Graduate Law Diploma and as I was self-funding this was extremely important to me."
Creanna also credits LSBU with providing her with the solid preparation she needed to be confident enough to aim for the Bar. She says: "I have found LSBU to be extremely supportive and encouraging and I have really enjoyed the teaching experience and built very good relationships at the University.
"I was fortunate to receive a lot of assistance from all of my tutors. The GDL is a very short and intense course, however this does not prevent the tutors from forging good relations with students. It's good to know that you have tutors who genuinely care. This is one of the greatest strengths of the teaching staff at LSBU - they really do care.
"LSBU also provided me with additional support services including the study skills and assistive technology training I needed to help manage my Dyspraxia."
Creanna only discovered she had Dyspraxia when she was diagnosed while studying for a BSc in Criminal Justice at the University of Hertfordshire in 2005.
She has come a very long way since then and is now heading to City Law School to complete her one-year law conversation course. We wish her all the luck on the next step of her career and her life's journey.