LSBU helps establish waste management model for Indonesia
LSBU collaborated with CLEAR Community to deliver a world-standard integrated engineering model as a solution for Indonesia's waste management problem
17 December 2018
Under the Royal Academy of Engineering: Industry Academia Partnerships programme, funded by Newton Fund, LSBU collaborated with Institut Teknologi Bandung (ITB) in Indonesia, LPTT and CLEAR Community to deliver a world-standard integrated engineering model as a solution for Indonesia's waste management problem.
Using Batu Karas, a coastal village in West Java, as a case study, the three main objectives of the project were to:
Bring together experts from UK and Indonesia to deliver a model that can act as exemplar for other areas and local communities across Indonesia.
Provide practical, simple and deliverable waste management solutions to equip tourism destinations in Indonesia to develop with greater sustainability.
Increase understanding amongst academia, industry and the wider public regarding the latest technological solutions for affordable community-scale waste and recycling treatment.
The project brought together academic researchers from ITB (Indonesia) and LSBU (UK), with industry partners LPTT, and the community of Batu Karas. Contributor and lecturer at LSBU, Jennie Hardi, noted that it was "well-timed to build on the great community work happening now in Indonesia. By bringing together a multi-disciplinary group of industrial and academic partners, we've enabled a cross-cutting approach that engages government and policy-makers too."
Workshops and mentoring activities helped raise awareness of waste minimisation, separation and recycling to the local community. This in return will result in waste reduction to landfill, giving major positive impacts on climate change as well as reduction of plastic pollution to land and oceans.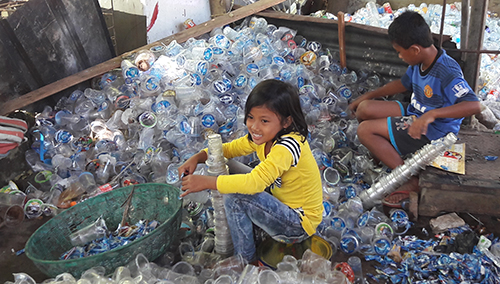 So far, the collaboration has produced three main reports and guidance notes to share the best practices and lessons learned, including a Framework model which has the potential to be implemented in villages across Indonesia. A total of 150 attendees participated in the initiation workshop in Batu Karas, Indonesia (May 2017), the final dissemination workshops in London, UK (March 2018) and the final dissemination workshops in Batu Karas, Indonesia (May 2018).
Professor at LSBU, Andy Ford, commented: "As industry academia partnerships go, this one has deep roots. Having myself come from consultancy to academia five years ago, I've been delighted to help my former colleague, Chani Leahong, work with the University to take forward her early collaborations with CLEAR and build such a successful and cross-disciplined international creative partnership."
A second project is planned in January 2019, where there will be at least 50 students and researchers from both countries trained in Building Information Modeling (BIM) software.
Find out more about the School of The Built Environment and Architecture.