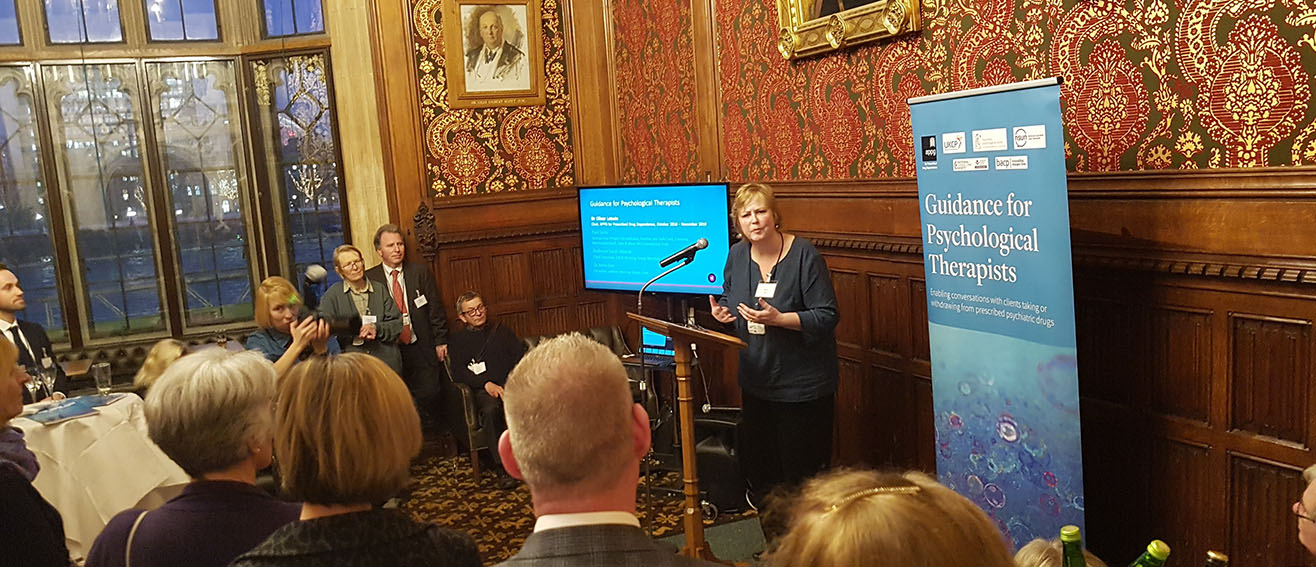 LSBU academics contribute to new guidance for psychologists helping clients using prescribed psychiatric drugs
The new guidance is designed to enhance support for psychological therapists advising clients who are taking or withdrawing from prescribed psychiatric drugs
LSBU academics contribute to new guidance for psychologists helping clients using prescribed psychiatric drugs
19 December 2019
Professor Marcantonio Spada and Dr Dan Kolubinski, academics from the Centre for Addictive Behaviours (CABR) at LSBU, joined research colleagues (Wednesday 4 December) from the Universities of Roehampton, East London (UEL) and London (UCL), at an event hosted by the All Party Parliamentary Group (APPG) for Prescribed Drug Dependence (PDD) in the House of Commons, to celebrate the launch of ground-breaking publication, 'Guidance for Psychological Therapists: Enabling Conversations with Clients Taking or Withdrawing from Prescribed Psychiatric Drugs'.
The new guidance is designed to enhance support for psychological therapists advising clients who are taking or withdrawing from prescribed psychiatric drugs. The guidance achieves this by expanding on the existing knowledge base about the side-effects for clients taking or withdrawing from prescribed psychiatric drugs. The new paper invites psychological therapists to familiarise themselves with core issues relating to their advisory role and the impact that prescribed psychiatric drugs play during psychological treatment.
Professor Marcantonio Spada, Head of the Division of Psychology and Deputy Lead at LSBU's Centre for Addictive Behaviours Research, said: "Today, in the UK and in many other countries, it is now widely acknowledged that psychological therapists need greater support for working with the many clients taking or withdrawing from prescribed psychiatric drugs."
"This new guidance, will help psychological therapists learn about the potential impact of psychiatric drugs on their practice. It will also empower and support conversations taking place between psychological therapists and their clients about the use of prescribed psychiatric drugs. These conversations will also encourage clients to discuss withdrawal from psychiatric drugs with a knowledgeable prescriber who can dispense medical advice and oversee and manage any withdrawal process appropriately."
Find out more information on the new guidance.